CamSoda Private Cam Show by Mill-blue: BestWebcamSites Review
Last Updated
September 11, 2022
It's great fun to begin your live chat with a fully dressed girl. You know, and she knows, that the only clothes she'll eventually wear will be her birthday suit. There is something exciting and alluring in this inevitability. More than that, a clothed cam girl is shrouded in mystery. A mystery you must unravel by peeling her outer layers, exposing her naked truth.
That was exactly what I felt the moment I first laid my eyes on Mill-blue. Ironically, there was something provocative about her performing in modest attire (in stark contrast to her counterparts on CamSoda) consisting of a women's t-shirt and a skirt that was halfway between mini and midi. It was as if she dared me to come and undress her, and by doing so, blemish her alleged innocence while exposing to the world her promiscuous nature. So I came: I pressed on the Go Private button and invited her to a 1-on-1 chat.
| | |
| --- | --- |
| Price per minute | 6 tokens |
| Cam2Cam | Yes |
| Free show recording | Yes |
| Toys | Dildo |
| Dirty talk | Yes |
| Time | 22:00 |
| Overall score | 9.1/10 |
After a second or two, I found myself in her private room watching her dancing. She was still with her clothes on and showed no sign she had any intention of taking them off. I let her dance and as the minutes were passing by, I realized we were in a contest of will power. Was I going to break first and ask her to get naked or would she start stripping voluntarily without any formal request on my part?
I was so horny that I didn't stand a chance. Shamefully admitting my defeat, I beseeched her to show me her boobs, which she gladly did (with a triumphant smile, I must say). It was worth waiting. She had a beautiful pair of fully symmetrical breasts with small brown nipples as sweet as two chocolate bonbons I wanted so much to taste.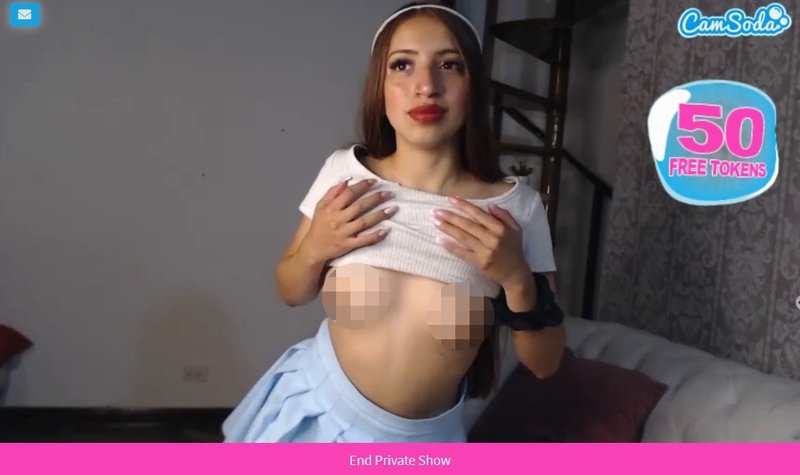 She started massaging her tits, tickling the nipples, bringing me closer and closer to the boiling point. I knew it was totally unacceptable to cum before I saw her pussy, so I pulled myself together, relying on some energy reserves kept in my body for cases of emergency such as the one I was facing at that moment, and let the show continue.  
I felt it was time to go for third base, so I expressed my desire to gaze at the junction of her thighs. She lay on the sofa and pulled up her skirt revealing a bald and smooth pussy that intoxicated me with uncontrollable lust. The most interesting thing in this situation was that apart from covering her breasts with her shirt, she didn't take off the skirt as I would expect from a model giving a nude private cam show. It definitely wasn't out of laziness. She was signaling that despite lying exposed in front of the camera, she still had the upper hand. The thought of it turned me on. She came out victorious again in our contest of will power.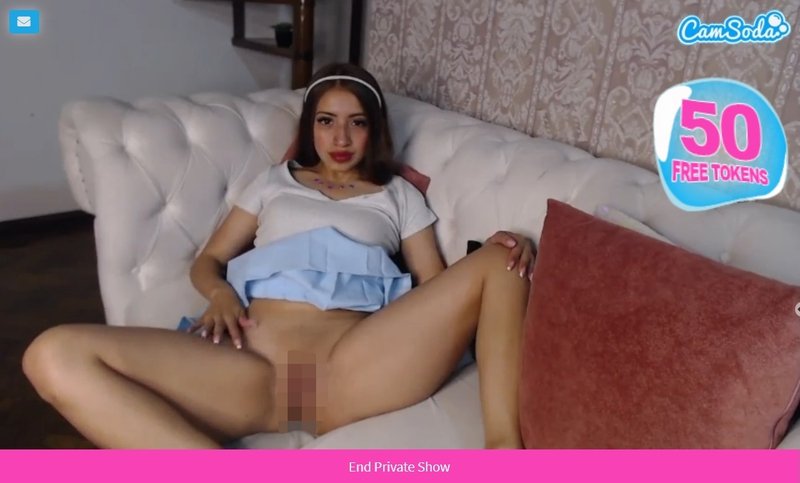 No matter who won or lost, the show had to go on. I couldn't let her lovely pussy lie idle, so I inquired whether she was using a dildo. She disappeared and came back a few seconds later with love toy and a smile on her face indicating she was proud of the device, and for a reason. It was quite big, and I couldn't help but wonder how it would fit the organ between her legs, which seemed a bit tight.
I had to wait for an answer as she put the device in her mouth and started licking it as if it were a lollipop. "What a waste. She should have licked my lollipop. It's definitely sweeter", I thought to myself. To let her jaw muscles rest, I asked her to shift the focus of attention to a more strategic area.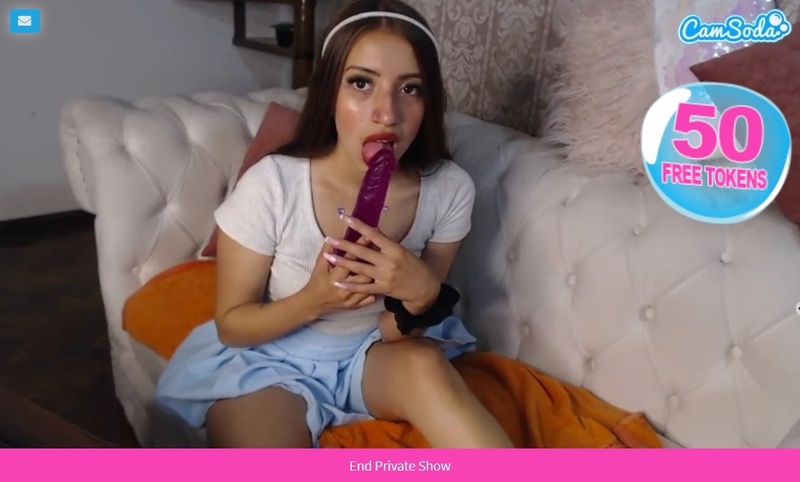 I felt compelled to follow suit and resumed beating my bishop (I had stopped earlier to avoid finishing prematurely). Then, she finally shoved her love toy inside her, not all but a large portion of it, which was enough to gain her my admiration. This girl had more in her than meets the eye, especially when it came to body cavities.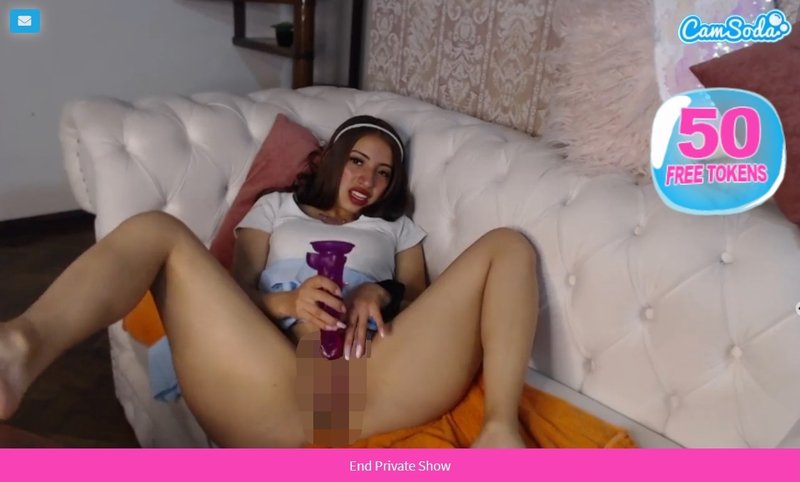 As is my custom, I tried to add an extra sleazy dimension the chat right before it ended, so I carefully inquired whether she would be willing to talk dirty to me. She seemed to be playing along, so I took it one step further and dictated exactly what I wanted to hear from her. She said it all (no matter how profane it was) while adding some of her own innovations. It was spectacular. I ejaculated really hard. All my horniness came out in one concentrated salvo causing a massive dam failure which ended up in a white flood.
What else can I say? I spent an incredible 22 minutes with amazing Mill-blue who turned out to be a professional cam girl. The session cost me around $13.00 - a highly affordable sum and a real value for my money. It doesn't surprise me. CamSoda is known for its relatively cheap models, who are at the same time, excellent performers. Another advantage that CamSoda has is the free access it gives you to recordings of your private shows. As you can probably guess, I've watched Mill-blue's show a number of times.
Back to full list of sex cam blog posts
---