Daily Achievements on BongaCams
Last Updated
September 07, 2022
BongaCams introduced a Daily Achievements contest today. Basically, on each day that you complete all the challenges you will have the opportunity to win 100 tokens. 50 winners are selected each day, to a total prize pool of 35,000 tokens a week. In theory you could win 700 tokens a week, but if you are winning every day you should probably be out buying lottery tickets, not sitting around on BongaCams.
This is an example of the tasks you may encounter.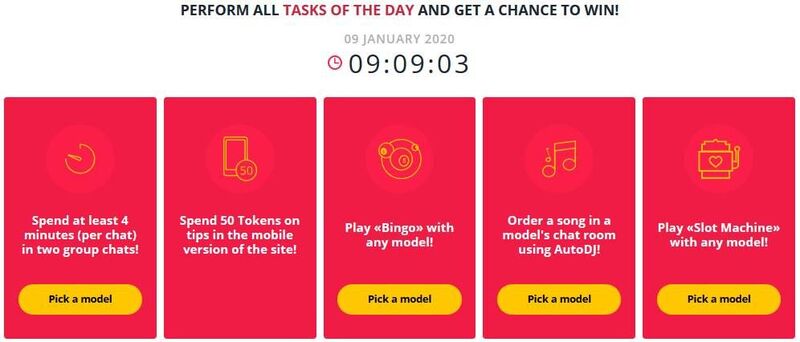 These are the tasks for January 9th 2020, just so you can get a rough estimate of how much you will actually need to spend to win that 100 tokens.
Spend 4 minutes in two different group chats - 240 tokens
Tip 50 tokens while on your phone - 50 tokens
Enter a chat room, click on Games and play Bingo - varies by model, most charge 20-60 and above
Enter a chat room, click on Games and add a song to the Auto DJ playlist - 10 token minimum 40 token average
Enter a chat room, click on Games and play a round on the Slot Machine - 22 tokens
Since the task to spend 50 tokens on your phone can be concurrently with other tasks, the bare minimum you will need to spend is about 322 tokens. This is the low end, with many models charging much higher prices for certain Games. The DJ option for example had very few models available for 10 tokens, with most charging 40.
If you aren't looking to just complete the goals in the cheapest rooms each day, then you will probably need to spend upwards of 400 tokens.
The BongaCams Daily Achievements bonuses can be won concurrently with the Cashback offer. The top 5 spenders on the site win up to 200 tokens each day. Between the two promotions, you could actually win up to 300 tokens a day on BongaCams.
There are some basic conditions to the contest
50 random winners are selected each day out of all users who completed all tasks
Winners will be sent a link to claim the prize via the website inbox
Each day is from 00:00-23:59 (GMT +3)
BongaCams reserve the right to change/cancel the contest as it pleases
BongaCams reserves the right to disqualify any user spotted in fraudulent activity and doesn't have to explain if asked
As you can see, these aren't really rules for you, other than the last one, which is pretty obvious. If you try to cheat the system they aren't exactly going to line up to give you prizes.
The Daily Achievements on BongaCams are very similar to the Daily Challenges that LiveJasmin has every once in a while. The main difference between the two is that the challenges reset daily on BongaCams, while they are cumulative on LiveJasmin.
On BongaCams you have a chance to be a winner every day, but could also not win at all. On LiveJasmin you have to spend money every day, without missing a day, but are guaranteed a win.
Overall, it's very nice to see BongaCams add yet another promotion to their already busy promotions page. BongaCams runs more concurrent promotions than any other site in the business.
Back to full list of sex cam blog posts
---