The 5 Best Sites for Chatting with Cam Boys on Mobile
Last Updated
September 18, 2022
This day and age, it's rare to see desktop computers as the only means of communication, commerce, and of course - live adult cams. Instead, we're getting better and better versions of mobile devices, such as smartphones, tablets and even smart watches for the more athletically inclined. Watching live porn is no longer done in secret dark rooms, but in the comfort of anywhere you like - Outdoors, your own bed, climbing a mountain, anywhere there's WiFi is fair game.
To that end, here are the best five sites that not only host the best, hunkiest, most charming male models, but also provide the best mobile experience. Go climb that mountain knowing all your live cam needs on mobile will be satisfied.
CameraBoys.coms
CameraBoys is easily the best gay live cam site around, and it's hard to beat from the top spot for many reasons. It's a premium site, providing the most pro, vetted and trained models in the live cam world, along with 720p HD quality cams, 24/7 live customer care, sleek navigation on the site using the advanced search, and of course an excellent mobile platform with c2c capabilities.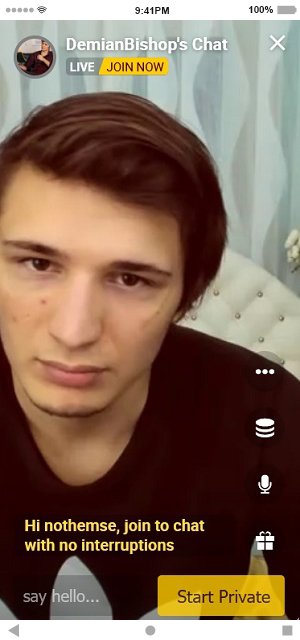 Finding that one hot hunk that'll get your motor running is super easy, as there are two filters. The first on the left offers basic categories for easy reach, such as Asian, Roleplay, Twink, and others. But on the top right next to the search bar, there's an advanced search where you can make multiple selections for a more thorough sorting. By Price, Language, show types, and more.
After finding your prince charming, a private chat is not cheap by any means - $2.40 a minute on average, and starting at $1.20 a minute. That's not too bad, but if you'd like the best possible private experience you'll want to add another $1-$2 to turn on your cam, and another $1-$2 for turning on your mic. There's no extra cost for using the mobile site.
To use the mobile version there's no need to download anything, simply go onto the site on your mobile. To activate the 2 way audio/video click on the right where there are cam and mic icons. You'll be prompted with the price, and you only need to accept and start your chat with the delightful dude who has captured your heart, and other organs.
---
Flirt4free.com
While not an exclusive male model site, there are plenty of guys always online (Up to 200) to keep you occupied on Flirt4Free, and so many other features and entertainment options you might spend your time on the site doing more than chat with the men. Flirt4Free is a freaky site, and premium to boot, geared towards the fetish-inclined, with its own fetish community, and even an Education Center to teach you everything you wanted to know about gay sex.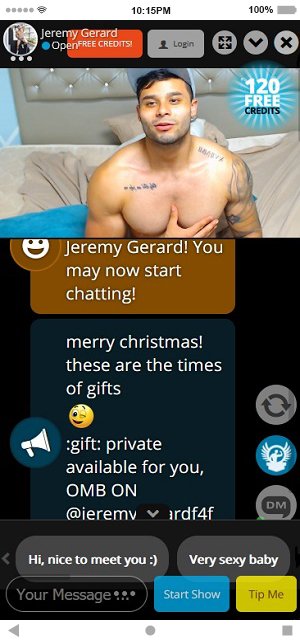 Your new delicious daddy can be discovered in several ways. As on most sites, on the left is the categories filter, with gems such as Bear and Cub, Euro-Muscle, and Tickling. On the top are several other sorters, more specific depending on your style. Under Room Type you'll find price sorting, but also different show types and rooms hosting models with interactive, two-way toys. Above it, you'll notice the Live Guys Cams section, where you'll find the gateway to the site's male fetish community.
An average chat goes for around $3.00 a minute, but starts as low as $0.50 a minute, which also includes cam2cam and recording of your chats. At $0.50 a minute, Flirt4Free can provide some of the cheapest gay chat online. A great way to reduce costs, especially for returning regular members is the VIP program that provides perks such as 200 free videos a day, unlimited access to recorded shows, participation in models' forums, special VIP discounts, and more, for $39.95 a month.
On mobile, note that you have the option of rewinding the video back to a previous moment, so you can keep rewatching your favorite parts. However, with the keyboard active, you can only see part of the video. But, on the bright side, the video won't jump up and down while you type, you can scroll up and keep typing to your lovely lover.
---
Stripchat.com
Stripchat is a freemium site, and then some. Meaning, if you want cheap, plentiful open rooms with up to 300 male models always online of all shapes and sizes letting their freak flag fly for tips alone, you've come to the right place. Stripchat performers are just that, and they love to show it all off. The categories are bananas, hundreds of them changing daily, and promising a kinky good time with the honey of your choice.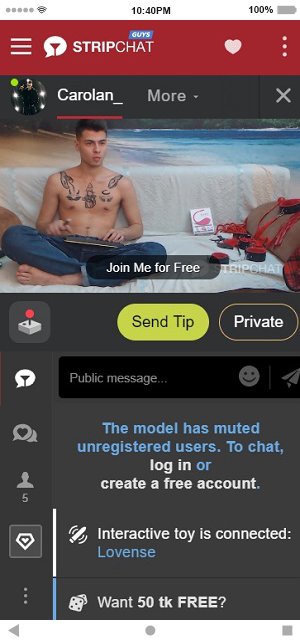 Besides the regular left hand filter, there's a cornucopia of wondrous categories you can find on the bottom under All Categories. Unique ones too, such as Recordable Privates, Colorful, Mobile - Where you and your model can both chat on your phones, Romanian, French and Lithuanian, to name but a few. You can also select from the main page New Models, likely to provide lower rates.
A private show will cost you $2.40 a minute on average, and the lowest rate $0.80 a minute, which may include cam-to-cam, depending on the model and if he decides to ask for more. Seeing as the site is knows for giving you on of the best c2c experience possible, the low rates are great for an intimate setting. However, you can find cheaper options watching Spy Shows as a voyeur, and Ticket Group Shows (Multiple member shows), both a fraction of the rates of private chats.
The mobile version loads quickly and offers all features the desktop version does. The only thing you can't do is have a cam2cam chat session. Good news is that everything else on the mobile version is great, such as writing in chat, which doesn't obscure the screen, and the address bar goes away once you scroll down.
---
BongaCams.com
Overflowing with good looking, amateur, stunning European models, BongaCams offers over 100 male models available at all hours. A freemium site to the fullest, you can easily find lots of nudity and sex in most rooms, which likely to happen especially when a performer has a continental state of mind, offering much more adventure and a no-holds-barred attitude. These guys want you to check out their bodies, their flexible muscles, and their bulging excitement.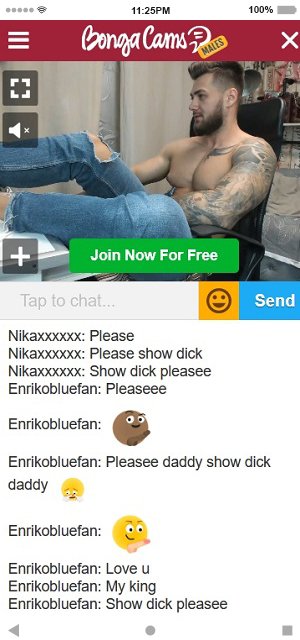 BongaCams offers a set price for all privates chats - $5.00 a minute, but that type of session can be spied on by other members. To get an exclusive time with your junk a Full Private Chat will cost you $7.00 a minute. If that's too rich for your blood, don't forget two things: The first, is that there are hundreds of free open rooms requiring only tips, and you can always join a multi-user show such as a Group Chat and pay only $2.50 a minute.
On your mobile device you can use a nifty feature and swipe left and right between the live chat rooms for a random chat roulette effect. You can press on the + (Plus) icon to open up more options, such as tipping or starting a private chat. As of late 2020, you can interactively chat with the site's models on your mobile device using c2c and get truly intimate.
There's really only one major issue on BongaCams, which is why it's not higher up on this list - Pop-up ads. Yes, they are annoying, but once you start a chat, they won't bother you. To make up for it, BongaCams is a promotions machine, offering lots of options for bargain shoppers, such as 100 free tokens when you enter the site as a registered user on a mobile device.
---
LiveJasmin.com
LiveJasmin is one of the most well known and beloved luxury live cam sites in the live cam world, offering models that are exclusive to it, you won't find them anywhere else online. The site also provides great promotions to combat it's higher rates, online customer service at any time of day, a Mobile Live feature allowing you to chat with your lovely lad on both your mobile devices, and a Story feature just like Instagram, bringing so much closer to your guy.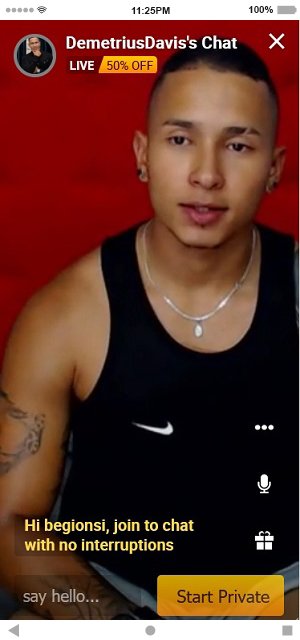 Though 70 male models always online might not sound like much, these are no ordinary gentlemen, but highly trained, cultivated and vetted performers. That's also why you won't find any nudity or sex in the open rooms, as they serve as the perfect base to get to know your potential loverboy prior to paying those coins for a private cam2cam interaction.
A one on one chat averages $2.40 a minute and starts at $1.20 a minute. To turn on your mic and cam, you'll need to add between $1-$2 for each. But there are plenty of ways around the expensive prices. Firstly, select models that have stickers on their profiles stating New, Birthday, or Promo. Then, use the filter on the top right to search rooms according to price per minute. Finally, you can join a chat with other members, a VIP Show, and pay only the ticket price to enter the exciting show.
Download the LiveJasmin Free Mobile App to get started on your mobile journey, allowing you to use the fantastic c2c feature along with one of the best mobile platforms around. The mobile version lets you pan the camera by pressing the screen and tilting your phone, or minimize the show to a smaller screen by dragging it to the bottom, so you can browse the site while still enjoying the hot models.
---
Conclusion
All five sites provide a perfect male model utopia to find your next male model extraordinaire, but we recommend CameraBoys as the ultimate gay site with a mobile experience to boot. The site's mobile platform gives you the option to have a cam-to-cam experience, as well as the option to choose from the best gay performers in the live cam biz. The site also gives you the tools to search easily, enjoy premium features, and spend your change on a site that won't disappoint.
Back to full list of sex cam blog posts
---