5 Best Voyeur Live Webcam Sites
Last Updated
September 07, 2022
Some people like to be watched and others like to watch. It's just the way it is. Many webcam performers get a thrill out of knowing people are watching them pleasure themselves, playing with their bodies. For the viewers, one of the biggest turn-ons isn't just joining in the NSFW games, but silently observing without even being acknowledged.
Voyeur cams are just as in demand as interactive cams. So much so that some sites even have rooms with cameras streaming 24/7 so you can watch the hosts carry out their daily routines and night-time adventures, oblivious to the fact that someone, somewhere, is watching them. Find out which are the best live voyeur webcam sites that let you peek into someone else's pervy private time.
CamSoda.com
CamSoda is without a doubt the leader in voyeur and spy cams. For a true fly-on-the-wall experience, this freemium cam platform has dedicated voyeur hidden webcam rooms streaming 24/7. It also lets you spy on a model's private kinky show for very little money. And, if that's not enough, you can enjoy thousands of free sex cam shows without having to make your presence known.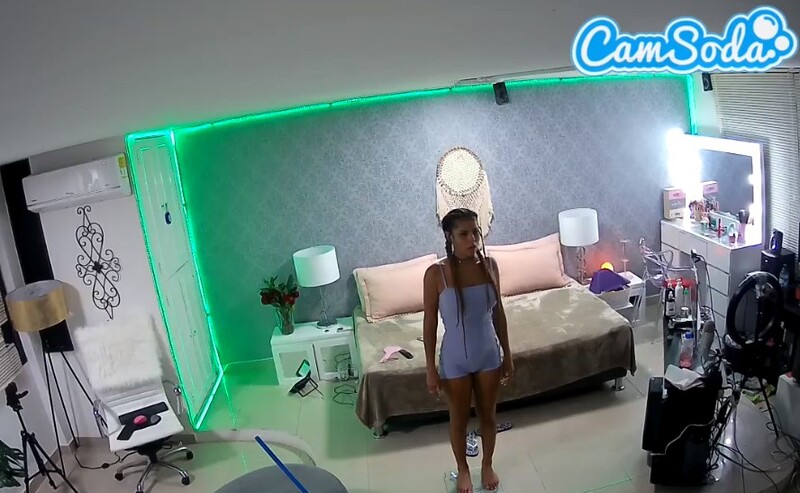 At the top of the gallery of steamy images that fill the homepage of CamSoda, there are tags for both Spy Shows and Voyeur House & Hidden Spy Cams. If you choose Spy Shows, you can enter a private cam show the model is already in and watch the shows without as a silent observer. The Voyeur cams are hidden cams positioned in every room in specifically designed houses. Here you can watch girls and guys carry on in their daily activities, including showering, getting frisky with each other and of course stripping off and performing all types of kinky activities. The voyeur cams are totally free and let anyone be a peeping tom without repercussions. 
Spy Shows are the perfect for secret peeking, but they're not necessarily cheaper than a private show. Many performers ask the same per-minute rate if you want to be in the shadows and not participate in a live XXX cam show. If you do go 1on1 instead of spying, the private show rates include the option to record the session and store a copy of the performance in your CamSoda account where you can view it as often as you want without paying any extra. This is something you can't do in a Spy Show mode.
On average, a private show costs around $1.80 a minute, with the cheapest rates coming in at $0.48 a minute. It's the same for Spy Shows. The best way to be a horny silent witness at CamSoda, in fact at any freemium cam site, is to sit back and enjoy the free X-rated cam shows taking place in the open tip-fueled cam rooms.
---
Stripchat.com
Stripchat is a freemium live video chat platform with a huge range of show modes and features including the option to spy on private shows, as well as hardcore free tip-fueled webcam shows, virtual reality (VR) sex cam shows, exclusive sessions that can be recorded and a range of kinks that cover the spectrum of the fetish rainbow. And, if you're curious to know what your favorite pornstar gets up to when she's not making an X-rated movie, she might just be in a live show at Stripchat which you can silently perv at.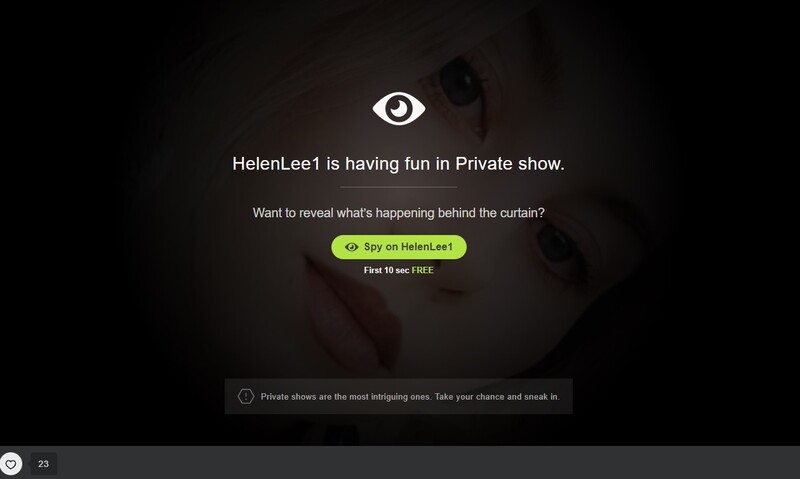 On Stripchat's homepage, the main menu bar has a category called Private Shows. This group has a link for Spy on Shows. This brings up all the closed XXX cam shows that you can secretly peek into. There's usually 150-200 sessions to choose from. The site helps you narrow down your options by bringing up a search tool focused only on Spy Shows. You can add filters such as the performer's ethnicity, age, body type and types of fetishes. 
Per-minute rates for secret peeking on a sex show are pretty much the same as the model asks for a regular private show where you're in charge. However, at Stripchat, many of the hosts demand a time-minimum spend in an exclusive show mode. If you're peeking in, you can stay as long (or as short) as you want with no commitment. Also the site gives you the first 10 seconds free so if it's not to your taste, you can quickly get out of the room without paying. But, if you're in for 11 seconds, you'll have to pay for the full minute, which usually comes in at around $2.40 a minute. A bit of hunting around and you can spy shows for just $0.80 a minute.
Stripchat has so many raunchy free shows taking place that finding a Spy Show isn't really necessary. You can watch one of around 3,500 streaming cams in total secrecy and anonymity without having to first log-into the site as a member. And, if you really like what you're watching, Stripchat also lets you record a free show on a per-minute basis.
---
LiveJasmin.com
If you like to sneak into the most exclusive live sex session starring the most in-demand cam babes around, LiveJasmin is your VIP pass to the front-row of the hottest closed webcam rooms. At LiveJasmin, no-one knows if someone is peeking in for a quick perv including the performer. You're a true silent voyeur, but your time is limited here, as the window only opens for 25 seconds, so there's no hanging around in your peeping tom pose at this premium cam site.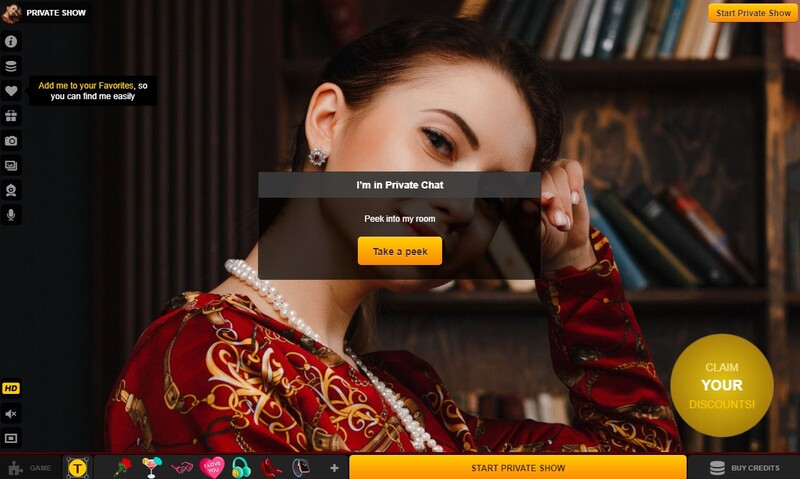 In order to find the shows you can sneakily peek into at LiveJasmin you need to go to the Show Type group in the homepage's left menu bar and select Private Chat. Selecting this link brings up all the rooms that are currently engaged in a private chat show. If a snapshot has a red circle on it, it means the host is online and entertaining in an exclusive cam show. These are the ones you can spy in on for 25 seconds at a time.
LiveJasmin knows that voyeurism ups the ante when it comes to getting a secretive thrill. When you sign-up to the site for the first time, you'll be gifted a few sneak peeks to give you an idea of what takes place when the virtual curtain comes down for a private show. It costs around $2.20 for a 25 second peep into a live porn performance. You can't interact in any form with the model, so it is an expensive way to be a peeping tom. Unfortunately, LiveJasmin is a premium cam site and keeps the wet and wild antics strictly behind a paywalls so there's no free XXX activity to silently observe. 
If the average price of a private show at LiveJasmin, which stands at $2.40 a minute, is too high for you, the cheapest rooms and those with a Promo sticker come in at $1.20 a minute. However, for an even cheaper way to see some X-rated action and enjoy the voyeur experience is to watch a VIP Show. These are set time, multi-viewer sessions a model initiates and cost a one-time entry fee. Prices vary, but generally come in at around $0.80 a minute. You don't have to participate in any way, just stick back and quietly observe the kinky performance.
---
Chaturbate.com
When it comes to peeking at some live porn without being noticed, Chaturbate has over 4,000 extreme live sex shows going on 24/7. You don't need to do anything except try and narrow down your options to just a few that deserve your anonymous observation. The overwhelming majority of the hosts here are kinky exhibitionists who get their kicks off by being watched by as many people as possible.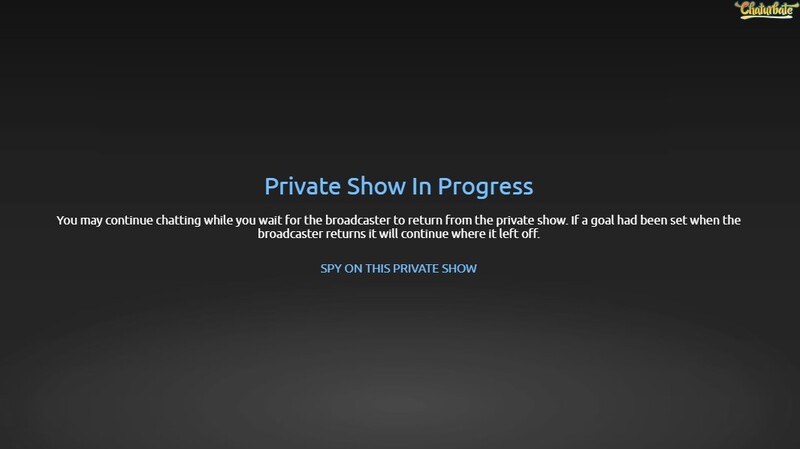 On the top of the X-rated gallery of images that make up Chaturbate's landing page, there's a clickable button to Spy Shows. These are rooms where the host is already engaged in a private show with another viewer, but are open for other viewers silently join in the shadows for a set per-minute fee. They're not usually any cheaper than the regular private show rate the host asks. Considering you can be a voyeur at a huge range of shows covering every niche genre and not have to pay anything, the Spy Shows are really only of interest if there's a particular model you like and you don't have time to wait for her or him to move into their free open cam chat room.
If you do go into a private show, rates per-minute generally hit the $3.00 mark. However, there's also an enormous number of rooms asking the cheapest cam show rate of just $0.60 a minute. Chaturbate though is a platform for extreme exhibitionists and not all models will go into a 1on1 show. On the upside with private shows, similar to Stripchat and CamSoda, you can record the cam session and keep a copy of it in your Chaturbate account for free unlimited future viewing.
One tip that helps narrow down the options quickly at Chaturbate is to only peer in at the rooms with an HD or HD plus sticker on their snapshot. There are thousands streaming in HD and a significant number broadcasting not only in HD plus, but also 4K UHD. 
---
Flirt4Free.com
Flirt4Free is another premium cam site though you don't have always have to pay to spy on a show in order to be a fly on the wall and enjoy a voyeur cam session. Several of the performers here push the boundaries on what is allowed in their free open public video chat rooms and will give brief (and not so brief) X-rated teasers of what to expect if you were to go 1on1 with them. They also host open multi-viewer Party Chat shows where they'll perform certain acts if the audience cumulatively tips enough.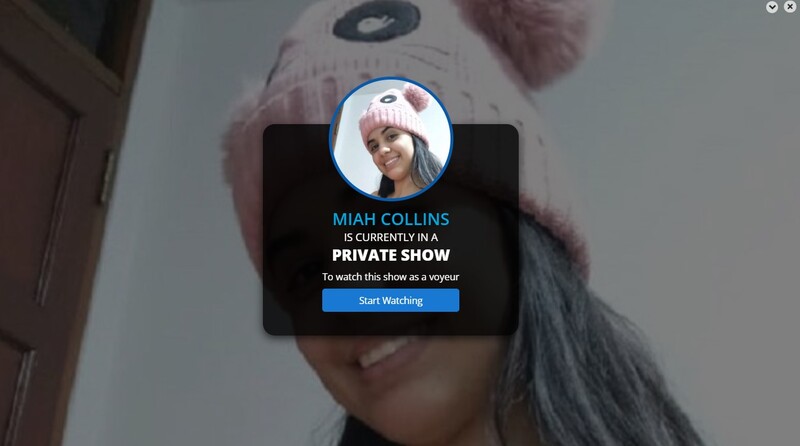 Above the static photos at Flirt4Free there's a top navigation menu including a group that lets you choose Room Type. There are several voyeur webcam options here including the traditional Voyeur link that brings up the girls who are entertaining in a closed private session but will let you watch the show as a silent witness, You can also choose to enter a Group Chat show. These are multi-viewer performances where the model sets a goal of the amount of credits she needs before starting the activity. If enough people give credits and she hits her pre-set goal, all those who have given credits are granted entry into her kinky show.
The cheapest and the best voyeur webcam shows at Flirt4Free are the Party Chat sessions. You don't need to tip in order to watch the goings-on but if no-one tips, then nothing much will happen. If you've tried all the options and can't find any free voyeur cam activity, you may just end up going into a private show mode. On average, an exclusive session comes in at $3,00 a minute, with just a handful of cam rooms asking the site's minimum charge of $0.50 a minute.
One thing that's really worth taking advantage of at Flirt4Free is the 120 free credits giveaway. If you link your account to a credit card you'll get comped 120 credits as a thank you. You only need to verify the card's details and don't have to use it in order to get the freebies. You can then use them to cover a few short voyeur shows.
---
Conclusion
Without a doubt though, of all the above listed voyeur webcam sites, CamSoda is the best option. Not only can you silently spy in on someone's private show, but you can secretly peek in on thousands of performances without being seen. You also have a number of true voyeur cams that give you inside access into houses where CamSoda models are up to all types of kinky activities, often oblivious to the fact that someone is watching them.
Back to full list of sex cam blog posts
---