Cam Sites With the Best Models to Jerk-off To
Last Updated
September 15, 2022
Live cams are usually meant for one thing. No, not friendship everlasting or connections to find work. Instead, it is the source of your live porn, giving you every chance to find the best site and model to do the five knuckle shuffle. Instead of randomly finding sites that may not be as safe, secure and quality-based, and instead of just finding generic babes, why not let us steer you towards the best sites with the best models? Here are the top five best cam sites for jerking off.
CamSoda.com
CamSoda is the best freemium site around, and it's not just us saying so. As evident by the countless fans and users, the site likes to give its members as many options as possible when considering what's the best way to rub one out. You can have a private session with free cam to cam and free show recordings, or watch one of the CamSoda-produced Exclusive Vids for free, or you can just browse the main page in which you can see all the models live streaming at once. Of course, you can also go Voyeur mode and spy, or have a "traditional" 1on1 chat for some of the lowest prices around.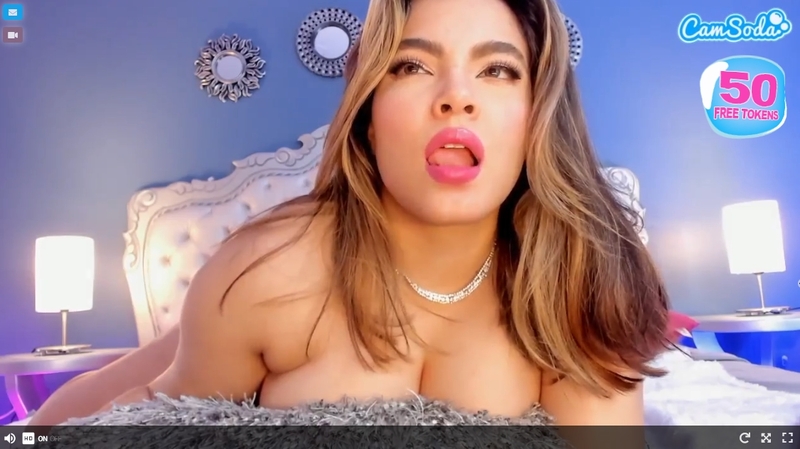 CamSoda has three options when it comes to finding your lady love. The first is by using the very minimal filter on the left, where you can sort according to price, ethnicity, and others, but be warned this is not always reliable. The second option, which is more reliable but still imperfect, is the tagging system, located on the top of the page. To the right of it, you'll see view all tags, to get the full picture. Unfortunately, there are always models who tag themselves as "ebony" when they aren't, or as "smoking" when they don't. So we recommend the best, and also most enjoyable way, browsing the site. As all the streams are 100% live and in the moment, you don't even need to hover over the rooms to see the action happening, and that's the most efficient and effective way to get to spank heaven.
An average private will cost you $1.80 a minute, which is already pretty low, but starts at only $0.50 a minute, including cam2cam on desktop and mobile. The price also includes a free recording, which is ideal for any member who loves to relieve the moments of sessions past. To get some change in your pocket and explore the site, simply verify your credit card to be gifted between 25-200 tokens, an amount that changes. Also, users get "likes" from models, not just the other way around, and the user that gets the most each week will win 1000 tokens, worth $100. Lastly, if you get a VIP membership for $19.95/month, you'll get 200 free tokens worth $20, and you can always cancel after that month, if you like.
---
Stripchat.com
Stripchat offers variety like no other, boasting up to 6000 models online, half of which stream in up to 1080p HD quality. Not only that, it offers hundreds of fetish categories, from the vanilla to the obscure to the down right nasty, and you can go and check those out for free in the open rooms, with plenty of nudity and sex. But the crowning jewel of the site, for those who love an elevates experience when having a hand party, the site offers 20-40 virtual reality live cams, to give you that stunning 360 degree experience with your girl.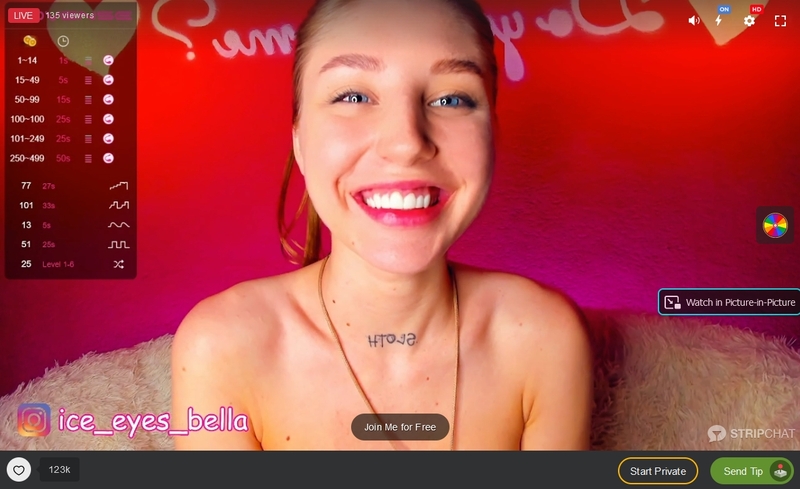 Stripchat is extremely easy to navigate, as it offers two main roads to freak town. The first is on the left like on most sites, a filter with all the basic categories along with physical attributes, price per minute, and the like. But to get to the nitty gritty of the site and to see the reason so many flock to it, scroll all the way down on the left to the link All Categories. There, in alphabetical order, you'll find hundreds of funky categories and even cross categories such as Athletic Colombian, Yoga Granny or Goth Latina. The sky's the limit here. But if you don't have a particular fetish in mind, go back to the basic left hand filter on the main page and select the general Fetishes category, and even that fancy feature users come for with their tech gear, VR Cams.
A private show on Stripchat costs $2.40 a minute on average, while the minimum stands at $0.80 a minute. Depending on the model, you may or may not need to pony up some more change to those prices. Some will charge more for webcam to webcam chats, some won't. Some will offer block session, between 15-60 minutes at a reduced rate, far cheaper than the per minute prices. If there's a particular honey you like, you can join her Fan Club, which is a great investment if you plan on seeing her often. This membership will include sending her private messages, having a special badge, reduced costs and discount codes, and perhaps most importantly of all, if she likes you, she will make you her Knight, which is a name for a member who also moderates a model's room, and can kick out unwelcome users.
---
Flirt4Free.com
Flirt4Free is a fascinating specimen of live cams, as it is all the way premium, with pro models, and amenities such as 720p HD rooms, 24/7 live customer support, cam2cam on mobile devices, and a filtering system to put others to shame. But on the other side of the site, you get a sneaky little mini-site, dedicated entirely to fetish. This is completely unique, as it's a different part of the site, with over 50 categories, some of them extremely hard core, with contests and winners for best fetish models. So if you're looking to treat yourself right with a particular fetish, this is probably the place to go.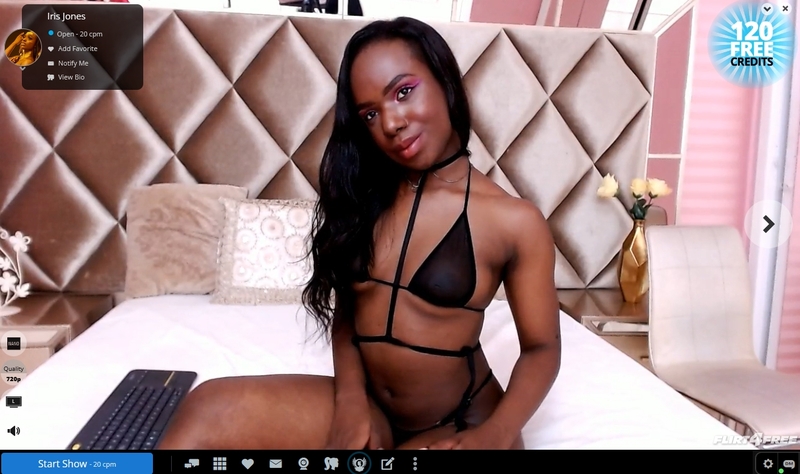 Perhaps the sleekest and best designed site on this list, Flirt4Free is a joy to browse, because it's cleverly thought out to accommodate even the least tech savvy. On the left, the classic basic filter with categories, all types of models (Including threesomes and transgender). But on top, is the cool multiple option filter that can easily help you find your way. The fetish section of the site mentioned above, is located under the very top section Live Girls Cams. Just hit Fetish. Next to it is the Videos section, pre-recorded of course, but with quite a few videos for free, too. The Profiles connect to the many contests on the site, from which you can select your next gal.
Prices vary from $3.00 a minute on average to a low $0.50 a minute. To get to these cheap rooms, you'll use the filter below the one on the top mentioned above, and go straight to the Room Type section. This is the money maker, or more accurately, the money saver section. You'll find the category Lowest Price, as well as Group Chat and Party Chat. These three will always be your cheapest options, and the group chats are much more fun than they sound. Another feature worth mentioning in this section, which may be slightly more expensive (But very much worth it) is the 2-Way Interactive category. Here you'll find rooms, not many, that offer the tech for both you and your model to control each other's toys, and ideally cum together in a blaze of glory.
---
BongaCams.com
BongaCams is somewhat of a unicorn in freemium sites, as it offers so many premium amenities, despite its models being amateurs. There's around the clock customer care, you get a fantastic mobile interface that allows for camera to camera chat, and a pretty great filter too, along with tags, one of them being HD+, with room up to 4K HD quality. But this impressive site has one major flaw, the pop-up ads. They never come up while you're in a room, but when you're browsing around looking for a hot meal, they can really drive you bonkers.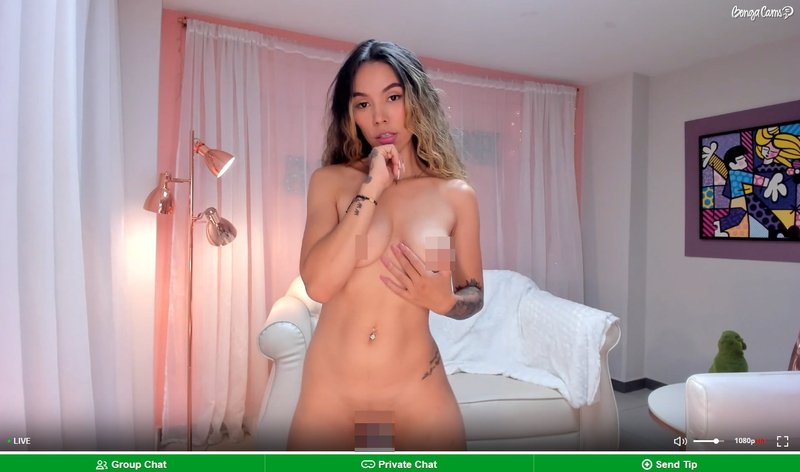 BongaCams is a freemium site with plenty of free sex and nudity to go around, yet still wants to provide it's users with the best live cam experience, as evident by the HD quality that goes up to 4K, the customer support which is available 24/7 to anyone, and the excellent combo of tags and a filter to make your browsing easier. The design is a little less friendly due to all the colors and the displays, but not to worry, we'll guide you though it. First are the tags, which are almost always accurate and helpful. We recommend you start with HD+, Mobile Live (Models on their mobile), or Vibe with me (Interactive toys). But there's also a great filter called Quick Search on the far left, which will open up, and you'll select More Options. Here, you have plenty of appearance categories, regions, languages, and fetishes too.
Unlike most sites, BongaCams offers one singular price for all chats, which includes cam to cam, $3.30 a minute. However, this isn't private. For an exclusive private chat, you'll need to add another $2 to the price per minute, both include c2c. This may sound like a lot, and it is the most expensive on this list, but BongaCams makes up for it with it's cam site promos. On the top of the site notice the Promotions tab, hit it to find out what's in store. Currently, the top promos are pretty lucrative. First, but purchasing any amount on your mobile, you get 100 free tokens, worth $10. Then, you can refer a friend and get 50% of their purchase amount. Also, each day five members are chosen who have spent money on the site, and can win up to 200 tokens, worth $20.
---
Chaturbate.com
Chaturbate is perhaps the most fun freemium site, despite lacking a proper filter and lacking other fancy amenities. But you don't need them when you have Princess Leah, Anime characters, Dominatrix/Submissives, full head to toe latex outfits, colorful wigs and make up, dirty nurses and naughty teachers, as well as characters you love from popular shows, movies and games. This is the site for those who love to pretend their fantasies have come to life, whether animated or "real", and they can wank it to a woman dressed like a unicorn, in handcuffs (In up to 4K HD). What more could you ask for?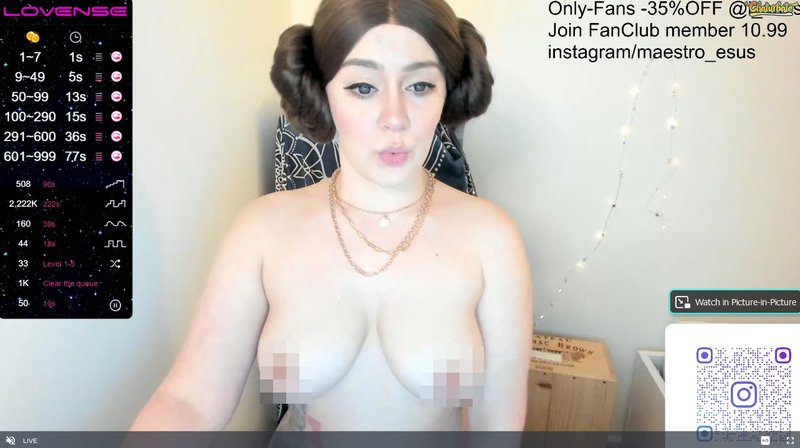 Chaturbate is a simple, classic freemium site, that isn't trying to impress, as the ladies and other models do the job easily. It works on tags alone, and they're almost always accurate. If the ones on top don't strike your fancy, just select (view more tags) to the the hundreds of others available. Though, with profile pic being taken every few seconds, browsing is faster, and more enjoyable, especially when you get such colorful costumes and special attire you're not likely to find on other sites. To Chaturbate come the exhibitionists, which is why many models won't even go to private chats, they enjoy the open room experience much more. To stand out, feel free to turn on your camera in the open rooms, so she can see you, but no one else can.
Chaturbate prices start low at $0.60 a minute and average at $3.00 a minute. This usually includes cam2cam but it depends on the lady you pick. To that end, we're letting you in on a "hidden" filter which is all the way down below the site for some reason we can't explain. Scroll all the way, and you'll find Free Cams by Age, Free Cams by Region, Free Cams by Status (Select HD here), and according to price per minute, too. If you want to get a few extra tokens, select Earn Free Tokens up top, to get instructions on how to raise your daily spending limit to get 200 tokens ($20), or refer a stunning model to get 500 tokens on her first show ($50).
---
Conclusion
Simply put, you're looking for the most, for free, and the best for free too. That's CamSoda. Giving you free videos, show recordings, free sex and nudity in the open rooms and no charge for cam2cam on desktop as well as mobile, with up to 1080p HD quality, there's simply no comparing to the other sites. For your jerk off cam to cam site needs, look no further than CamSoda.
Back to full list of sex cam blog posts
---