Questions and Answers: LiveJasmin
Last Updated
September 15, 2022
The inimitable LiveJasmin was launched in 2001, and through the early 2000's it quickly rose to prominence as one of the top destinations for live cam shows online. As a premium cam site, there is no nudity or sexual activity in the public chat rooms. This is a cam site that caters to those looking for private sex cam shows in paid-for sessions. And while the majority of its webcam models are ready and waiting to entertain during explicit one-on-one shows or group shows, LiveJasmin is also a platform for those looking for a more intimate and romantic interaction with their models found on the site's Hot Flirt and Soul Mate channels.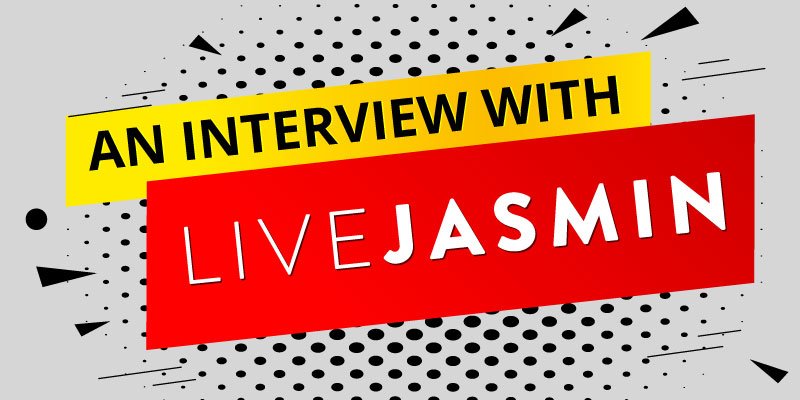 ---
LiveJasmin Interview
While our full review of LiveJasmin covers everything you need to know to get started using the site, we had the opportunity to ask LiveJasmin the questions we were most curious about in this coming year. Here is that interview:
Q: Which performance abilities and characteristics does LiveJasmin look for in its performers?
We are constantly searching for fresh, new faces. We need women with charisma, who are ready to live their lives to the fullest. Beauty, passion for connection, and intellect are what defines a real woman of LiveJasmin.
Q: What support does LiveJasmin give to the models to be the best performers they can be?
LiveJasmin as a platform provides all the necessary tools our models need to experience absolute, creative freedom. Additionally, we have a top-notch program with highly qualified people, who are always available for correspondence.
Q: What trends, tips, and insights from LiveJasmin would be shared with each of its performers if it had their close attention for 60 seconds?
The chat is your audience, stay responsive and active. Make sure to be dynamic and react to incoming requests and messages. Showing your appreciation for every single member that comes in to spend time with you is the key to success. Also, stay up to date with the most recent news and features to actively promote them for your own benefit.
Q: Currently, LiveJasmin broadcasts at 720p. Are there plans to scale up to 1080p or more?
Yes, 1080 support is coming this year! We want to continue to provide our models with immaculate streaming conditions.
Q: Has LiveJasmin considered providing Virtual Reality cam shows?
We conducted several surveys, but so far we do not see any growing interest for these type of services.
Q: What does LiveJasmin believe distinguishes itself from other premium cam sites? – How are you different?
LiveJasmin always tries to deliver a prestigious experience for members. Whether it's a studio or independent model, we always hope to have them to connect with members on a deeper level. Once you've connected with a model, chances are you will form a bond that will make you want to come back, time and time again.
Q: What is LiveJasmin's biggest advantage in a competitive marketplace?
With over 2,500 models online at any given point, there is always a perfect match for what you're looking for. Whether that's a specific kink or a specific look, LiveJasmin has it. It's hard to compete with our crystal clear streaming quality, various features, promotions, easy navigation and much more. When you spend time on the platform, it doesn't feel like models are trying to pinch every penny of their visitors, but instead are genuinely interested in providing a good time.
Q: Which are the most popular chat room features used on LiveJasmin?
Recently reintroduced Interactive Toys, Action Requests, Surprises, and Cam2Cam are the most popular chat room features.
Q: How does LiveJasmin choose which new categories to add or remove?
We listen to our users' (members/models) requests as well as constantly monitor the trends and search queries in order to provide better service and accommodate new categories as needed.
Q: What does LiveJasmin do to protect its members' privacy and security?
Privacy and security are of the utmost importance for LiveJasmin. We are constantly adopting the best practices in IT Security and we also employ an internal 'hacker' who is constantly checking our sites and systems for various security flaws. We have implemented the necessary consent processes for the site as well. The members have the chance the change/revoke their consent at any time. We aim for 'privacy by design' when designing our features.
Q: What demographics can LiveJasmin share about its clients – site members?
With 19 supported languages, LiveJasmin members are from 237 countries.
Q: The Elite program – are there intentions to expand the benefits of the program?
Yes, we are planning to add more benefits to the program outside of the current ones, which include prestige mask that models adore, the ability to add more Favorites, and hiding guests in the chat room.
Q: Does LiveJasmin have intentions to add nudity to the free/public chat rooms?
The short answer is no, LiveJasmin differentiates itself from its competitors mainly by its premium quality and we intend to keep private things in Private Shows.
Q: What are LiveJasmin's best tips for its members?
Don't be shy! Browse the site as comfortably as you possibly can and don't hesitate to raise your questions with the vast majority of beautiful models directly.
Q: What are the most popular site features used on LiveJasmin by its members?
Naturally, Private Shows are the main feature of the site. How one can resist the beauty of over 2,500 online models? And as part of the experience Interactive Toy, Surprises, Cam2Cam are popular among members. Also, Private Messages and Video Calls, which enable users to be a part of the models' lives.
Q: What features are on LiveJasmin that members don't take advantage of?
Models shares moments from their life using Stories, most of them are public but some of them are considered as Premium due to its content. We believe members can get to know the model better by simply subscribing and reacting to these Stories to start building the relationship they are looking for.
Q: What does LiveJasmin have in store for its members in 2022? Features? Promotions? Holiday events? Show types?
We are working hard on providing the best seasonal experiences to all our members across the complete year. Expect all kinds of custom promotions for holiday events. This year, we are also going to roll out multiple features with the focus of further deepening the connection between models and their audiences.
---
Thank You!
We want to thank LiveJasmin for taking the time to answer our questions. They have helped us to be better prepared to interact with the site's models, and explore all the available features. If you have any further questions for LiveJasmin, then please don't hesitate to post your questions into our comments box at the bottom of the page. Or, if you are ready to start chatting with their models, then now is the time to visit LiveJasmin.
Back to full list of sex cam blog posts
---