6 models online on average
As low as €1,50 per minute
SoulCams Review - A Bright Star on the Live Webcam Chat Horizon
Is SoulCams Good?
Compared to the top cam sites of 2020, SoulCams is lagging behind. The site has low prices, good video quality, and good looking women, but you are severely limited by the selection available. At present, SoulCams seems to have maybe 12 webcam rooms available during peak hours. At the very least, most of the girls on the site are exclusive to SoulCams, so you won't find them anywhere else.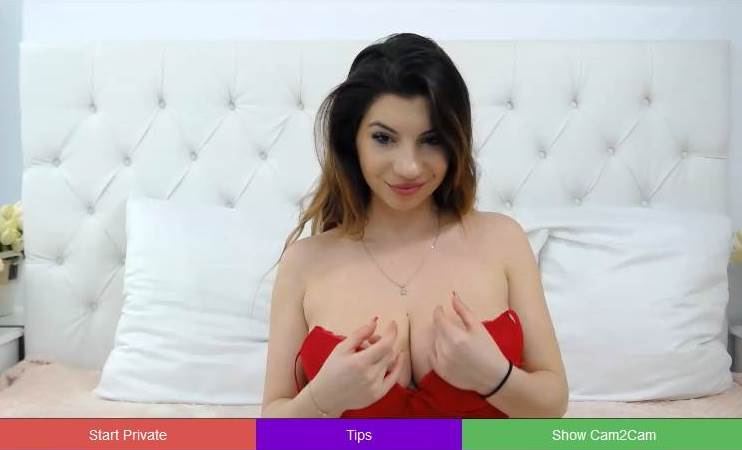 While the selection might be limited, at you know you won't be wasting tons of time flicking between the pages being indecisive. Sometimes having less options can better for helping you make up your mind.
Overview
If you are looking at SoulCams solely as a webcam platform, it really isn't bad. However, the number of models available on the site severely limits your choices. With the number of rooms available on the site, you would think that it was brand spanking new and just opened up last week, but that isn't the case.
SoulCams has been around for years now, and has simply struggled to pick up the pace. SoulCams can be a great site if you find a model online that interests you, but you shouldn't choose SoulCams if you are expecting a steady stream of new flesh. Models on the site seems to stay on it for a long time, but new girls aren't added very frequently.
Strengths & Weaknesses
Strengths
Good video quality
Low prices
Free cam2cam and 2 way audio
Weaknesses
Barely any rooms
Limited gender options
Dated user interface
The Webcam Models
The Girls
The selection of women on SoulCams is incredibly small. During some parts of the day you won't even have 4 rooms to choose from. The models are primarily European, with a very clear bias towards Caucasian models. The age groups are relatively diverse, ranging from coeds all the way up to matures.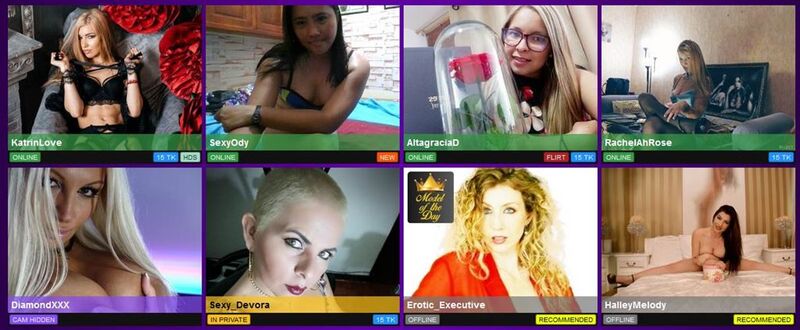 Most models on the site charge happy hour prices around the clock. That means just 15 tokens a minute, which works out to about €1,50 a minute with free cam2cam and 2 way audio.
The Guys
While SoulCams does have a boy category, it doesn't seem to be very full. While men have registered to the site, we have yet to see any actually online. There are much better options for gay webcams.
The Couples
If you're lucky, you might be lucky to find one or two couples online on SoulCams. That being said, the couple category is usually empty, so we don't really recommend SoulCams for users looking for couples cams.
The Transgenders
The transgender selection on SoulCams is very limited. On occasion, there will be a transgender model on SoulCams. However, it's usually just 1 room and it isn't labelled with any gender icons, so finding it can be a pain in the ass. SoulCams is not on our list of best tranny cam sites.
Model Profiles
You can reach the model's profiles by scrolling down while in their webcam rooms. The profiles are surprisingly detailed, with a lot of information about the models. You can find out about their age, sexual preferences, zodiac signs, measurements and more.
The model profiles give you an opportunity to display your affection for the models. You can write comments about them and send them gifts which will remain their treasure boxes forever.
Chat Options
In theory, SoulCams has many different chat options. But, in practice, since there are so few rooms only a few of the chat modes actually get used. These are the show types you will actually be able to find while browsing SoulCams. Watch out for any room tagged withe the word FLIRT. These rooms are operated by non-nude models. They can strip if they want to, but most don't.
Open Video Chat

This is the free chat room. You can talk to models about what you want to see in a private show with them. You will occasionally find some nudity in the open rooms on SoulCams, but not as much as on a freemium site.

Private Chat

All private shows on SoulCams are inclusive of cam2cam and 2 way audio while using a computer. SoulCams is not a site where the girls are obligated to do whatever you demand. You are expected to come to an agreement prior to starting your show. All models that aren't tagged with FLIRT are expected to get naked as the bare minimum.

If the model agreed to something and then didn't perform, you can turn to support via email.

Standard

The standard private shows on SoulCams is kind of like Skype. You can only see your messages to the model and hers back to you, but you have no way of knowing if she is in a private show with multiple people at the same time. You can turn on your webcam and microphone for free, but so can any other user in a private with her. Other users can spy in on these shows, but won't see your text messages to the model.

1on1

You are alone with the model and no other users can spy in or join your show, giving you complete intimacy with the model.

Spy Shows

Spy shows are for users that don't want to commit to their own show, and who would instead prefer to spy in on other peoples shows. Spying in on shows has a flat rate of 10 tokens per minute, but you can't interact with the model and you can't read the messages between the model and the user either.
Anything Else?
SoulCams has an extensive Reviews section where you can find reviews written by users about the cam girls on the site. There are pages upon pages of highly detailed reviews which you can explore.
Video Quality
The cam rooms on SoulCams are primarily in HD. You will on occasion come across a non-HD room, which is a shame since the selection on the site is already small as is.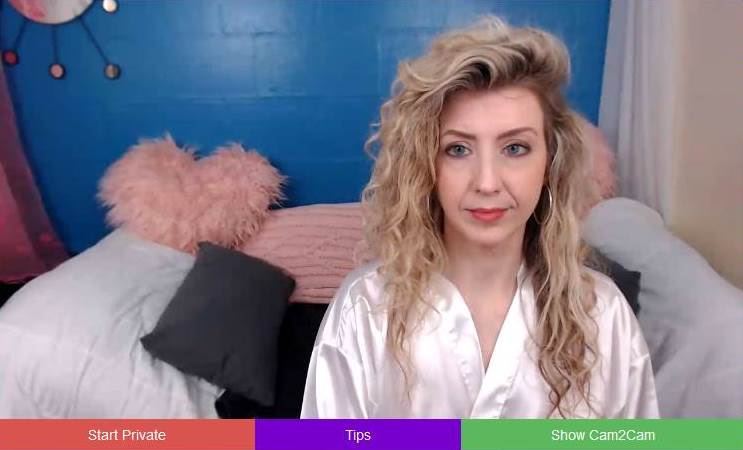 SoulCams' Mobile Site
SoulCams' mobile site is quick, responsive, and intuitive. That being said, there still really isn't that much to look at. You can only click on next room a couple of times before you run out of options.
Cam2cam and 2 way audio are not currently available in private shows while on a mobile device. There are currently very few sites which let your cam2cam on your phone.
Additional Media
SoulCams doesn't have much additional media. Throughout the year you will find seasonal photo contests which you can vote for, but that is about it.
Registration on SoulCams
Registration on SoulCams is quick, easy, and 100% free. All you need is a user name, an email, and a password.
Registering removes the time restriction on the video chat and enables you to chat.
The act of registering itself does not award you with 100 free tokens. You will need to buy a tokens package to get the 100 bonus tokens.
Prices on SoulCams
Each token on SoulCams is valued at €0,10. If you are buying the larger packages, you will receive some free tokens with your purchase. Regardless of which package you choose, you will receive 100 free tokens with your first purchase.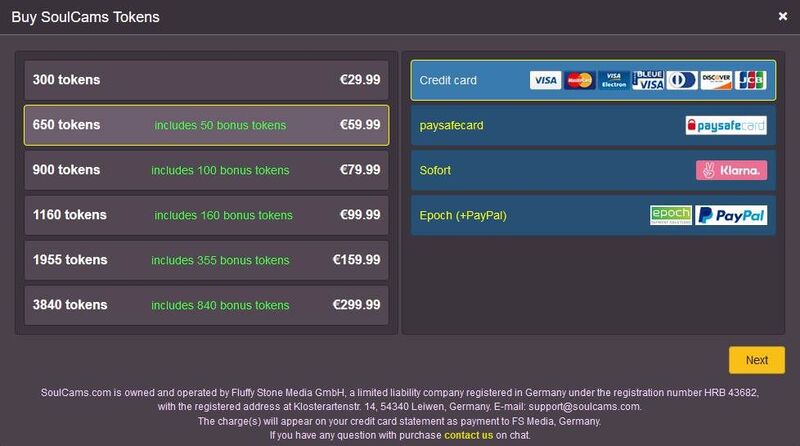 Payment Methods
SoulCams provides you with a wide range of payment methods
Visa (including Electron and Bleue)
Mastercard (including Prepaid and Maestro)
DELTA
Discover
Diners
JCB
Paysafecard
Sofort
Customer Support
The customer support on SoulCams depends largely on a contact form which can be submitted on the site. If you want live chat support, you need to go to the payment page and click on contact us or you can put /supportchat.php at the end of the URL.
As you might imagine of a smaller site, the live chat support does not work 24/7. They will contact you back as soon as the are able, but there is no set time frame.
Customer Loyalty Program
SoulCams doesn't have any set customer loyalty program. The site will occasionally run promotions and sales to drive users back to the site, but there isn't a set customer loyalty program.
Premium Membership
Being a VIP user on SoulCams removes your daily spending limits, gives you between 15 and 60 bonus tokens on every transaction, and highlights your username in yellow in the chat rooms, to get your extra attention from models.
Unlike most cam sites which have a premium membership, SoulCams charges for it's VIP membership in it's own currency. Each pay period costs 249 tokens. The first period is from the 1st till the 15th of each month, while the second is from the 16th till the end of each month. If you join up in the middle of the period for example, the cost will be discounted according to the number of days which have already passed.
Membership fees are automatically recurring, unless cancelled. If you don't have enough tokens in your account, your subscription will automatically end.
The Bottom Line
SoulCams can be nice to visit if you are an indecisive person that would rather be presented with just a few options, rather than pages upon pages of them. Otherwise, you are probably better off on a bigger cam site which offers more girls, guys, transgenders, and couples for you to explore.
Back to the full list of Best Webcam Sites
---