Get 15% Extra Credits & Win 1,000 Credits at SecretFriends Euro UEFA Promos
Last Updated
September 08, 2022
SecretFriends is kicking summer 2021 off to a sizzling start with a UEFA Euro 2020 celebration. The site is not only giving away 15% extra credits on all purchases, but it's also hosting a Euro Cup contest giving every user a chance to grab a championship prize of 1,000 free credits.
If you have a good (or not so good) idea of which two teams will make it to the final of Europe's football competition, and what the final score will be - you may just score yourself 1,000 free SecretFriends site credits.

If your favorite teams don't make the cut and their balls go more offside than inside the pitch, you can always guarantee yourself a goal with the site's 15% bonus credits promo. While the European soccer tournament is taking place, the site is adding an extra 15% bonus credits on every purchase when you use the promo code EURO15.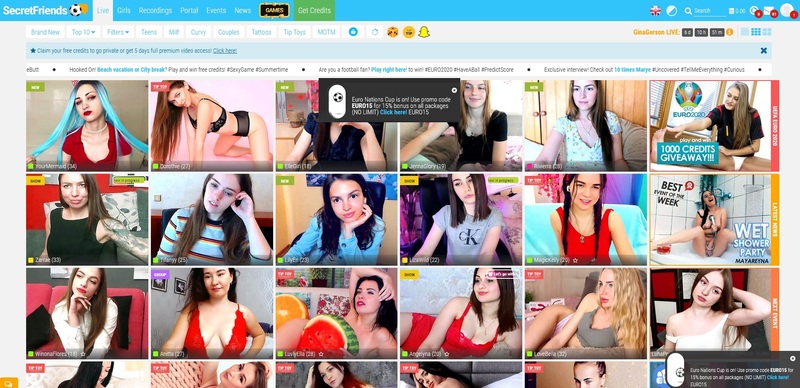 In addition to the time-limited promo and contest linked to the summer of soccer, year-round, the live video chat site offers a range of additional cam site themed gambling games where you can win site credits if you're feeling lucky. The platform's Games area is a Vegas-style casino hosting games such as Blackjack, Scratchcards, Wheel of Fortune, and a Slot Machine. If the gods of fortune are on your side, for a couple of credits (worth $2.00) you can take a go at banking a jackpot of over 1,000 credits, that in dollar terms, works out to be a $1,000 win.
If you'd rather not take a risk, there's always the site's exhaustive video library featuring over 16,000 X-rated movie clips, some are paid-to-view and others are totally free to watch.  But at the end of the day, it's the models themselves who guarantee a win time after time.
---