20
models online on average
As low as
£2.00
per minute
SaucyTime Review - The Only Site for FaceTime Sex Cams
Last Updated
September 10, 2022
Is SaucyTime Good?
The sleek and refined layout on SaucyTime is an excellent compliment to the site's semi-professional webcam models who are available for private cam2cam FaceTime porn sessions. There are no live cam streams, no free live porn cam rooms, and no raunchy texting in open chat rooms. Instead, the site makes the profiles of all their cam performers visible to you.
As SaucyTime relies on FaceTime's outstanding security features, this is the perfect webcam site for politicians, celebrities, and everyone else interested in keeping their cam2cam session strictly between the model and you. Apple does not share your information with any 3rd party, and also uses end-to-end 256-bit encryption to ensure that your private performance remains that way.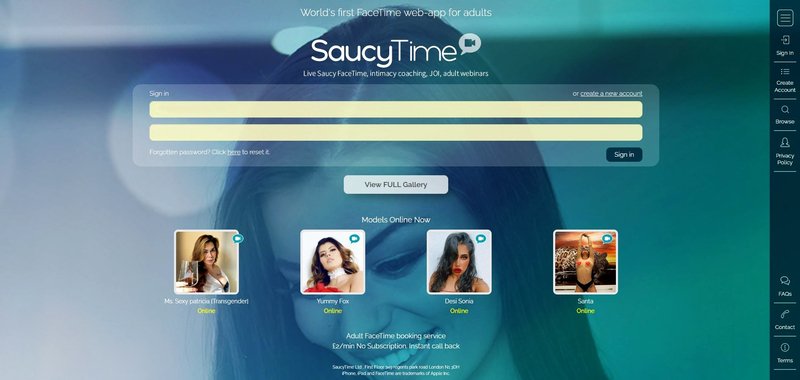 SaucyTime makes is real easy to video chat with cam girls over a mobile device. The site lists these gorgeous live porn performers in one of 3 statuses: online and available, busy, or offline. You can see other high definition pics that models have uploaded to their profiles, as well as basic demographic information about these premium babes, what kind of fetish scenes they are interested in, as well as the option to send them a direct message or request a performance.
You do need to have a registered FaceTime chat account and a device that is capable of receiving FaceTime video calls. FaceTime was originally limited to those Apple users with iPhones, iPads, and AirPad. But now, users with Google, Samsung, and other Android smart phones and devices can now create a FaceTime account and answer incoming c2c sessions. Starting a FaceTime session, however, is still limited to Apple users.
There are around 200 visible profiles on SaucyTime. Out of this total number, the site tends to have around 15 models online at any time, with the remainder listed as busy or offline, meaning you'll have to message or request a session.
After you have registered an account, you can log in and see the profiles of all of the site's listed cam babes including a number of trans girls. Of course, in order to send them a message or request a private cam2cam performance you will need to add some credits into your account.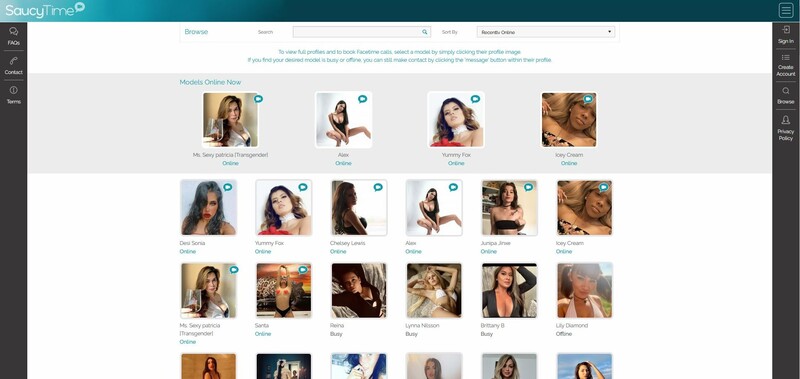 Overview
SaucyTime labels itself as the world's first FaceTime sex web app for adults, and the site is perfectly primed to do just that. Registration is free and easy for those with both a FaceTime ID and a mobile or desktop device with the ability to answer FaceTime video calls.
While cam2cam has been available on more traditional webcam sites for many years, SaucyTime relies on FaceTime to connect you with any of the site's many stunning live porn performers. Because these cam2cam streams including 2-way audio are on FaceTime, there is no chat room or any other icons or chat boxes. Just you and the webcamming women of SaucyTime.
The homepage layout here is great, and it is a delight to scroll through the models' profiles. There are no annoying pop up ads but also no streaming live sex shows or even chat rooms of any kind here. It is simply an organizational structure that functions well to connect you with some erotic live porn performers.
Strengths & Weaknesses
Strengths
Beautiful webcam performers
Excellent HD quality
Site wide £2 a minute rate
Secure and encrypted sessions
Weaknesses
No video previews
Limited search options
Need to wait for model to call back
The Webcam Models
The Girls
SaucyTime is truly a global platform, with mostly western European performers, though there are some hot Asian cam2cam babes available as well. There are around 200 of these profiles for your cam2cam entertainment. There are some fetish friendly babes, but there are no hardcore BDSM cam models, so if your craving is for lots of leather, whips, and chains, you will need to hit up one of the more traditional cam sites.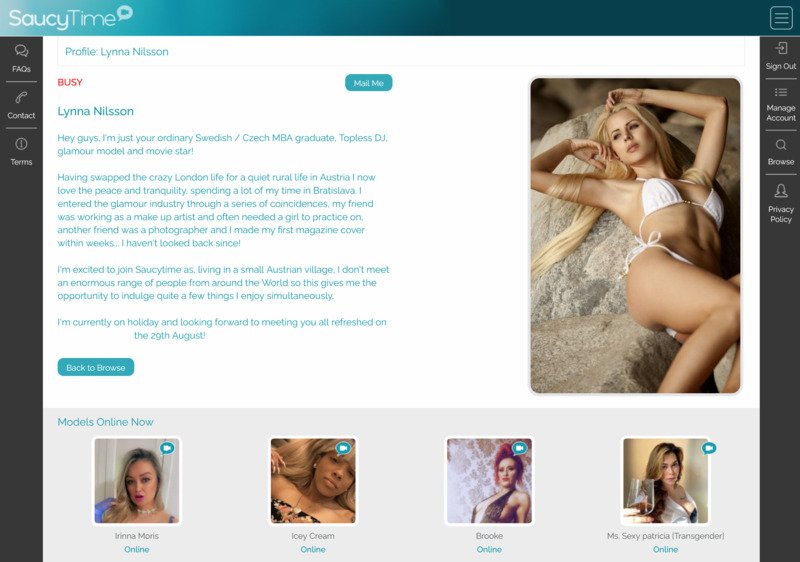 The Guys
SaucyTime does not currently feature any straight or gay men. If male webcam models are what you seek, then we can recommend our ranking of the best gay cam sites online.
The Trans Girls
There are fewer tranny cam girls here than on some popular trans girl webcam sites, but the t-girls here are among the hottest anywhere. Given the strong HD quality video offered in FaceTime porn cam2cam shows and the very competitive chat rates offered by SaucyTime, these chicks with dicks are sure to please even the most demanding aficionado of trans girl cam2cam sessions.
Model Profiles
SaucyTime's profiles of the models are very basic by webcam standards, but do feature helpful information. The models all let you know where they come from, what languages they speak in addition to English, often include their Instagram and other social media accounts. The trans models identify themselves as such in unambiguous language to avoid any possible confusion.
Given the site's flat £2.00 a minute chat rate, and smooth high-def quality cam2cam FaceTime format, SaucyTime is among the cheapest cam sites around. While you do not get interactive features as you do in standard chat rooms, the superior quality of the video and audio connection, combined with the convenience available by sending a message or booking a show.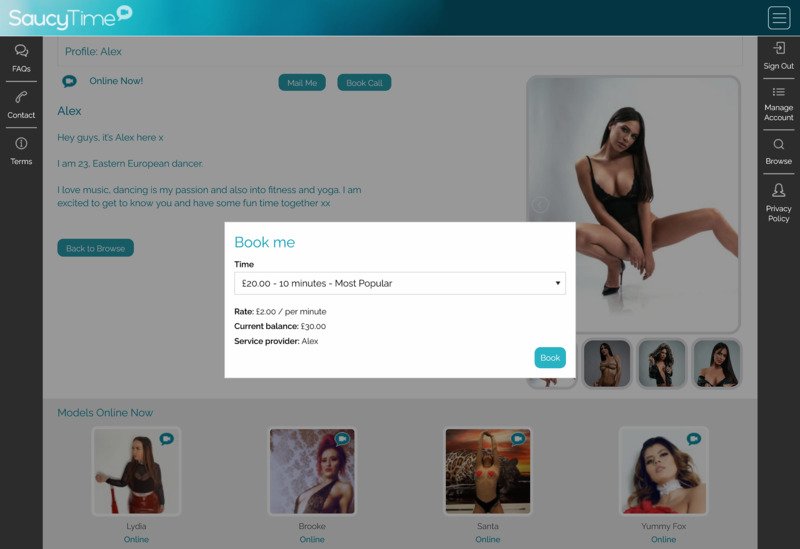 Chat Options
SaucyTime only offers private chat shows with cam2cam action using your FaceTime account. There are no free live porn performances here, nor even live video previews. If the model you want is listed as online, you can bypass the messaging option and simply use the Book Me button to select a desired show length. The site also displays the most popular length as well as the cheapest options.
Once you have made your selection for the HD live porn show's runtime, you will see a pop up message that confirms your booking. The models generally respond within a minute by initiating the call to your FaceTime enabled device. Should you happen to miss their call, the models will send you a message to let you know, and then call back in a few minutes.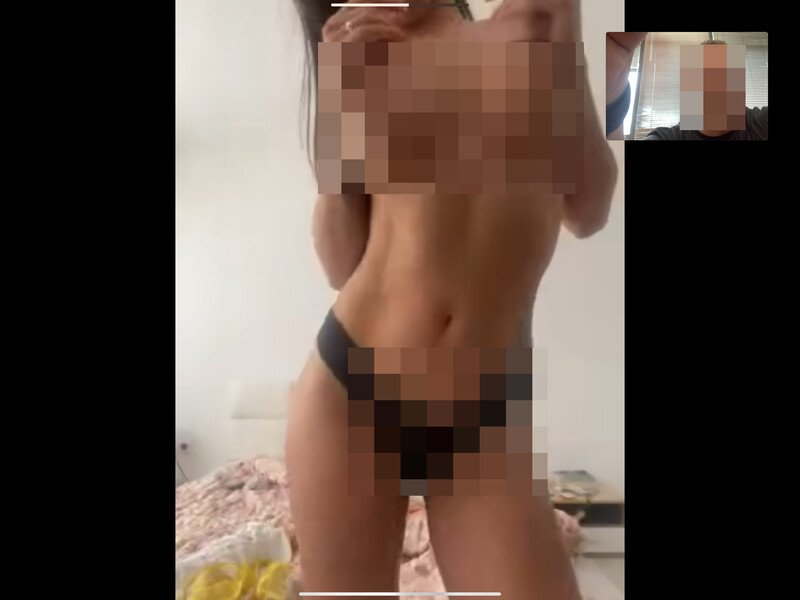 Video Quality
The video quality on SaucyTime is in HD, though the particular quality level is variable depending on the webcam performer's internet speed. The FaceTime sex shows stream quickly and without lag on solid internet connections, allowing you to interact as much as is possible short of being physically in the same room with her.
SaucyTime's Mobile Site
Apple's native FaceTime chat interface was designed specifically to be a mobile cam2cam feature, and the SaucyTime mobile site looks best when displayed on an iPad or other FaceTime compatible tablet or smartphone. SaucyTime's layout is very sleek and it's also easy to use, with all of the necessary tools you need without any extras.
Sorting by categories is very limited, offering just the basic Last Online, A-Z, or Z-A filters. There is a site search box, although the results are hit and miss. On the positive side, the excellent layout offered on FaceTime, along with the solid HD quality video streams, and no distracting chat room features make these cam2cam shows among the hottest anywhere.
You can always mute your audio or pause your video stream, though the interactivity provided by fully sharing in both directions brings the erotic level up significantly. And, as it is a FaceTime session, with state-of-the-art encryption from end to end, you can feel free to get as wild and raunchy as you like.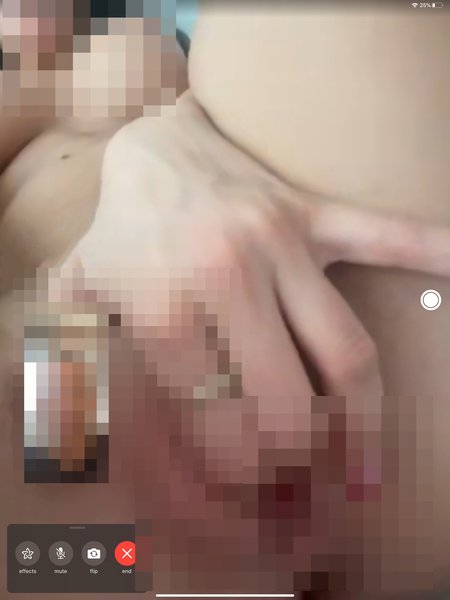 Registration on SaucyTime
Registration on SaucyTime is a quick and painless process. All you need is a FaceTime account and a device capable of receiving cam2cam calls. If you are not currently in the Apple sphere with an iPhone, iPad, or other device, the process of creating a brand new FaceTime account is also easy and free. Do note, however, that initiating a FaceTime sex chat session is only an option for Apple users, not Android, Google, and other users.
Prices on SaucyTime
All private SaucyTime performances share the same £2.00 a minute rate, and have a 5 minute minimum length. If you wish to book more minutes, you can add 5 minute increments up to a maximum of 60 minutes. There is no discounted rate for longer sessions, as each additional 5 minute block reflects the site's standard £2.00 a minute rate. There are no packages to purchase that offer discounted pricing based on longer blocks.
Payment Methods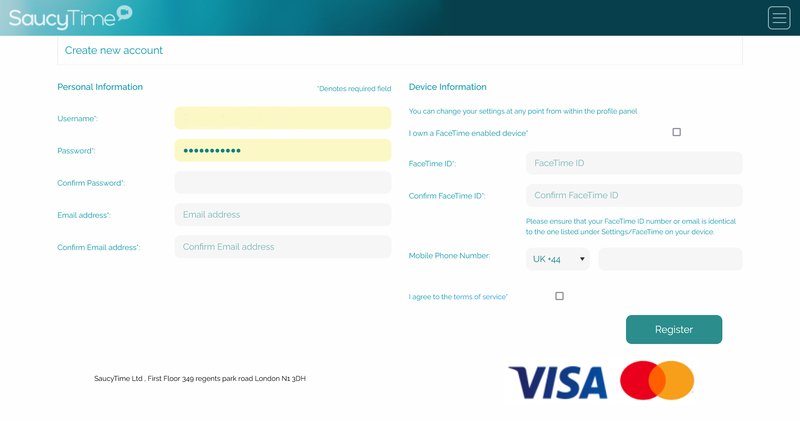 Customer Support
The customer support options offered by SaucyTime are very basic and limited to an email address where you can send any technical questions along with an FAQ page. Unfortunately, the site does not offer a "satisfaction guarantee" of any kind.
The Bottom Line
SaucyTime is an excellent choice for those who need a cam2cam live porn session that stays encrypted from end-to-end, as well as those who want a no-frills, but fully explicit private c2c show in HD with talented and enthusiastic semi-pro and professional webcam performers.
Back to the full list of Best Webcam Sites
---