Cam Sites are Picking Up The Slack After OnlyFans Bans Adult Content
Last Updated
September 08, 2022
What is OnlyFans?
130 million users log into their accounts on OnlyFans daily, relying on it to provide them with not just regular content you can find on social media, but sexually explicit content, as well. The site made a real name for itself in 2020 while the whole world was locked indoors, and created a community, while making its mark on pop culture too, as even well-known celebrities joined its ranks.
The premise is simple — A platform on which anyone can sign up to be a content creator (currently 2 million creators and counting as of August 2021), and sell their content (videos and pictures) to anyone who wants to subscribe to their particular channel. This includes anything from hobbies, DIY, artists, singers and musicians, and of course, adult content.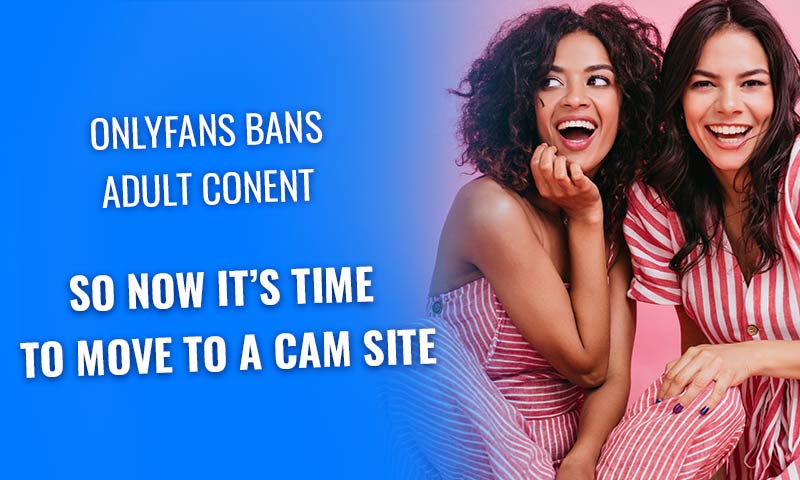 The News
Around the middle of 2021, something started to rot in the land of OnlyFans, and the amount of investors started to dwindle, which led payment processors and banks to withdraw their support too. A platform like OnlyFans cannot sustain itself without these important parts of the puzzle, which expressed concern to the site's sexual content. As the site offers much more than just sex (though, there is a lot of it), it decided to change, and effective October 2021, remove all sexually explicit material.
With this news, creators who rely on the site, and users who enjoy it, have been left in a state of dismay.
So, while it is completely conceivable that the biggest mainstream celebrities, like Cardi B, Bella Thorne, and Lottie Moss — who have chosen OnlyFans as a platform to connect with their fans — will continue to create content on the site, but many of the most popular content creators will start to look elsewhere. Fact is, almost all of the world's most established pornstars, and countless amateur exhibitionists have an OnlyFans account.
Adult stars like Lana Rhoades, Riley Reid, Eva Elfie, and Mia Malkova are among the most popular OnlyFans pornstars. Will their fans be interested in their non-explicit content? To some extent, sure. But not likely with the same enthusiasm as when they gave full exposure of themselves.
And one of the most successful amateur stars of the site, Courtney Tillia, who ditched her daytime job when she found success on OnlyFans, says that she feels "betrayed" by the OnlyFans announcement.
What Will Performers and Members Do Now?
As upsetting as this news is to millions who have come to depend on OnlyFans for their sex content and entertainment, there are alternatives, which may even surpass the popular site in accessibility to adult content creators. Users who love live cams as well as videos created for them by stunning performers will relish in these beautifully made cam sites, where things may not only be cheaper than OnlyFans, but much is free.
Most freemium live cam sites offer free sex and nudity in their open video chat rooms, and most live cam models provide content they create for the members in their fan clubs.
And it is not all grim news for the models, too. Live cam sites offer advantageous opportunities to have fun and get paid on both premium, and freemium sites. For models and viewers alike, there is a light at the end of the tunnel, giving so much more than OnlyFans — with live shows, recorded content, high performance quality, unique site features and attributes, webcam to webcam interactions, cheap and free sexy antics, and so much more.
---