Imlive Updates the Prices of Its Credits
Last Updated
September 13, 2022
ImLive, the live webcam model streaming site, beloved for its Multi-Viewer and Fulfill your Fantasy features, has officially changed the prices of its site credits.
All of the site's premium features that you know and love are as good as ever, and the rates for shows are still the same.
Here's everything you need to know about this latest development.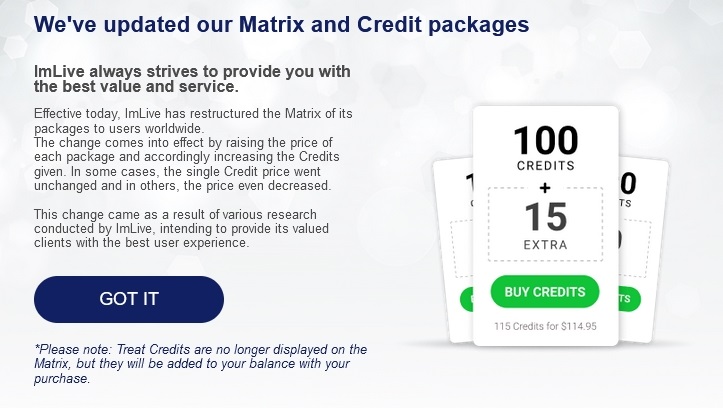 ImLive has garnered a stellar name for itself. Even Howard Stern gave a very public shout out to ImLive's voice over shows for the visually impaired — ImLive4TheBlind. The narration of these erotic videos was so accurate and engaging that the world started to listen.
But, of course, it doesn't end there. ImLive is the only cam site that has a feature like its Multi-Viewer, that gives you viewing access to 6 live cam streams at the same time, in one window. This has been a game-changer for the indecisive, but also for the live cam industry as a whole.
Then, there's the CamGirl Chronicles, podcasts recorded by ImLive's experienced and terribly teasing webcam girls, and the occasional pro porn star, as well.
Another thing that ImLive does so well, is the site's carefully thought out Monthly Video Contests. Each follows a theme, special event, or calendar date, like Halloween, Valentine's Day, or ImLive Queen.
To learn all there is to know about ImLive, you can read our full review of ImLive.
The Cost of Credits on ImLive
One thing ImLive had going for it, was the fact that site credits worked on a 1:1 ratio. That is, $1.00 got you 1 ImLive credit. This made calculating the cost of shows and managing your credit balance a no-brainer.
Now, ImLive has updated the costs of its credit packages. For first-time ImLive credit purchases, the pricing is now as follows:
25 credits for $29.95 (plus 25 credits bonus for 50 credits total)
50 credits for $58.95 (plus 50 credits bonus for 100 credits total)
75 credits for $87.95 (plus 75 credits bonus for 180 credits total)
100 credits for $114.95 (plus 100 credits bonus for 200 credits total)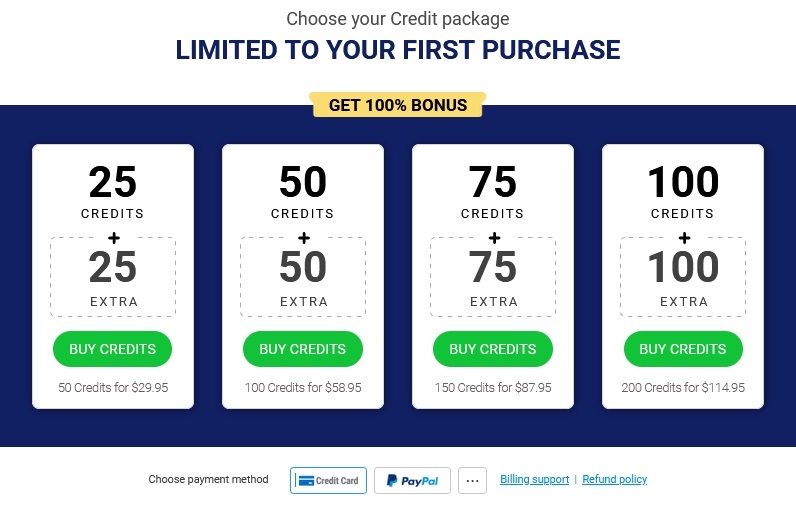 For your first purchase, ImLive gives you 100% credit bonus, so whatever you buy, you'll walk away with double the amount.
Following your first purchase of any ImLive credits package, you automatically earn Bronze status in the ImLive Rewards Program. From here, you can move up ranks to Silver, Gold, and VIP. These are not paid memberships, but tiers that you can earn the more cash you spend. And, of course, the further you climb, the more ImLive  site perks and discounts you'll qualify for.
Subsequent purchases for Bronze members and up are priced as follows:
25 credits for $29.95 (no extras)
50 credits for $58.95 (plus 5 credits bonus for 55 credits total)
75 credits for $87.95 (plus 10 credits bonus for 85 credits total)
100 credits for $114.95 (plus 15 credits bonus for 115 credits total)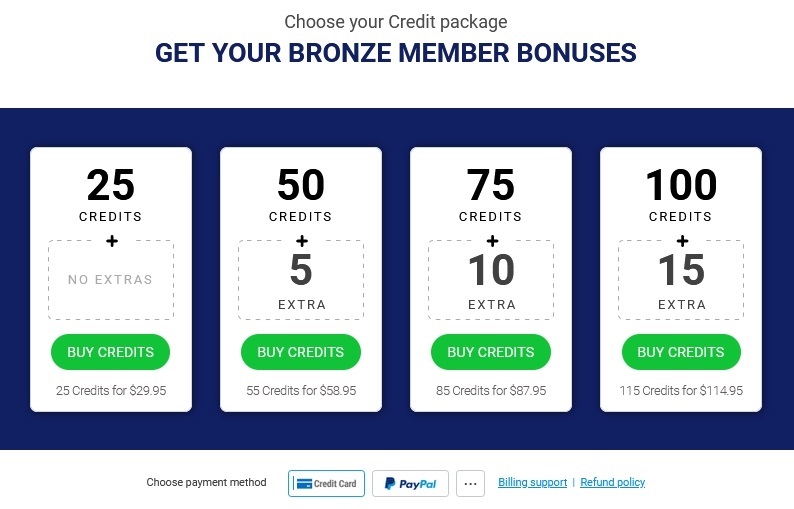 Please take careful note that all prices above are for credit card purchases only. Using PayPal costs a little extra across the board.
The Cost of Shows on Imlive
ImLive might have updated the cost of credit packages, but the cost of their live cam shows remain unchanged, and cam2cam is still included in all private rates.
The most you'll pay for a one-on-one experience is an average of $2.50 a minute, with some shows going for just over a dollar a minute. If you find yourself going back to the same few cam girls, joining their Discount Clubs will get you an extra $0.60 a minute off.
And, of course, there's still ImLive's Prepaid Sessions. Purchase blocks of time upfront with the cam girls of your choice instead of paying by the minute. These are almost always at lower overall rates since the performers are guaranteed income, and you can schedule your time with them, so you don't have to fight your way through busy chat rooms.
Use ImLive's Price category to browse through the site's cams from 0.98 credits a minute all the way up to 5.80 credits a minute.
Conclusion
ImLive has updated the cost of all their credits packages but the site's leading services and features hold fast, and you'll still get budget-friendly shows.
---