BestWebcamSites Review of CamSoda's Natalia
Last Updated
September 13, 2022
It's been a while since I engaged in a live sex chat with a cam model. I was buried in work. Yet, my innate horniness couldn't be suppressed no matter how many tasks lay ahead. Sooner than later, I found myself neglecting my duties and roaming through CamSoda's pages in search of a female chatmate.
And then, when I ran into Natalia, all my searches came to an abrupt end. I couldn't resist her. Her exotic ebony skin, coke bottle body, curly charcoal black hair and the sexy dress she wore with its plunging neckline made me understand it was futile to resist the urge to take her to a 1-on-1 chat and undress her in front of the cam. So I pressed the Go Private button hoping she'd accept my generous invitation.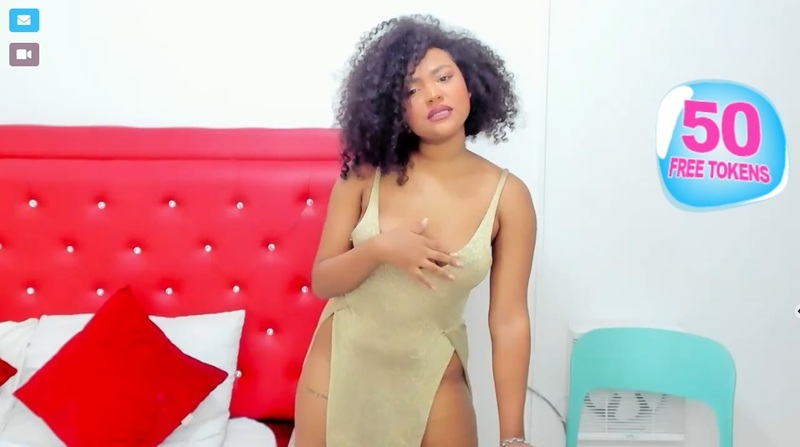 | | |
| --- | --- |
| Price per minute | 6 tokens |
| Cam2Cam | Yes |
| Free show recording | Yes |
| Toys | Lovense, Dildo, Butt Plug |
| Dirty talk | Yes |
| Time | 20:00 |
| Overall score | 9.5/10 |
She did, and we soon found ourselves together concealed from the outer world by the walls of a private chat. We started to talk. She told me she was from Columbia and I told her where I lived. She said she was into strong but kind men who know how to treat a lady — the perfect gentleman, such as myself. I could have carried on with that lovely chitchat if it wasn't for my cock which started protesting demanding that I stop procrastinating .
I politely asked Natalia to show me her boobs and gave her a small tip to warm her up. She slowly removed her dress revealing a pair of beautifully symmetrical breasts with chocolate-like tiny brown nipples I'd pay a lot to taste. Somehow knowing I was mesmerized by her tits, she started caressing them gently applying oil and making me increasingly horny.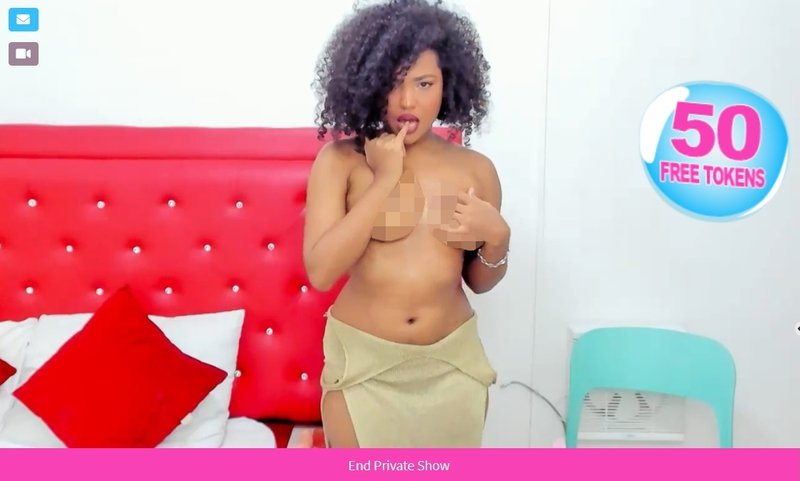 She continued slowly taking off her dress causing my dick to grow beyond the confinement of my pants signaling it was ready to be released into the wild. A few seconds later, which to me seemed like an eternity (Einstein was right — time is indeed relative), she stood fully naked in front of the cam. I did nothing apart from scrutinizing her ebony body from top to bottom admiring every part of it.
In the meantime, she began posing erotically, touching herself all over and then reaching her pussy. Her fingers were caressing her clitoris and I had no other choice but to follow suit and spank my monkey.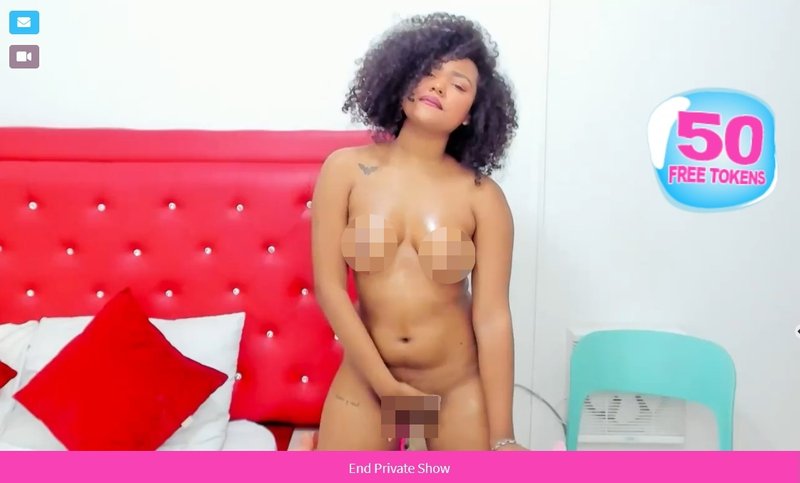 I let Natalia know that my dick has become directly involved in the action. She gave me a naughty smile and assumed a sitting position with her legs spread apart. As if anticipating my next request, she zoomed in putting her pudendum in the center of the frame and resumed her masturbation activity. Watching her doing all that stuff torched my body with burning desire, and I was ready to cum. Yet, a latent voice deep inside my head told me to hang on as there was more to be seen.
And that voice turned out to be accurate as Natalia fetched a dildo, which she started licking and sucking vehemently making my dick extremely jealous of a piece of plastic. The dildo then reached its natural place between her legs. She played with it a little than shove it inside her almost in its entirety making me jerk off frantically.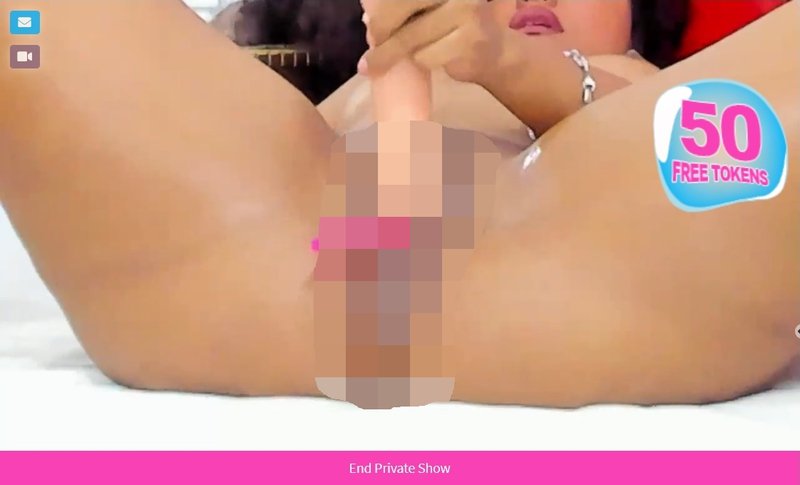 I felt the urge to behold her butt, and I beseeched her to turn around. She understood what I wanted and switched to a doggy position, spread her buttocks exposing her dark brown a-hole. A second later, she moved her hand over there and began fingering herself.
If that wasn't enough, out of the blue, she brought a butt plug and shoved it all in. I felt some sticky pre-cum on my hand and knew I wouldn't be able delay the inevitable much longer.
Then she did something that caught me completely by surprise. She summoned back the dildo and pushed it inside her vagina. Now there were two love toys in her intimate body orifices at the same time.
I asked her to do one last thing for me before I exploded — to talk dirty. There is no better word to describe the situation which followed than surreal. She was on all fours, her ass protruding and occupying the center of the frame. There were two love toys inside her and she was uttering erotically foul words describing what she'd want me to do to her at those particular moments.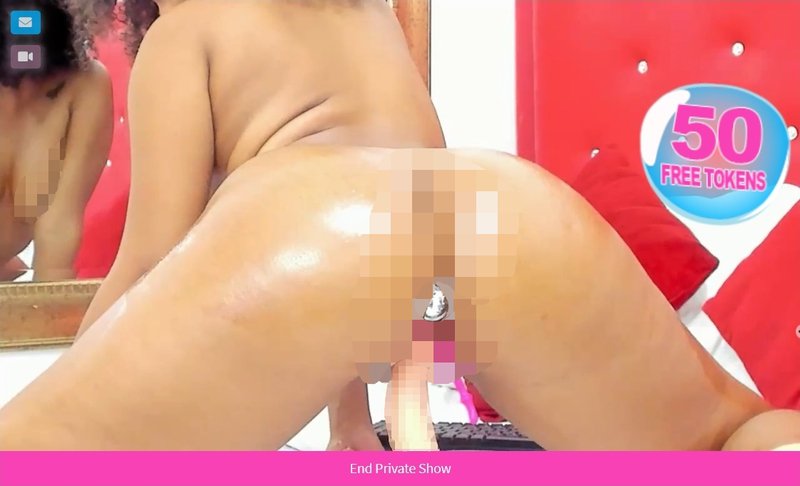 That was more than I (and probably any other mortal man) could handle. The amount of mass and energy which was released from my cum gun as I was ejaculating was sufficient to generate a nuclear fusion reaction and cause a rip in the fabric of space and time. I thanked her, gave her a nice tip and ended the session.
All in all, I had 20 wonderful minutes with beautiful and sexy Natalia. Not including the generous tips I gave her, this whole experience cost me 120 tokens which amount to a little more than $13.00. That's what makes CamSoda so great — you can enjoy an awesome ebony live porn chat at a highly affordable price. And equally important, most of the site's models allow their private shows to be recorded. You can watch your show recordings for free.
Needless to say that I spent much time (maybe more than I should have) watching Natlia's recorded show enjoying every second of it again and again.
Back to full list of sex cam blog posts
---