CamSoda Private Cam Show by Ciielo azul: BestWebcamSites Review
Last Updated
September 05, 2022
There's this model I've been following for quite a while now, this perfect specimen of womanhood - Long hair going down below her ass, always kept straight and glossy, black as night. Huge natural breasts that somehow are still perky and bouncing like a damn amusement park ride you're a little scared of getting on, a flat taut stomach and lower belly covered in beautiful tattoos, thighs so thick and juicy you wanna grab on, and a spectacular derriere that could start wars. The perfect (Colombian) woman.
But before we take this tale of a bouncing bosom, an awesome ass, and delicious dildos any further, there's probably something you should know. I'm a lady. That's right, time for a female voice among all my renowned male counterparts. Time for a woman who loves live cams just as much as they do, to review a private session like only a pro female can. For me, this came as naturally as I did by the end of the session with this striking goddess.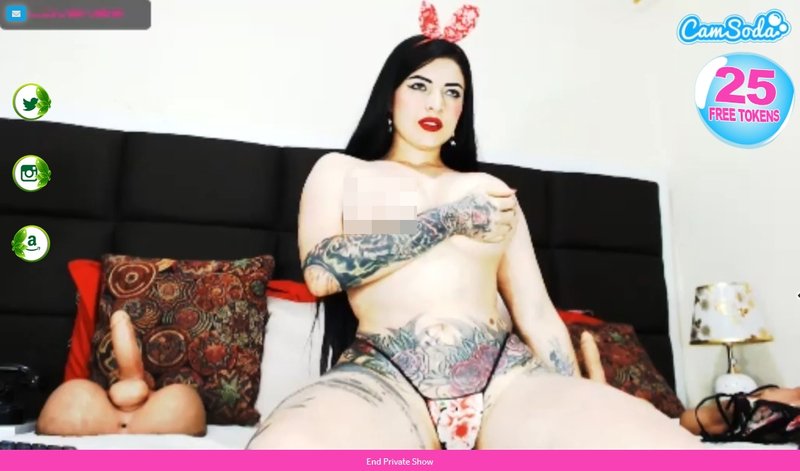 | | |
| --- | --- |
| Price per minute | 60 tokens |
| Cam2Cam | Yes |
| Free show recording | No |
| Toys | Dildo, Lovense, Others |
| Dirty talk | Yes |
| Time | 18:00 |
| Overall score | 10/10 |
I decided to do the same with Ciielo, and tell her that I'm a woman, and I'm not quite sure I'd ever seen one as gorgeous as her. She laughed loudly, her beautiful voice thanking me in her native tongue (Spanish), and was really excited to have a woman in a private chat. She said she rarely does, and she loves it, because just like I wrote above - No one can truly appreciate the acrobatics and peril involved in going all out for a sex show like another woman.
After the fun introductions, she started to blush and coyly apologized for not speaking much English. I laughed into my mic, and said to her in perfect Spanish - "We don't need to do much talking, honey". Another boisterous laugh came from her full, red, pouty lips as her tits jiggled, she got exactly what I was saying. She quickly took off her tiny little bra that barely covered her double D's anyhow, and without me even asking, started touching herself as a sultry Spanish guitar was playing in the background.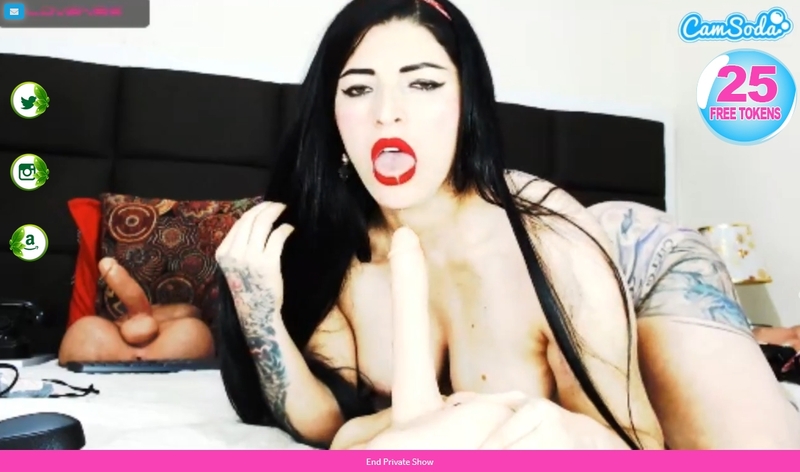 After getting my bearings from watching her flawless topless form, I asked her to remove her underwear and bring in some kind of toy. Honestly, I was so turned on I didn't even care what it was, I just wanted to see her ride it like a cowgirl. So she brought out a full-sized dark-skinned dildo on a form, with balls and everything, and started going down hard on it, moaning as she somehow managed to encompass the whole thing and get it all down her throat.
I was touching myself now, along with her, and though I didn't let her see my face (Us reviewers make such sacrifices for our art), I spoke low and told her I was, to borrow a phrase from my male comrades, hard as a rock. She got the idea, and quickly moved to get on top of the contraption, while still having inside her the Lovense pink toy, which I then activated by tipping, watching her get surprised again and again by the jolts of ecstasy she wasn't expecting.
I then asked her to talk to me in Spanish, detailing everything she'd like to do to me, and me to her, if we could. As she was rising up and down slowly on the fake cock, she muttered between groans with her eyes closed, saying everything I wanted to hear, describing in detail how she would suck my clit and finger me, grab my tits and squeeze them hard. What was really difficult was forcing myself not to cum, another sacrifice, as I had more ground to cover.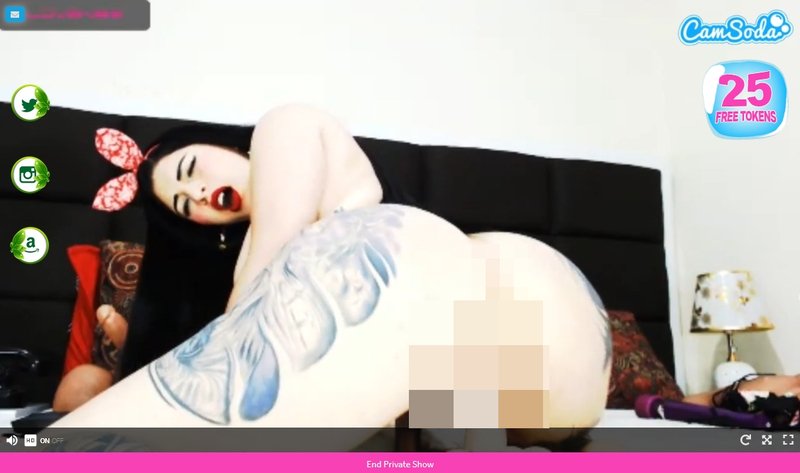 I requested she get off the dildo, and get up for me to dance. She not only laughed but gave me an actual "salute", which made me laugh. It's always an aphrodisiac to find a girl that's both scorching hot and funny, and with a great and easy vibe. She stood by her bed, and almost in slow motion (Maybe I imagined the slow motion) got down, moving her curvy body in a flowing, beautiful way, touching herself, writhing when I tipped her again and her toy buzzed. I was in heaven.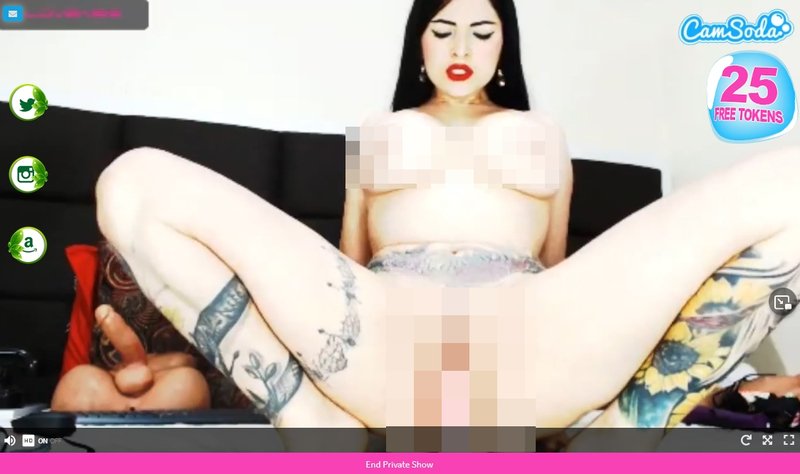 I wanted to end the session on a high note, so to speak, so after thanking her for that dance, or more accurately, entrancing haze, she got back on the bed and turned to display an area neglected so far - Her stupendous ass. She could control all the muscles, so she made it pop like it was summertime, and I didn't even know where to focus my gaze.
She then proceeded to use another dildo and inserted it into her asshole as she was playing with the pink toy in her pussy, and I asked her to cum for me, because I was about to explode. She smiled, this time a smile of someone turned on and ready to climax, and inserted it deeper into her, flowing up and down like a rodeo, and moaning so loud I had to lower the volume on my computer, lest my neighbors think I'm having an all female sex party. Which I was.
For the very last minute she turned back around and used only her hand to touch herself as we were both cumming, and let out one final cry as she squirted right into the camera and I blew my invisible load right back to her. We were both panting so much at the end, we compared thoughts as to how many calories we just burned. Real women, sexy and practical, to the end.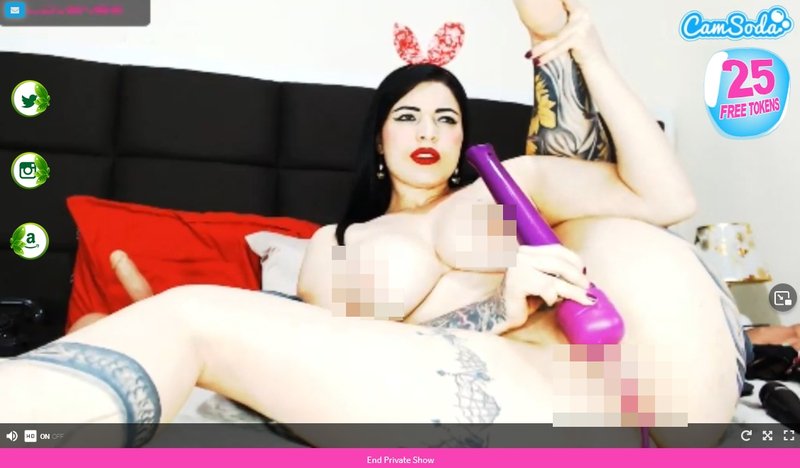 My extremely gratifying private session with Ciielo lasted around 17 minutes, far too short but I couldn't help it. She was not simply eager to please, she could anticipate, somehow, exactly what I wanted to see, which was everything. Not including tips, the show cost around 1,000 tokens (Read here about token value on CamSoda), approximately $100.00. I would have happily paid more for such 5 star service. She's also in the Top Rated category, no surprise there. This is definitely not the kind of model for those looking to stretch their pennies, this is a "it's your birthday" kind of model.
CamSoda has been a favorite site of mine for years. I use it personally, as well as professionally, for several reasons. First, you get so much for free. As it's a freemium site, all it takes is a browsing of the public rooms to see just how much nudity and explicit sex are just given away, and in up to 1080p HD quality, too. Second, There are free show recordings for your shows (Usually not the top rated models), as well as free Exclusive Videos produced by CamSoda. Thirdly, the fantastic mobile platform with c2c, which is easy and fun to use. And lastly, there's a great community vibe. It's a place you can get any kind of sex, fetish, orientation, ethnicity, age - Anything you imagine, you can find on CamSoda.
Back to full list of sex cam blog posts
---