Nude Body Paint Porn Specalist - Alexissadele
The information on this page is a little outdated. Alexisadele can now be more commonly found on CamSoda. She does not do full body paint cam shows as often anymore. Nevertheless, we are going to keep this page up for posterity, to remember the good old times. The links will now take you to her CamSoda profile.
If you like body art porn boy are you in for a treat. We found a sexy ass webcam model that's totally into full nude body paint. She covers her tits, her ass, and yes - even her pussy. Her name is Alexis Adele and she broadcasts on multiple sites. So far, we have found her on Chaturbate and CamSoda. Why are we writing about her? She's smoking hot.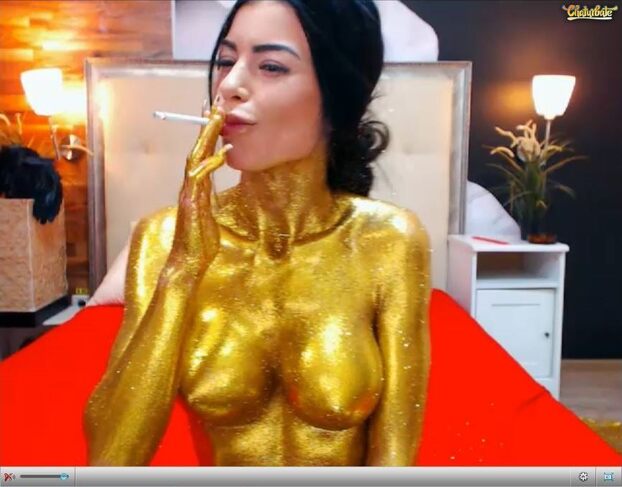 We said the body paint goes all the way down and we meant it. You'll find it hard to find a spot on her body that's missing color. Alexissadele has done a fantastic job of covering every inch of her body from the tips of her fingers to the tips of her toes. The only part of her body which she has left untouched is her face and hair.
We think it's a good thing that she doesn't color in her face. It's a sexy face and it would be a shame to hide those features behind a mask. Alexissadele is always smiling and is sure to brighten up your day. In case you are wondering, yes, she does have fake tits. We aren't bothered by it, the surgeon did a pretty damn good job. It's not like you can see any surgery scars when they have literally been painted over.
We spoke to her a bit and she said that she makes sure that all the body paint she uses is 100% non toxic. It seems to be a common concern among her fans, but she doesn't seem to have had any adverse effects, so we are going to keep getting to see more. She has "plenty" of colors, so look forward to new and exciting shows each time. There was a user that wanted to send her some
If she earns enough tokens, she even does shower shows where you get to watch her rinse it all off.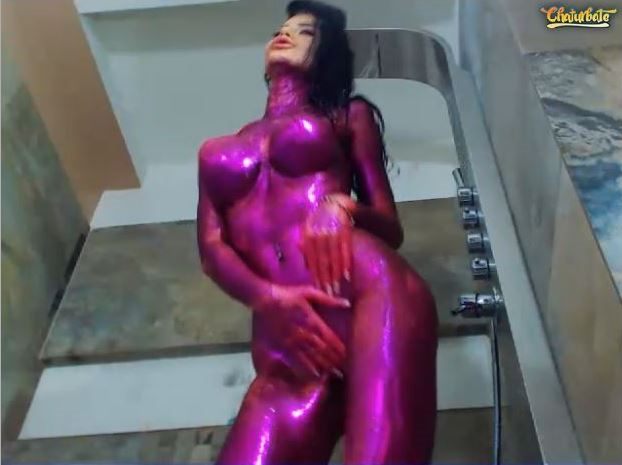 Not all of her shows are with body paint, we recommend adding her to your favorite list and getting notifications as she logs on. That way, you'll get to check each time if she's camming in color. She broadcasts pretty much daily, so if you don't want all those email notifications, you can just go into her chat room and ask when the next time she'll be doing a body paint cam show. If you're willing to tip enough, she'll probably go paint up just for you.
Alexissadele does private shows for 90 tokens a minute with a minimum of 5 minutes. You get a saved recording of your private chat at the end of the session. If you would rather stay in the free chat, you'll have to tip towards the room goals if you want to see anything. Her shows are based largely around the Lovense toy. With people tipping for various requests. Regardless of whether you are in a private chat or the free chat, she'll watch your cam for 100 tokens.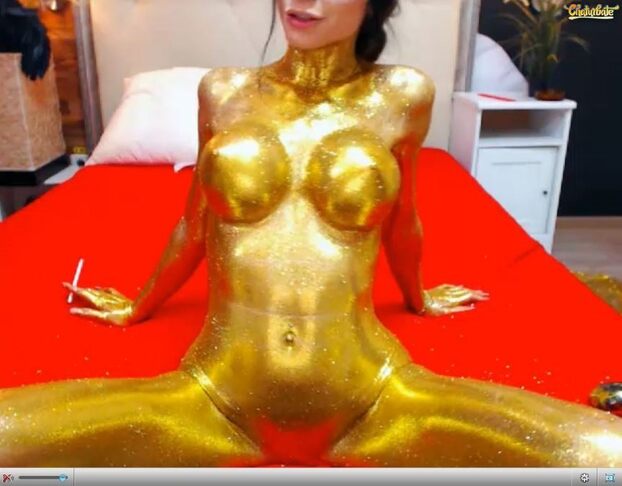 Back to full list of sex cam blog posts
---