Streamate Review – Round the Clock Amateur Webcam Shows
Streamate.com is a live amateur cams website that offers a range of stunningly beautiful adult webcams models in all manner of online chat rooms. From free chat feeds to live private shows, there is something for everybody, should they decide to stay. After all, it's very hard to compete with over 40,000 live cam models out of which many have their live video chat rooms open even to the free users of Streamate.com.
The homepage loads with a general selection of active cams being displayed. The instant temptation is to click on the first beautiful woman that appears and start enjoying an adult webcams show. However if a little time is taken, more and more attractive free chat feeds can be found.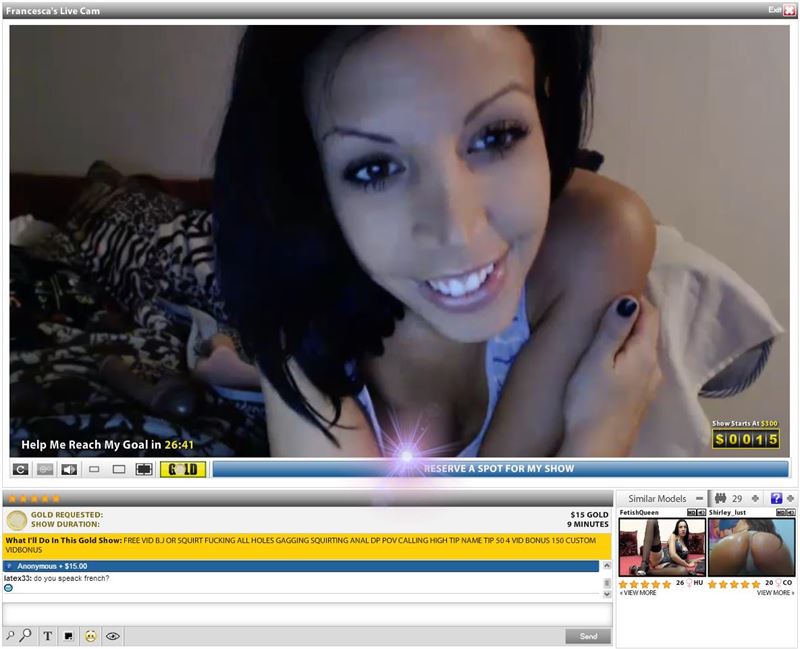 Party Chat Session
Plain Layout, Easy Navigation and Advanced Search Options
Streamate has a clean and fresh look to it. The black, blue and white combination makes everything stand out where it should, and in keeping with color theory, rightfully promotes a trusting and experienced atmosphere. The site is divided into three main sections:
Navigation
This is the upper horizontal menu, and it allows users to search through site viewing the different services available
Homepage – as mentioned above this is an overview of active live amateur cams
Advanced search – a series of tick boxes and drop down selections that allow users to filter the yielded webcams to a fine selection. Perfect for those that really know what they want.
New Models – set up the same as the homepage only the camera models that are shown are only the newest members of the Streamate family.
Support – Links to the FAQ and Customer Support section of the site.
Member Login
Calendar – Streamate.com offers additional shows such as guest models, professionals from adult webcams and movie world, and also several niche interest free chat feeds.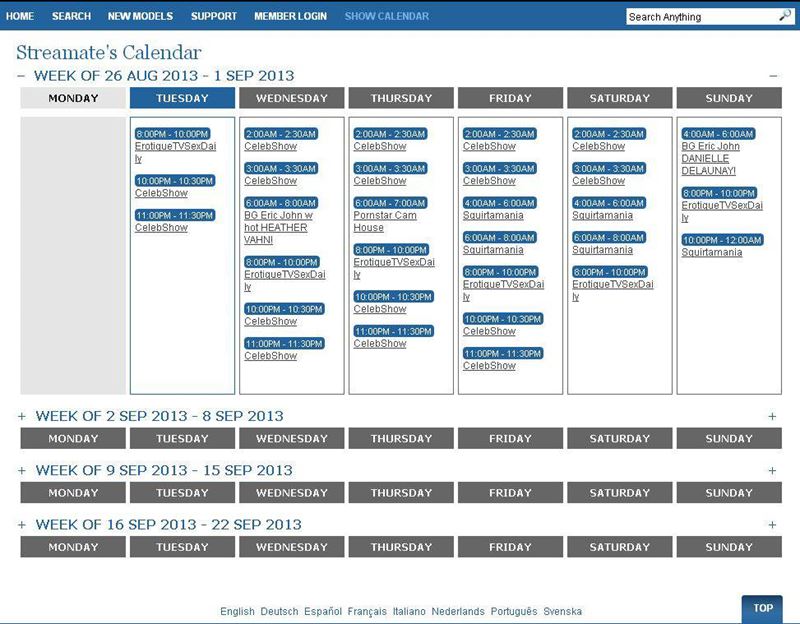 Cam Show Calendar


Top Navigation
Cam Filter
Just under the top navigation there's a general sorting feature which will allow you to change the models presented by the following criteria:
Preferred language
Region
Chat room features
Rating


General Filters
The vertical menu on the left side of the homepage allows users to apply a filter to the displayed webcams. More generic that the Search item, live amateur cams can be sorted per specialty and or service offered once the private shows have started. With over 40,000 broadcasting cams and over a thousand active at any one point in time, the ability to whittle down the live amateur webcams you want to watch is an must have feature. The simple filtering options are by:
Hair Color
Body Type
Ethnicity
Gender
Orientation
And many many more exciting options.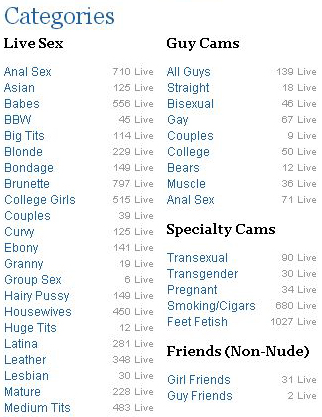 You can also enter the advanced search feature which is accessible from the to navigation, which opens up complex filtering options and enables you to really narrow down the selection of models exactly according to your unique needs and mood.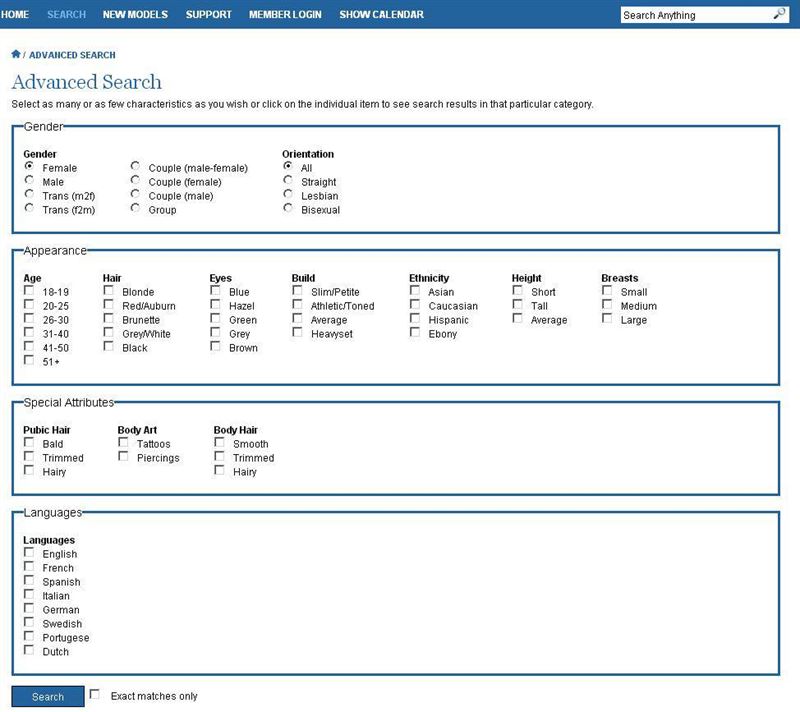 Advanced Search
Direct Load Cam Links
The mains section of the homepage offers direct links to the adult webcam feeds. The links are screen captures or profile images of the model whose cam chat room it is, their name, their age, and the type of chat the model is currently in (more on that later). All of the web cam stars have the opportunity to enter an enticing piece of text to tempt users into their domain.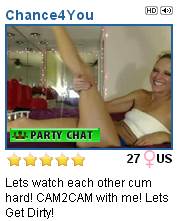 Another great benefit of Streamate is that the site is translated to 8 different European languages, to which you can switch the layout by going to the bottom of the screen, where this option is located:
English
German
Spanish
French
Italian
Dutch
Portuguese
Swedish
Signing up for Streamate
Streamate offer two different membership levels aside anonymous guest members. Free and Premium, The different between the two statuses is that one has a credit card linked to it. There are also of course some extra perks to being premium members:
Going into private sessions with performers
Rating performers
Emailing performers
Adding performers as favorites
Receiving alerts when your favorite performers are online
The free signup process is simple and easy, but you have to input a valid credit card for age verification.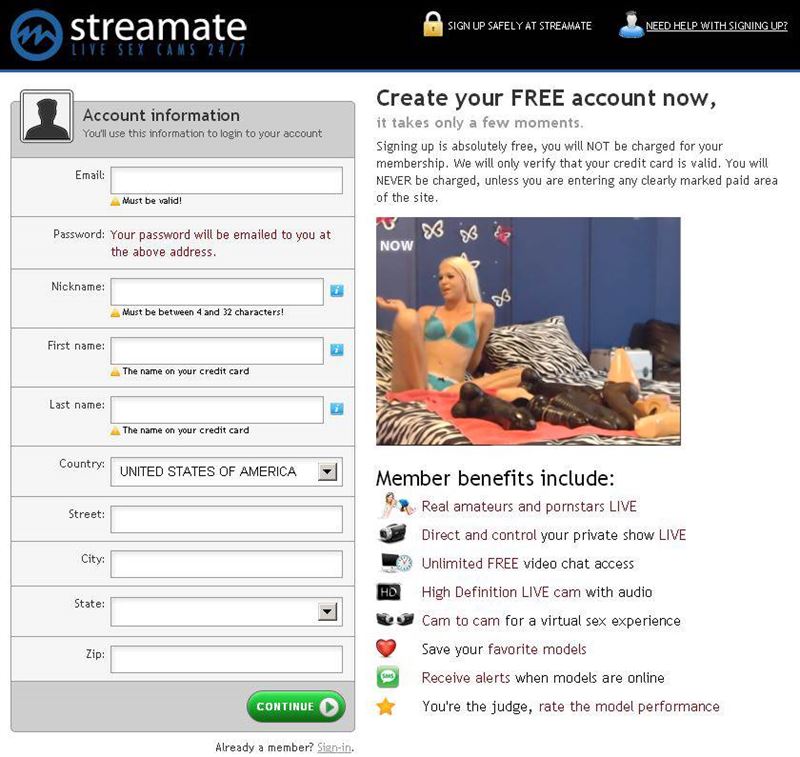 Free Signup Part 1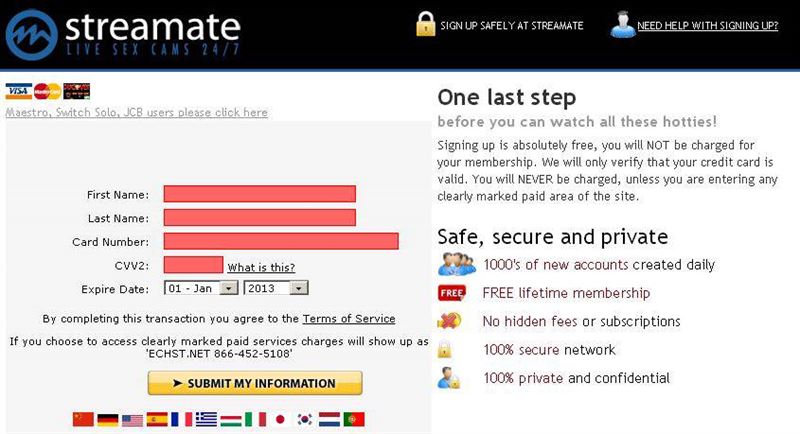 Free Signup Part 2
Once you have signed up, you can take advantage of the free live video chat, and talk to the amateur models for free. The models offer two types of show on top of free chat, Exclusive and Premium chat shows.
Gold Shows - Premium chat shows are shows that show more than free chat but access is still open for other members to join in. Party chat sessions are started by the model. They will set a time limit and a gold limit, a buy in if you will. At the end of the time limit, all members that have paid the asking price will be taken into the live show.
Private Chat - Exclusive chat is a private live webcam session between you as the member, and the model. You can also start cam 2 cam in this type of show, thus showing the model yourself as well as watching her live on cam.
Within the chat sessions the adult webcams feed opens up with a large screen and comes with a very high quality sound system. You can choose the size of the video broadcast from three different options, but unfortunately you can't view the feed in full screen. Another useful feature worht mentioning, is the similar models that one can find on the right hand side of the video chat room, where it's possible to browse other online models that are similar to the active live cam feed.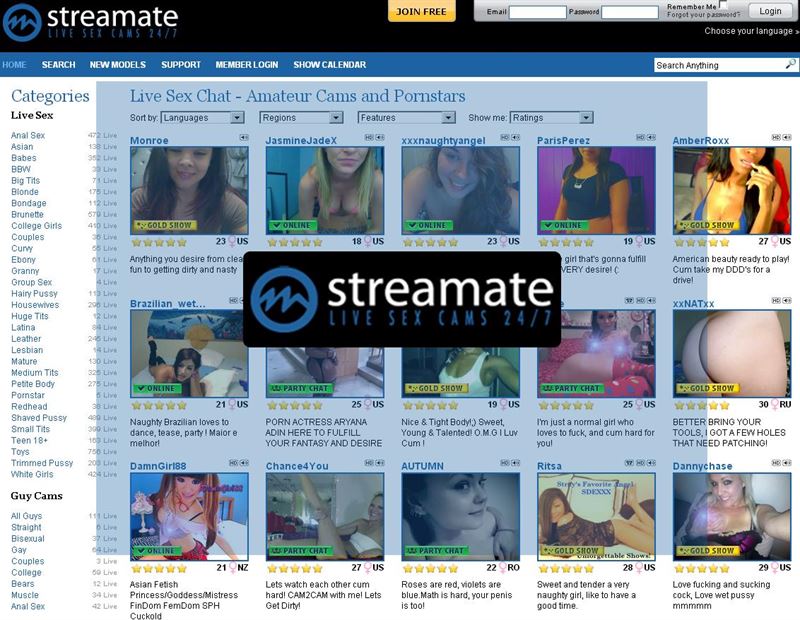 Streamate.com Homepage
The models have a detailed yet succinct biography that tells users the stars basic physical attributes, their experience, specialties, and turn-ons. This information is invaluable for those looking to make the most of private shows. Guest users can also view the models private pictures, albeit in a small size. Videos are restricted to members only access. The models can post their live adult cams performance schedule, which allows you to get an idea for when they will be online next.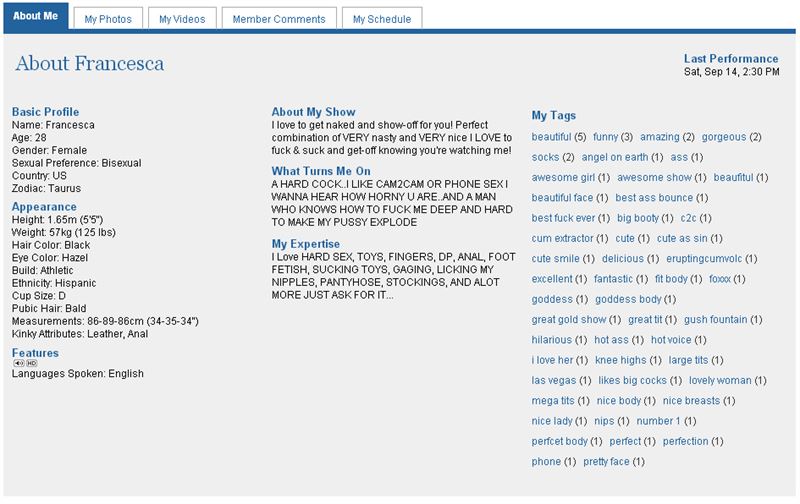 Model Bio
Paying for Webcam Shows and Sending 'Gold' to Models
Unlike many other live amateur cams websites, Streamate currency for private one on one shows is not charged in "credits" or "tokens" but rather on a per minute basis in your local currency. Paying for a webcam show occurs by directly billing your preferred payment method, and in all honesty is set to the benefit of US customers. A member from Great Britain would pay 2 Pounds Sterling for 2 minutes of adult webcams fun, while someone in the States would pay 2 Dollars for the same time. The biggest advantage of this is that you won't run out of balance in your account in the middle of a steamy live webcam show.
Another way to spoil the lovely cam models, if that you can send them "Gold" to show your appreciation, but it's not tied to their pay-per minute show rate. Another use of Gold, is a sort of "Access fee" to a Gold Show from a Party Chat. Gold shows cost as low as $1 per minute for each participant on top of the gold paid initially to participate. The cost of Gold is also billed to your credit card.
Among the accepted card types the site accepts:
It should be noted that for users within the EU may find themselves being charge VAT (Value Added Tax) on top of their 'GOLD' purchases. This is in accordance with European Law, and may vary from country to country in terms of percentages.
All billing processes are made through secure servers offering discrete services to all members.
CCBill.com
ECHST.net or EZCamHost.net
Epoch
IDDCS.net or WebBilling
LB Mtree Ltd. or LocalBilling
VendoStore.com
One of the great features of the site is that members can select models as their favorites. Favorites is a great way for members to always be able to find the free video chat feeds stars that they enjoy the most. Favorites are automatically listed first on the individual members homepage filter. On top of that users are sent alerts via email and even text messages informing them when their favorite adult webcams models are online.
Customer Support is just as Important as Free Chat Feeds
Within any industry, support and service is a vital part of customer satisfaction. At Streamate this philosophy is taken seriously. There is a dedicated page to customer service, not hidden away at the bottom of the screen, but boldly displayed in the upper main menu.
Comprised of a detailed FAQ section that offers a lot of advice ranging from standard first timer queries to the more complicated issues that premium level users may have, including private chat, ending private sessions and a detail analysis of the favorites process.
Alongside the FAQ's there is a contact form that allows members the chance to get in contact with a more specific question aimed at their own individual circumstance and not a generic broad ranging query. The Streamate philosophy also extends to affording users of their adult webcams live free chat feeds the chance to get in telephonic contact with them. After all, personal contact is the best way to keep customers happy.

Customer Support Page
Benefits and Drawbacks of Streamate.com
Benefits
Smooth cam loading
Good audio streaming
You can watch party chat for free
Similar models overview in live chat
Elaborate biographies
HD webcam feeds
Entertaining Private shows
Drawbacks
No full screen option
Large and irritating chat screen
Small range of accepted credit cards
Cannot use free chat as a guest user
The Bottom Line
In summary there are very few live amateur cams sites that offer such a professional all around package. A strong showing on all fronts makes it a high quality site that promises to be around for a long time to come. You could do a lot worse than to sign up to Streamate.com and have yourself a few leisurely evenings in the company of a plethora of beautiful women and men.
Review of Streamate.com
- Reviewed by
BestWebcamSites.com