Watch Big Brother Style Live Voyeur Cams on Camarads
VOYEURISM- the practice of obtaining sexual gratification by looking at sexual objects or acts, especially secretively.
There's something kinky and arousing about watching someone undress and fuck when they don't know you are watching. It's a forbidden fruit, a taboo fetish which the mainstream has declared to be wrong. Others might be disgusted, but we can't help the thing we are aroused. While we can't necessarily fulfill our voyeuristic tendencies in our real lives, due to the law, we can to make do with real live voyeur cams.
We found an up and coming new big brother style voyeur cam site called Camarads. It has live shower scenes, sex scenes, and 24 hour playback to rewatch it all.
It is a safe haven where lovers of the secret, observant side of sexual pleasure can spy on women to their hearts content.
What We Like About Camarads
All of the webcams are 1080 HD
Cheapest voyeur cams on the net
Nice selection of live voyeur cam rooms
Voyeur cams look great on the mobile phone
The couples are usually naked and have a lot of sex
The models and couples are not overly interested in the camera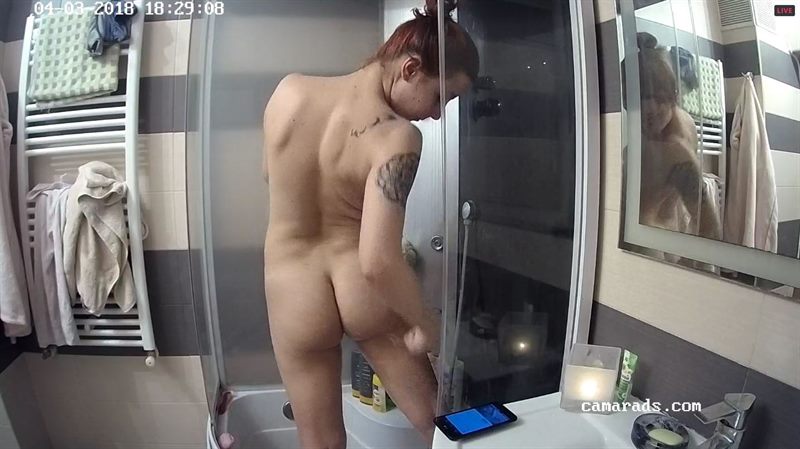 Camarads is composed of couples and big brother style apartments filled with people. From the time we have spent on the site, we have found that most of the apartments feature scantily clad women and that the women in them tend to lounge around in their underwear, if not outright nude.
While the couples on the site are aware that there is a camera, they do not generally look into it and disregard it entirely. It helps immensely with the voyeursitic experience, as you get to maintain that secretive feeling where you get to spy in on peoples intimate lives.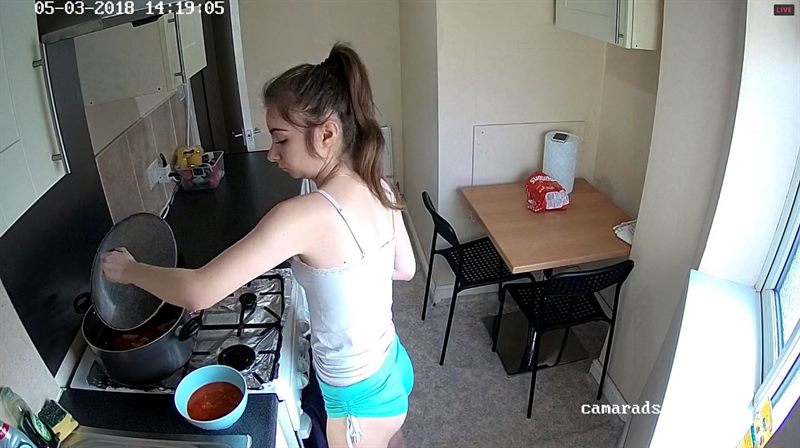 Unlike traditional sex cam sites, you can't chat with the models you are watching and you can't tip them for specific requests.
There are a few girls that seem to have turned this into a sort of camming profession and are staring into the camera all day, but the majority of them just go on with their lives. They even disregard the camera while having sex. We took the following screenshot while checking out the 24 hour replay feature that is available to premium members.
As you can see, there's full nudity - they go much more graphic than what you can see here.
Camarads has a nice selection of live voyeur cams. In total, there are currently 11 apartments with 5 new ones having joined in the last 4 months. Considering that Camarads just launched at the end of 2017 and it's only a couple of months into 2018, that really isn't bad at all. If they continue with this growth, they should have a truly impressive selection of live voyeur cam rooms and apartments to choose from.
Don't forget that each of the voyeur apartments has multiple cameras to cover as much space as possible. Some apartments have as many as 9 rooms, so you can switch between angles. The couple having sex above had 3 cameras covering the bed.
It lets you choose how up close and personal you would like to spy on people.
These are the voyeur apartments and camera feeds currently available.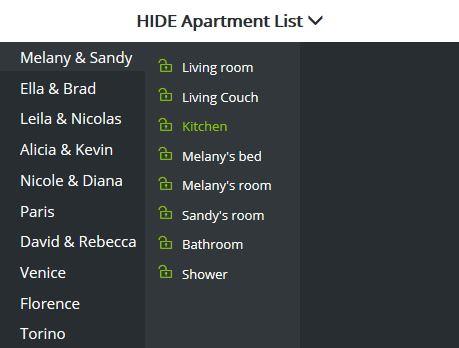 As you can expect from a newer site, Camarads is currently charging much lower fees than their competitors. If you are looking for a cheap alternative to RealLifeCam, this is it. They are charging $29.90 a month if you are buying the 30 day package, $24.90 a month if you get the 90 day package, or $19.90 a month if you get the 180 days package.
At the 6 month package, it's $119.40 at Camarads vs $199.95 at RealLifeCam. Camarads is less than 60% of the cost of RealLifeCam.
Currently, Camarads only works with credit cards. You can use Visa, MasterCard, JCB, Discover, and Diners Club to purchase a membership plan, transactions are secured by Verotel.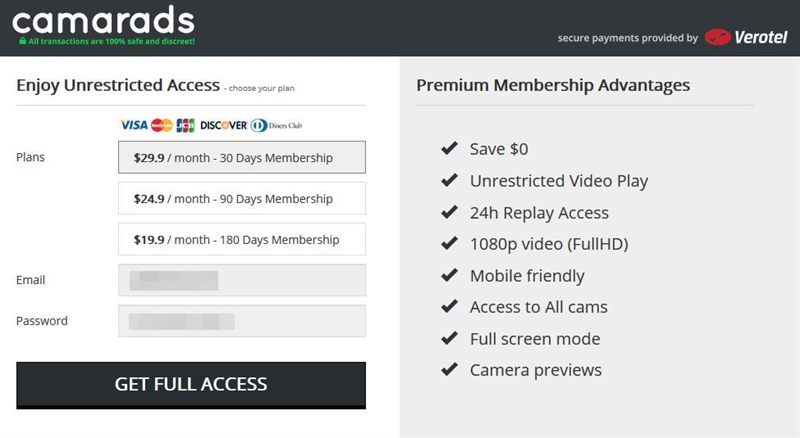 Membership is automatically rebilled on Camarads. Unless you notify them, you will continue to be billed. You can contact them on contact@camarads.com to cancel your membership.
Conclusion
Camarads is a great new live voyeur webcam site. It has great quality HD cams and a decent selection of rooms to choose from. Each apartment on the site has several webcams in it, to give maximum viewing coverage to those spying in on their computers. The people chosen to work on Camarads seem to be a nice selection of attractive and horny teens and twenty year olds. While action isn't always happening live, there's a 24 hour replay function to help you catch up on all the action you've missed.