WebcamGalore.com is a site that brings possibly the largest collection of live outdoor webcams on the net, wraps it up in a neat little package and delivers it to your screen. There are thousands of real time feeds being broadcast from around the globe. When you land on the WebcamGalore homepage, you can begin browsing webcams easily by region or, if you're a regular visitor, look at the newest listed webcam feeds. Webcam Galore is also translated to German and Italian, and we suspect they plan to add even more translations in the future.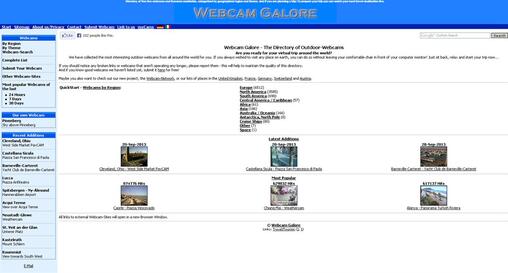 WebcamGalore Homepage
Note the small menu on the top left hand side, you will find it very useful as you browse this cam site more and more.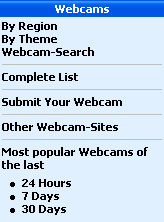 With Such a Huge Geographic Spread You Don't Need other Cam Sites
With more than 150 regional locations, with a total of over 10,000 live webcams being broadcast, the site quite literally covers all four corners of the globe, including a link from space, and over 1,000 weather cams. One of the unique features of Webcam Galore is their constant removal of dead links, so you can be sure that when they say they provide free access to over 10,000 live streaming cam feeds, these are all live and active cameras.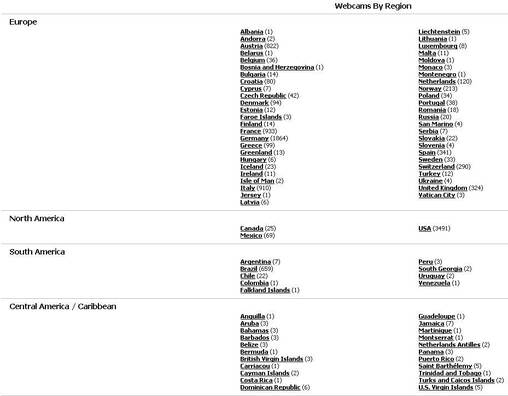 Live Cams by Region
Navigation couldn't be simpler, when selecting any region you can browse all of its webcams in a long and paginated list, or narrow down your selection even more on top of the page, until you're well within the bounderies of the area of your interest.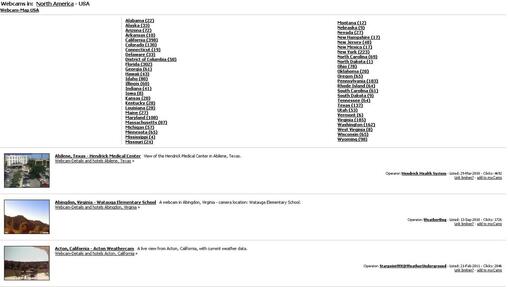 USA Webcams by State
A must-have feature for any directory of such huge dimensions is a map which lets you zoom in to your desired area and select from a range of webcams according to their exact location, and with the help of Google Maps, WebcamGalore.com does it wonderfully.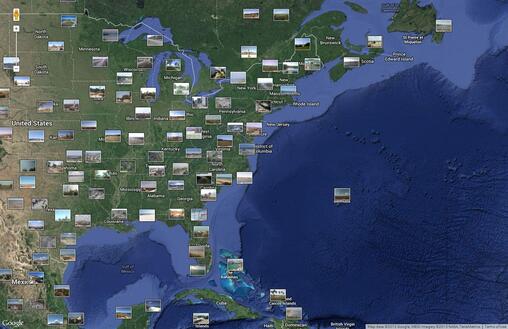 Webcams Represented on a Map
Great Variety, Simple Navigation and Quality Feeds
Check out the realtime beach webcam feeds, to plan a trip or holiday using any of the free weather forecast cams, or learn what to expect in terms of traffic congestion in any city you plan to visit. The sky is the limit with regards what you can see and do with the information you receive.
Beach webcam feeds are always popular, but there are also airport cams and cruise ship links that can be followed. You never need to miss a beat when you're connected via live cam stream to any place you like. You can browse the webcams by theme as easily as by region.


Live Webcams by Theme
All of the webcams are free to use and load smoothly. The site itself is a directory that aggregates the listed webcams from an incredibly large multitude of sources, like EarthCam, uStream, private and government funded streams, and many small webcam websites. Even though this means that the quality varies from low to high, and the frame rate varies from frame per a few econds to HD live cam feeds, this is also great because it allows multiple live outdoor webcams to be loaded at any time.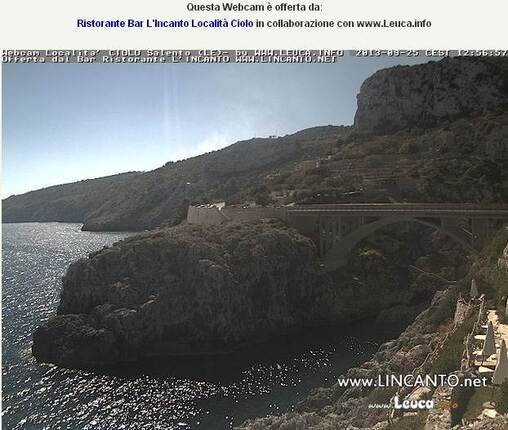 Live Cam Feed
The Bottom Line
The camera feeds load instantly and offer a smooth connection and running time. The site is a tidy package for those looking to check out a few of the places away from home, but lack the funds to make it really happen. Definitely a fun website for your favorites list.