uStreamTV is one of the largest and most recognizable names in the online world of live video feeds. Live free cams hosted in an online channel director allow members the chance to choose from a wide range of channels, split into genres for ease of searching. From free live cams broadcasting sporting events from around the globe to gamer tv shows and education / informative channels that bring culture and learning to the online table.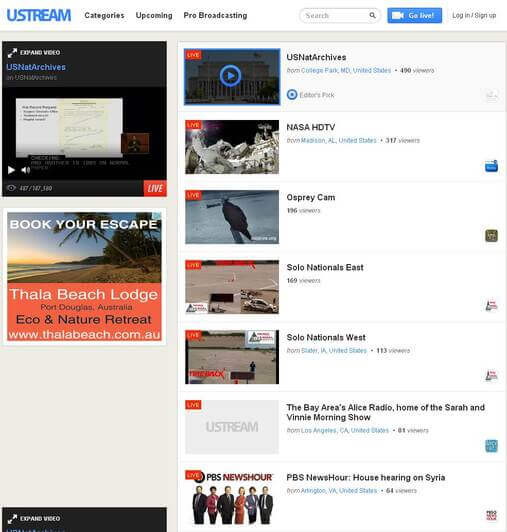 uStreamTV Categories
Great Variety and Educational Content
Live web cameras are a fast growing industry, and the online world has aided their growth in many ways. uStream TV is ahead of the game in what it offers, and while the embedded play can at times run a little slower than the real thing, for an online webcams streaming site, it is second to none. Members can even 'schedule' live web cameras on their own personal channel, creating in effect their own online webcams television channel. The range and diversity of broadcast topics alone puts to shame many of the cable television channels of our day. Simply put, you don't need a tv set anymore, now that websites like uStream.tv exist.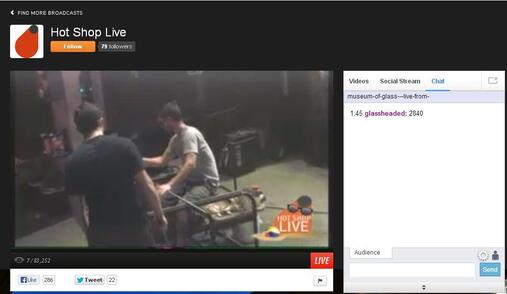 Educational Stream "Hot Shop Live"
Simple Registration with a Click of a Button
The site is easy to use and with free registration, that fact that it is required should be of no consequence. It is even possible to connect via a Facebook account which theoretically nullifies the sign up requirements as the link between the two sites is enough.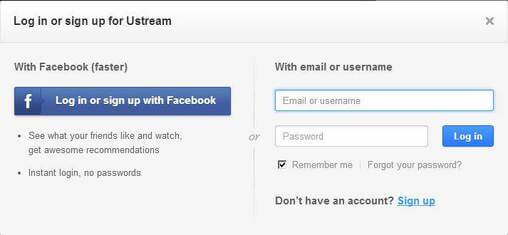 Signup Screen
Pay-Per-View Content at your Fingertips
uStream enables you to watch live pay-per-view events on your computer or your mobile device for which you can purchase a ticket with PayPal, without leaving your preferred device.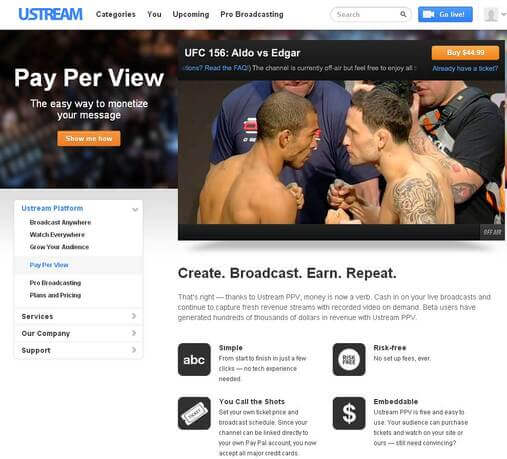 uStream Pay-Per-View
Become a Broadcaster - Create Your Own Channel
You can even become a broadcaster and stream a live cam of your own free or pay-per-view content (and receive 50% of the PPV event revenue). Here's a guide that contains some useful tips to streaming live video, courtesy of the good folks at Web Video University.
For a monthly fee you can provide ad-free streaming to your viewers, get unlimited video storage and broadcast in 720p HD streaming. You will need to sign up for one of the uStream plans, the basic and free of which is the one you receive by default the moment you sign up for free to uStream.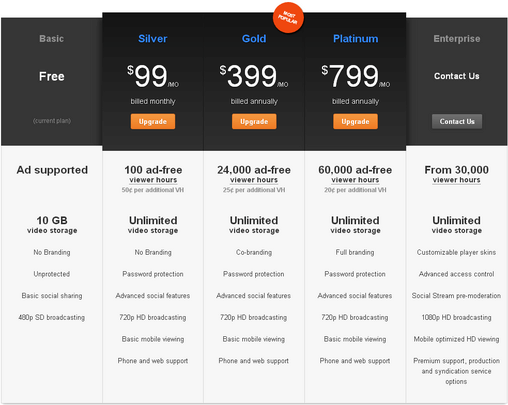 Payment Plans
The Bottom Line
While the streaming is not necessarily of mainstream channels, it offers an invaluable service. Easy to use and basic in its setup so as not to detract from the product itself, the site is a winner from every angle it is viewed from. Streaming TV on the web is the future of television, and uStream TV is a leader in that field, contributing to the progress of social TV and posing a serious competition to the classic concept of television.