Pandas… one of nature's most splendid and majestic creatures. Mysterious, endangered and readily available via free panda cams. San Diego Zoo offers one of the best live animal webcam feeds in the world, directly from the enclosures of the animals. This site has everything you wanted to know about the San Diego Zoo, and a lot of neat features, like printing your own tickets before visiting. You can plan your trip to the zoo by utilizing a lot of the options available to user of this live zoo cam website.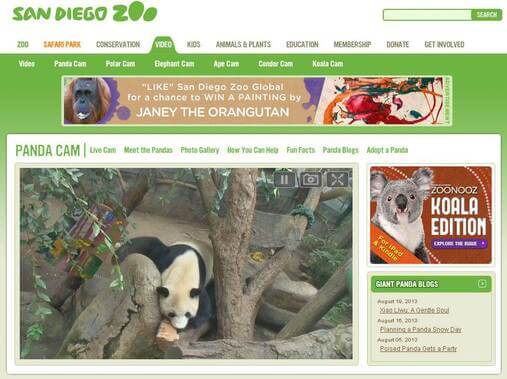 Panda Cam
Awe-inspiring Selection of Animals to Watch on Cam
Live zoo cams streaming from a great many enclosures around the park. From Pandas to Polar Bears and from Condors to Koalas, there is no limit to the enjoyment offered by these live animal webcam channels. A learning experience for the whole family, the zoo cams offer something different to other more natural, wildlife web cams. With zoo cams you are in the enclosures with the animals. The cameras have been positioned in a place that provides viewers the optimal chance of not only viewing the animals but seeing them engage in their natural way.
The live animal webcam feeds load instantly upon selection and along with the live zoo cams, each one also offers text relating to the animals themselves, facts and education tidbits that ensure everybody leaves that site a little bit richer.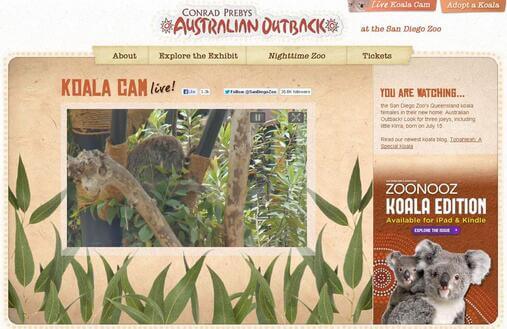 Koala Bear Live Webcam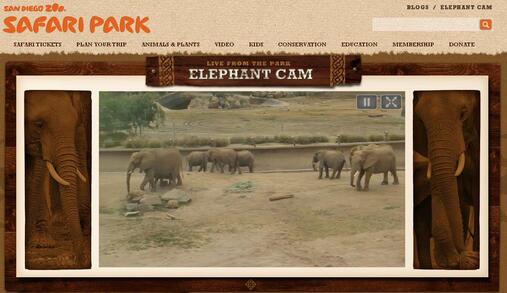 Elephant Webcam
Everything the Prospective Zoo Visitor Needs
A chance to see these animals, be it the novel free panda cams or the live feed of the mighty condor, is not to be sniffed at. The site lists the cams in an easy to find manner and they load instantly, which is faster than traveling all the way to the zoo itself!
Moreover, for the more active animal lovers who happen to be near the zoo, or plan on arriving there at some point, the San Diego Zoo website's scope isn't limited to streaming webcam feeds alone, you can find a lot of other cool stuff there. Apart from ordering tickets online, you can learn a lot of neat facts about the zoo, view the map of the zoo, learn about special events and exhibits, watch videos, learn a lot of facts about animals and plabts, and many more bonuses of the sort!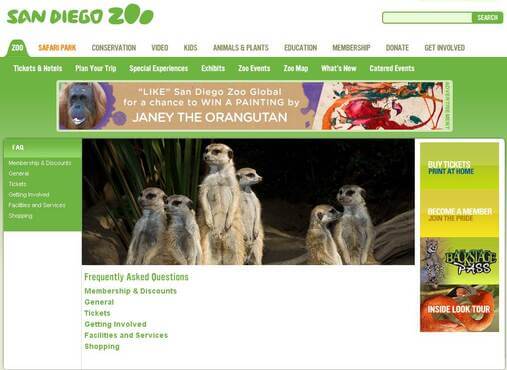 San Diego Zoo FAQ
The Bottom Line
For those that like to learn while they relax, the San Diego Zoo cams are the best of them all. Even though the webcam range is limited in quantity, it's more than compensated for by the streaming quality and rarity of the zoo habitants. Want to see more? Of course you do! Here are some highlights from a visit to the San Diego Zoo posted on youtube.com by user PositivelyMommy