PrivateFeeds Review – Free Live Video Chat With a Vibrant Feel
Important Notice:
Starting October 8th, 2013 PrivateFeeds.com became a partner of Streamate.com. The review inside, is a review of the old version of PrivateFeeds. If you like to read about the new features of PrivateFeeds, you can read the Review of Streamate.com which is exactly the same as the New PrivateFeeds.
PrivateFeeds.com is a live video chat site that caters towards free adult webcams and paid for private shows. It is a site that has a proud history having survived over a decade in the industry without losing its reputation. In August 2013 the site went through a makeover. The result is a rather busy and vibrant site which at first glance comes as a bit of an information overload. However, after a few moments you do get used to it, and realize it is actually a welcome break from the more standard look of most free adult webcams sites.
During the day, the homepage uses a two tone purple motif on a white background, but at night the lights go out, and this is indeed a nice touch that helps you get in the right mood at the right time.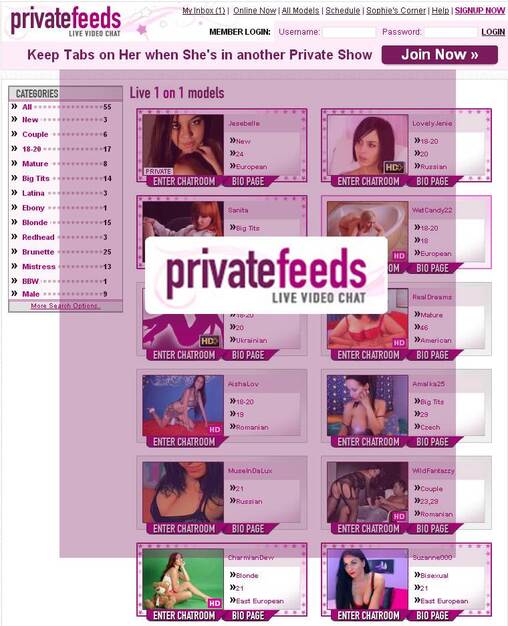 PrivateFeeds.com Homepage During the Day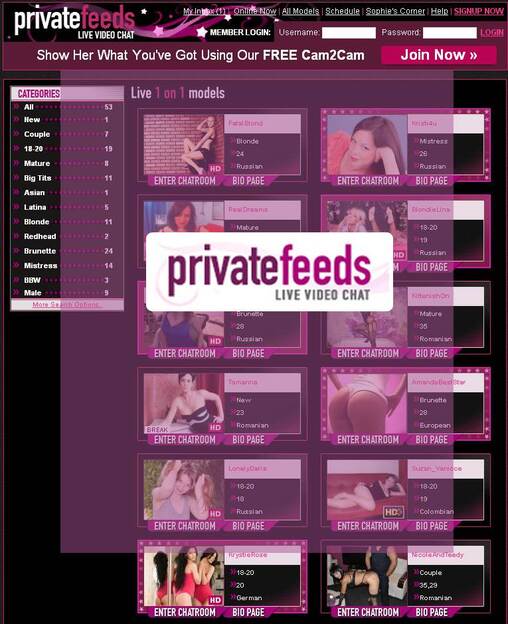 PrivateFeeds.com Homepage During the Night
Navigating around this Cam Site is Easy
The main menu on this site is actually very small, and positioned in the upper right hand side of the screen.
Inbox – you automatically get a message from the site just for loading the page, which is actually a request to sign up.
Online now – a list of the active live video chat models and direct link access to their free adult webcams
All models – a listing of every web cam stream that is registered on the site
Schedule – A list of every live video chat model and their schedule for the coming week.
Sophie's corner – site news and announcements
Help – Customer service and FAQ section of the site.

What sort of Live Video Chat Membership Packages Are on Offer
With Private Feeds, there are three different paid membership packages.
Regular – Regular members are limited to spending $100 in any 30 day period
Executive – Executive members are limited to spending $1000 in any 30 day period
Elite – the top package, Elite members have no restrictions in how much they can 'invest' in the site.
For paid members there are bonuses that guest members do not get. This is including but not limited to
No time out on live video chat sessions with hot adult webcams models.
The ability to enlarge the screen size of the webcam stream being broadcast.
An added diversity of web incentive that is not often seen on other adult webcams sites is that all members are rewarded with a free daily theme show.
Members with credits available in their accounts are also able to send tips to their favorite models rewarding them for a show well done for no reason other than to show appreciation.
The site is rather forthright in its attempts to get users to sign up for one of their membership packages and the ads and popups that arise whenever you try to access an area of the site that is 'members only' do get annoying after a while. Luckily, creating a membership is quick and easy. First of all, you need to submit a few basic details: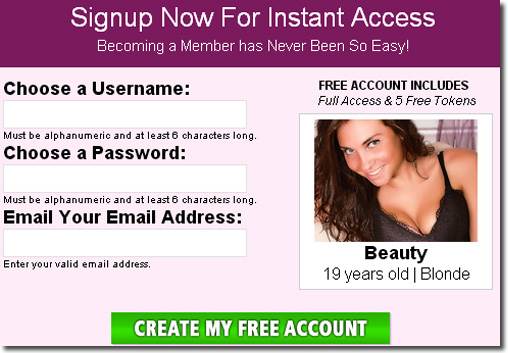 You can get 5 Tokens for free just for validating your free account with your credit card. But there's a twist, you can earn a bonus of 40 Tokens (which means 10$) if you purchase 400 tokens for $100 at once. This means that, you can lower all your costs by 10% if you decide that you intend to be very active on Private Feeds, and only purchase the large package.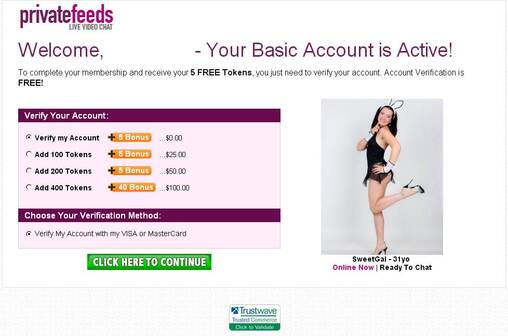 Funding Options
The credit card validation is a standard and secure process, no surprises here, you fill in all the regular personal info you usually do when you make any online purchase, and then move on to the fun part.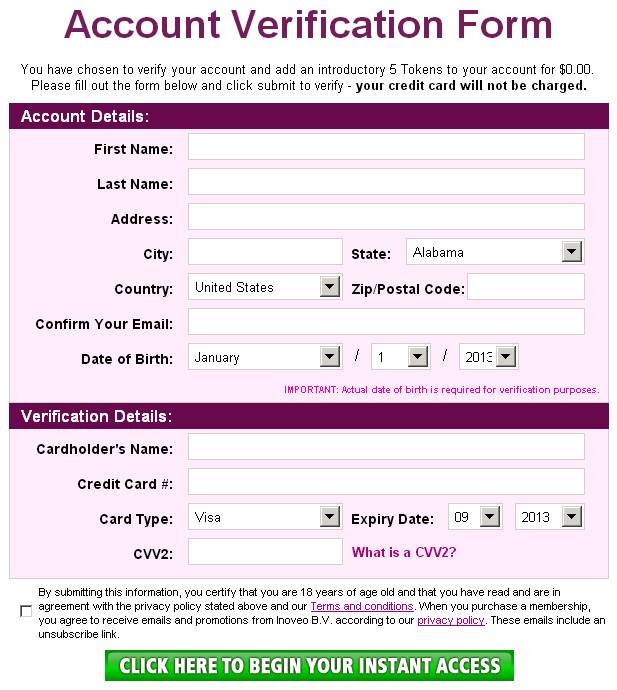 >
Account Verification Form
What Live Video Chat Shows Are There to Keep me Interested
When it comes to the diversity of the live web cam stream, users need not fear. Privatefeeds offer users a wide range of shows to choose from. Each one tailored to suit a different need or requirement.
Free Chat: A standard live video chat show, every model on the site is available for free chat adult webcams fun and games. All free chat sessions can easily be taken into a paid private session. For free guest uses this is only a very small size, and the show is restricted to a certain time limit.
Member Chat: A chat session reserved for members only, clothing is never worn by the live cam chat model and the show gets hotter and hotter as time ticks by.
Private Shows: This is the most popular form of adult webcams chat. Take the model into a private session where the sky is the limit when it comes to the fun that can be had.
Semi Private Shows: A discounted version of Private chat, users can "peep" in on private shows.
Daily Theme Shows: Spicy shows that go to the wilder extremes of web cam stream shows. One show is performed every day and it is 100% free for all members!
Special Live Events: 1 hour special events available at a flat rate of only 2 Tokens per minute!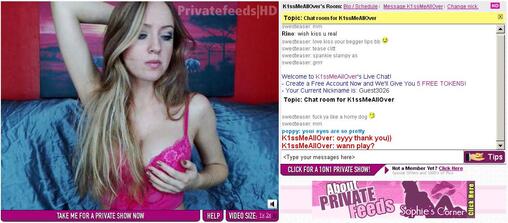 Free Video Chat
The costs of shows vary from each adult webcams performer but are normally within the region of 2 – 25 tokens a minute. Tokens are the virtual currency of Privatefeeds and each token is worth $0.25 if you don't consider the bonus tokens you receive for purchasing large amounts at once. They can be purchased by any member in a variety of ways:
Credit / Debit cards – Visa, Mastercard, Solo and Switch.
Money Order
Echeck
Wire transfer
Credits can be spent on any model at any time during a real web cam stream live video chat show. Either by taking the model into private mode or by sending them a tip. Tips are a gift amount of tokens that are sent to a model as a way of saying 'job well done.' Tips are not a requirement, but they do often result in a shall we say, more favorable treatment by the model in live video chat sessions.
How do I know which Model to Spend my Money On?
Without searching through every web cam stream, the profiles make a great tool for choosing which models to follow. Narrow down the list and mark them as favorites to be able to see when they are online, by using the left hand filtering tool. You can either use the standard categories, or click "More Search Options" below the category list, for an advanced search that enables you filtering not only by category, but also by age, spoken language, and search for a live cam model by name.
The biographies (profiles) tell members all they need to know about the models. Age, Nationality, turn ons, offs and fantasies among other things. The biographies also give people the chance to send tips to models when they are not online, and also to vote for them in the ongoing free adult webcams awards. In addition, you can view the model's physical features, show schedule and photos.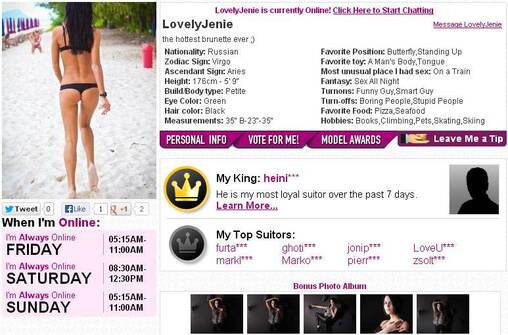 Bio Page
The Live Video Chat is Great, But What If I have a Problem
PrivateFeeds offer a dedicated customer service team. This should come as no surprise because customer service is probably the single more important aspect of running any successful business. A detailed FAQ section is always a good place to start. While it may not be as extensive as other sites of its kind, it does offer more than enough to solve the majority of likely problems.
There are also a multitude of ways to get in touch with the company, should there be any urgent issues that need addressing:
Telephone (US + International)
Email
Live Chat with a customer services representative.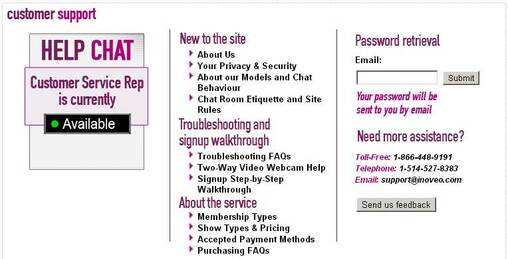 Customer Support Page
Benefits and Drawbacks of PrivateFeeds.com
Benefits
A fun website design that gets you in the mood
Plenty of HD webcam chat rooms
Free video chat
Relatively low prices
An interesting variety of live adult cam shows
Elaborate yet compact profile pages
Drawbacks
Only an approximate 100 online cam models at any given time, which isn't much
Time limit in free cam chat, and sometimes a video stream size limit
Ads and popups encouranging you to sign up could be toned down a bit
The Bottom Line
In summary, the site is a valuable addition to the adult webcams world. High quality web cam stream feeds and a wide range of additional perks for members of all statuses makes it a site that thinks about its members, and rewards them for their loyalty.
---