Live free beach webcams from the American coast. The ultimate resource for surfers or a chance for those who wish to travel to sample the American sun, sea and sand, but can't. Similar to BeachCamsUSA.com, MyBeachCams.com is a site that aggregates links to live webcam feeds from a lot of other websites, like EarthCam.com, official sites of hotels and official city websites, and by this allowing you - the user - to view a great directory of live beach webcams. Their funding to maintain the site comes from advertising hot deals for hotels, and promoting various websites, so it's a legitimate business with a fun service as a side-effect - free live webcams.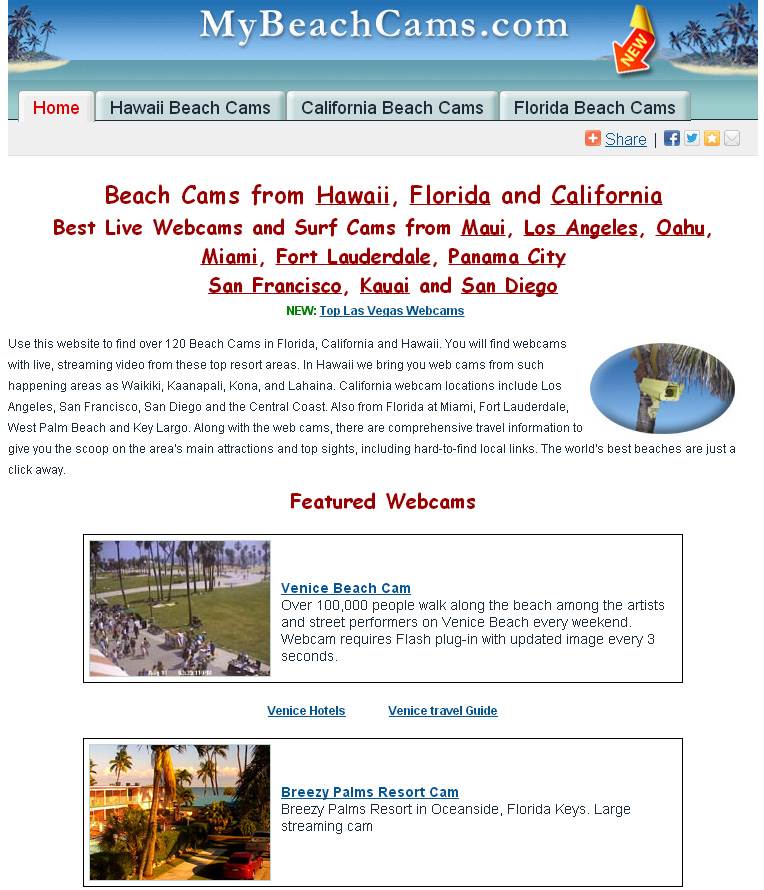 MyBeachCams Homepage
Neatly Divided to Three States for Easy Navigation
The site is divided into neat sections, one for each state, within which users can select their desired feed. The beach video feeds load instantly and have a smooth running time which shows that the site is serious about bringing people the information they seek, and not just another gimmick making use of online web cam streaming technology.


Top Menu
Discover those Hard to Reach Spots
The site itself offers something for everybody. From Hawaii beach cams perfect for checking the surf before heading to the beach, to cams of San Diego harbor and the likewise named seal colony. Travelers, surfers and nature lovers alike can all make use of the site. Handy because it spreads the appeal and overall reach of the free beach webcams, putting the technology to good use. A live Florida beach video feed will afford all visitors to the site the chance to check out the Miami sand.
If you're planning a vacation in any of the three sunny coastal states, this is a mandatory resource for you to sneak a peek at the place you're going to. Of course it's very important to remember, that any webcam feed is aimed only at what you're intended to see, and usually what you're not intended to see stays out of sight.
Here's an example of a beautiful and relaxing live feed, coming from a webcam one would never be able to find without the MyBeachCams.com directory - the Breezy Palms resort in Florida Keys.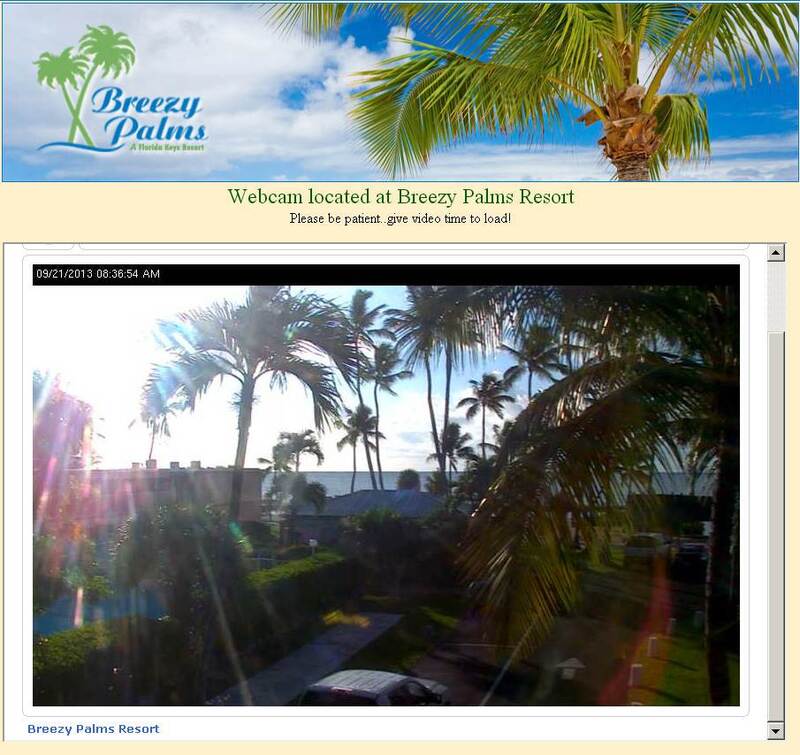 Breezy Palms Resort Cam
The Bottom Line
To sum up, My Beach Cams offers a collection more than 120 free beach webcams spread between Florida, California and Hawaii alone. That is a very large selection offering a very detailed and comprehensive view of the American 'sunshine' coastal areas on the net.