iFriends.net Review – A Stunning XXX Webcam Community
As of October 17th 2018, iFriends has officially shut down, after 20 years in business. What that means, is that you can't watch any more cam rooms at all. If you are looking for a free sex chat experience, we highly recommend CamSoda. CamSoda is an up and coming freemium cam site filled with a ton of hot babes, and super exciting features. It is currently the only site, where you can cam2cam on your mobile device.
---
iFriends.net is a real cool site. It offers an aesthetic appeal that many other sites lack. Rather than just throwing webcam at you, they have put a lot of thought into the setup of the site, the positioning of the various links and evidently they understand very well the way that online promotion works. The upper menu provides site navigation to pages such as
Live Webcams
Pics and Video Links
Hot Menu
Resources
Besides this, iFriends.net also offers a search functionality, which allows users the ability to enter in model names or search terms and yield very specific results. This is not something that is seen very often and is a nice touch, noticeable at the very start of your iFriends journey.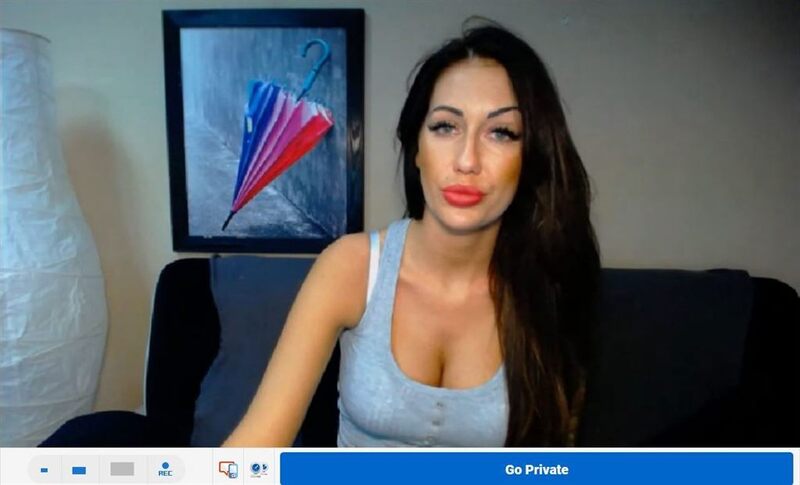 Make Use of Extremely Detailed Filtering Options
The left hand menu is split into two pre-defined filter options: Categories and Filters.
Categories
These offer users the ability to refine the offered webcams based around the types of webcam shows being offered within each feed. Such as:
Cougar
Curvy
Female on Female
And many more...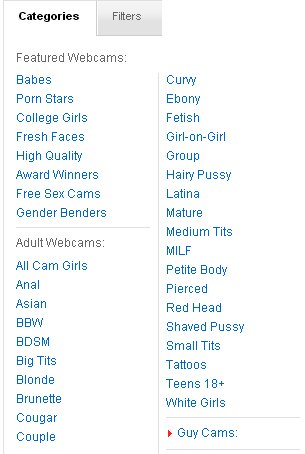 Filters
These use the physical characteristics and special features of the cam models, like tattoos and piercings, to narrow down the results.
Age
Build
Bust
Ethnicity
Eye Color
Hair Color
width
'Speciality Option'
Within each Filter criteria are a large number of sub-options that allow users to return very 'customer specific' results to suit their needs and desires at that particular time.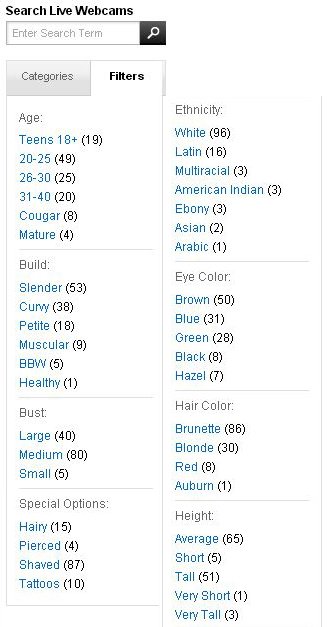 Spoiled for Choice with Live Web Cam Shows at iFriends.net
With so many cam types to choose from you are quite literally spoiled for choice. Gorgeous women and men are just waiting for you to come online and to show you a good time. The main drawback of the site is that unlike MyFreeCams.com there is no free 'guest' video webcam chat. You can text chat with the models but that is all. A free membership is simple to obtain:
Username
Email
Password
Address
Credit Card info (for age verification)
It is a little more information that is required for many other sites, but the end product is a much more refined and civil service. By removing the free chat users from the equation you get a more fluid and interactive webcam chat experience. At the end of the day, when you're dealing with live adult cams that is exactly what you want.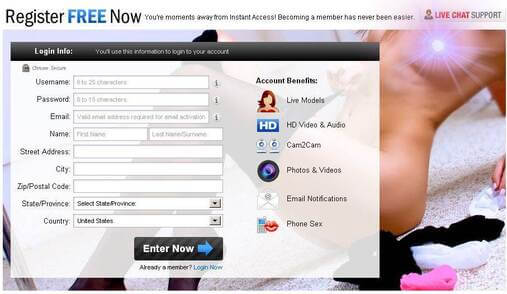 iFriends Signup Form Part 1

iFriends Signup Form Part 2
Straightforward Charging and Video Chat Wallet Benefits
Unlike other webcam sites, iFriends.net bills your card directly for the per minute video chat rate, without any credits or tokens coming in the way, the benefit of which is transparency, and it's a huge advantage when you're planning your adult chat spend. The VideoChat wallet is a feature designed to allow you to define your spend on cam shows in advance, by adding funds to it. If that's not enough, when you add credit to your VideoChat wallet you enjoy a 10% discount. It's important to note that the per minute rate is determined by the webcam model, whether you use the wallet or not.


iFriends Videochat Wallet
Biographies of Cam Models and Fan Clubs
Besides chat time, the biographies of the models are also unlocked to their full potential once you are a registered member. The biographies on this cam site are second to none. They are detailed and laid out in a professional, yet easy to read manner. The biographies are divided in to 6 sections (tabs on top of the page):
Basic Profile
Photos and Videos
Secrets and Fantasies
About Me
Keep in Touch
Fun Stuff
Many of the menus listen on have a drop down filter that further separate parts of the webcam star biography. The final four options are further secured so that they are only 100% visible to the members of that models fan club.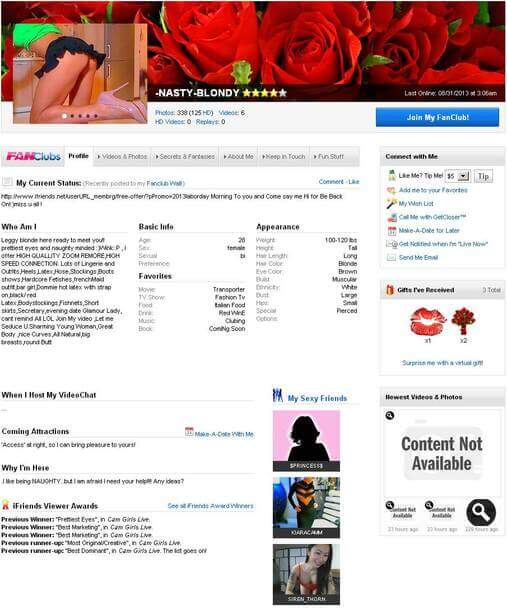 Webcam Model Biography Page
Each model runs their own fan club which unlocks new hidden doors in the adult webcam shows world. Not only do you get access to the inner most desires of your chosen model, allowing you to ensure that your shows with them provide more than a little enjoyment for the model herself, but there are special features that allow you schedule online 'dates'with the model. Receive alerts when she is online and agree to meet with her for private shows at certain times with a diary style planner. There is even the option to CALL the model with an application called GetCloser.
I have seen these features before on other sites, but never all in the same place. It all comes back to the fact that free guest members are limited. In order to tempt people to enter their details and actually sign up for the live webcam chat service they are rewarded with a plethora or goodies to keep them entertained.
Upgrade Your Membership to VIP or Elite
Alongside Fan Clubs, the site also offers various membership types. Cleverly labeled as ClubElite or ClubVIP memberships, each one offers a few extra items to go alongside the basic package. ClubVIP being the top of the range experience. Some of the benefits include being able to compile your own hot lists, favorite lists as well as having access to an exclusive customer service department. Value for you money, extra features and fast track help that is befitting a VIP!
Club VIP costs $6.95 / month, and includes unlimited free chat, cam to cam, taking snapshots inside the video chat room, creating a private gallery of their favorite photos, downloading videos, and much much more - you get almost anything you could wish for.
Club Elite costs $9.95 / month, and aside from including everything ClubVIP entails, it also allows you to watch full screen HD webcam shows (with resolution as high as 1920x1080), view multiple live video streams at once, the "Verified Age" feature (which guarantees that when the model says she had just turned 18, she's really 18 years old), and other exciting features which simple members or VIP users are not exposed.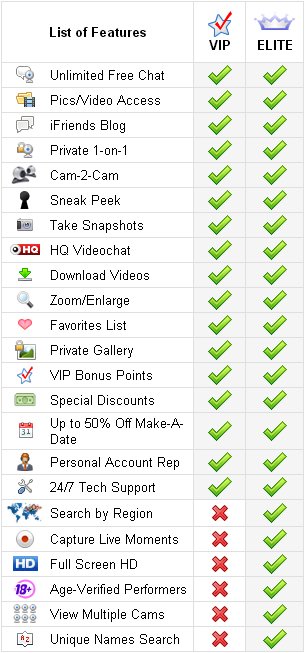 FAQ Page and Customer Service
Besides the beautiful adult cam chat models and their mouthwateringly delicious shows, the site offers a very comprehensive FAQ section. With approximately 100 questions already posed and answered targeting both users and prospective performers. All of the basic fundamental questions either users may have are answered, along with several more in-depth queries.


iFriends FAQ
The FAQ is sensibly position within the Resources drop down menu in the upper portion of the screen. The assistance doesn't end their either, for besides the FAQ section, the customer support team is also a dedicated environment where questions can be posed and genuine answers received in return. The live chat feature guarantees you receive immediate and complete answers for any questions you might have 24/7.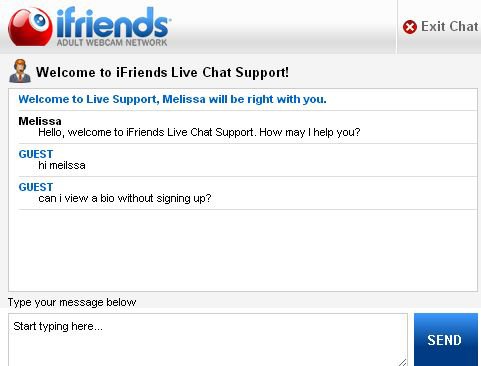 Within the 'Contact Us' section there are various email links tailored to the individual queries – cancel account, lost password, complaints, errors, etc. Best of all there are 34 toll free numbers that users can call. 34 different countries plus a standard toll free number for the US and Canada. Out of all of the free adult cams chat sites I have seen online iFriends is second to none in terms of levels of assistance and ease of contact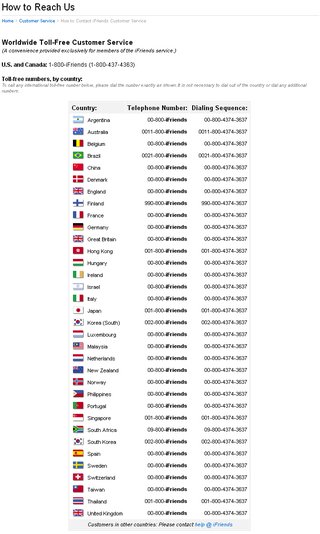 iFriends "Contact Us" Page
Benefits and Drawbacks of iFriends.net
Benefits
Live webcams load smoothly
Free $10 only for signing up
Beautiful women
Webcam models have elaborate personal profiles with plenty of features
Simple to navigate website
Simple registration process
Wide range of show options for members
Great deals on VIP & Elite memberships
Amazing customer service with 24/7 live chat support
Drawbacks
Guest users have no video feeds
Chat can freeze at times
Model prices – private show costs can get very high
Even free membership requires a credit card for age verification
The Bottom Line
In summary, this site is slightly more elite than many of the others out there and does not cater to the free market at all. However, what that leaves is a very high quality site with impeccable service levels. If you are looking for a site that takes everything to that next level, then iFriends.net is what you are looking for, without shadow of a doubt. So go sign up and grab these free $10!
Back to the full list of Best Webcam Sites
---