When it comes to online animal fun, there is no better site than Explore.org. A website that is not tailored toward a specific theme or geographical location, but rather based around pure critter webcams fun. The site offers everything from live puppy cam feeds and all manner of other cute animal videos, through to bison, bears and bees. Feeds from the wild, through to critter cams from zoos and animal parks around the world.


Explore.org Navigation
A Diverse Selection of Animal Webcams
The site runs from the back of a simple premise. The available critter webcams are listed on the main screen, via the screenshot taken at some point in the life of the stream. The number and variety of different animals on cam is really immense.
Puppies
Kittens
Pandas
Bisons
Bees and Beehives
Osprey
Puffins
Penguins
Arktic Terns
Owls
Brown Bears
Polar Bears
Beluga Whales
And many more!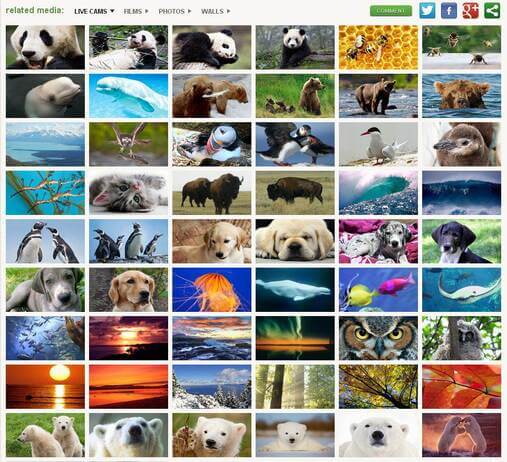 Webcam Feed Selection
There are some hilarious moments, like this Panda being overpowered by it's own lunch, which was captured on cam by an eagle-eyed Explore.org employee and uploaded to their YouTube channel.
Simple Navigation and Relevant Information
Once clicked the video opens and the feed begins. The quality is simply wonderful, so good, in fact, that other websites (like the Discovery Channel) use the Explore.org cam feeds on their own webcam sites. The Explore team are at the top of the webcam technology abilities, and provide you with high resolution live video, live nightvision webcams, streaming underwater footage, and so much more.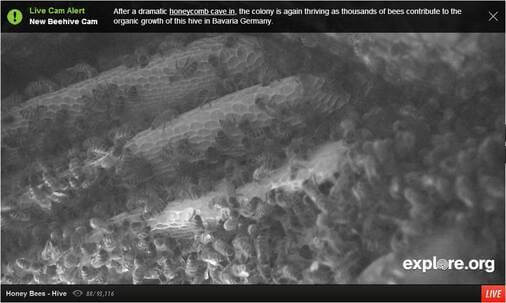 Night Vision Beehive Cam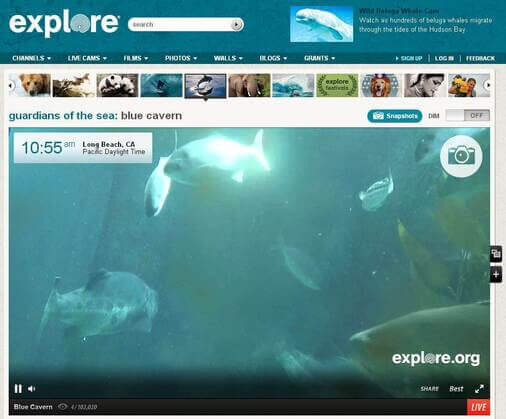 Underwater Cam
Viewers are given some basic details about the cam, such as the location of the video cam, and the weather and time at the webcam's location.


Webcam Information
From Cute to Beautiful
Cute animal videos are a thing of the past. Live puppy cam feeds are the future. Cute animals will always be a big draw and when mixed with all manner of other nature feeds, the success of the site is guaranteed.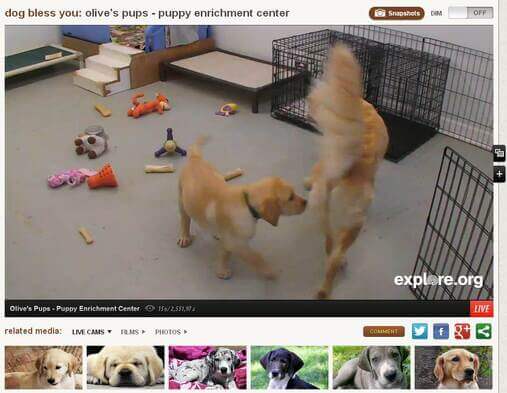 Puppy Cam
Besides fun critter cams, natural phenomenon and stunning world locations are also included on the page. From the Northern Lights in Churchill to Santa Monica Beach and numerous surfing based cams, there can be no doubting that Explore.org has something to offer everybody looking for a relaxing way to spend some time.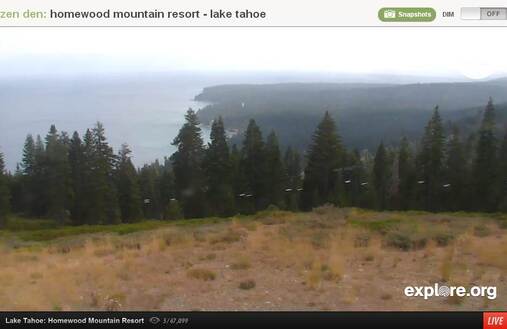 Lake Tahoe Cam
The Bottom Line
Explore.org is a must site for any animal lover, add it to your bookmarks, share it with your friends, watch it instead of the mindless TV shows half of the world is hooked on - it's so lovely that it's probably good for you! For your personal moment of zen, here's a time-lapse capture of a sunrise from Explore.org's webcam in Manitoba, CA. Enjoy!