As the name would suggest, North American animal webcams is a site dedicated to the wildlife and wonders of the American North. Anything you every wanted to know about North America is now not only within your grasp, but presented with numerous live streaming critter cam feeds and real animal webcams. This section of the Discovery website is dedicated to (and inspired by) their show "North America".


Discovery Live Cams Page
Live Cams featuring the Animals Starring in "North America"
One complete package of a site that provides you live links to the salmon fishing trips of the Brown Bears, over to the majestic lifestyle of the Arctic Tern, live animal web cams bringing you closer to the finest beasts the America have to offer. One of the most popular animal webcams on the site is not one of the live bird cams but something much larger - a streaming critter cam of the largest sort, the great and indigenous Plains Bison. Streamed live from the Grasslands National Park, the Buffalo cam feed allows everybody an up close and natural look at one of America's keystone animals.
One point that's not a certain advantage of this site, is that they use the social live comments stream of uStream.TV, and the webcam feed of Explore.org, although it's a rather smart move to use a feature that someone else have already created before you, it removes from the originality of the site, and makes you wish you received it straight from the source.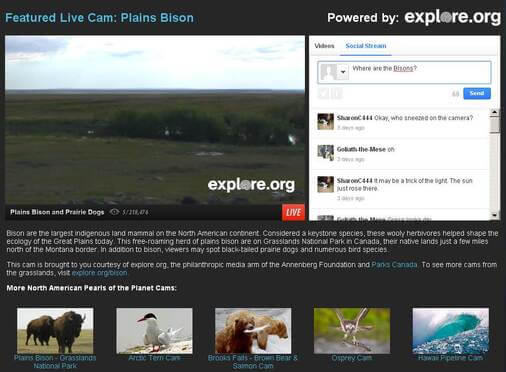 Live Webcam Feed
The Interactive Map of North America
Since Discovery is note a site dedicated to live webcams, but rather they are merely a small part of it, it has a much wider range of features and options to offer. There are the Discovery Channel shows, videos, games and a shop. A real gem that opens up great possibilities, is the interactive map, which enables the visitor to learn about key spots across north america using a simple and friendly map app. Clicking on any of the marked locations will immediately show you the role of this place in Discovery's television show "North America".

Interactive Map
Shark Week!!!
As a real bonus, you can find an entire section dedicated to Sharks on Discovery, which has a bunch of exciting and amazing possibilities in itself, including a streaming shark cam!


Shark Week Menu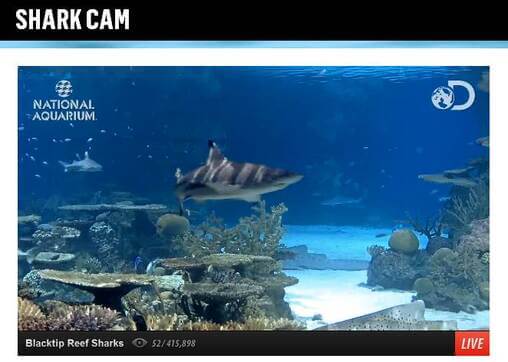 Shark Cam
The Bottom Line
The site is a great resource and offers an education experience for young and old alike. Learning about the world around is never time wasted. Since the streaming live web cams are not the only area of the site, which offers an even more all-around cultural experience, this is a site not to be missed. Here's a small perk for our enthusiastic readers, of a shark expert attacked while filming for a Discovery show.