CamContacts Review – The Original Live Webcam Site Still Holds Its Own
CamContacts has become outdated. While every other cam site in the business has continued to try and improve upon itself, CamContacts has stagnated. As such, CamContacts is no longer on Our List of Recommended Cam Sites. Other cam sites now offer completely free chat, superior HD video, and even mobile friendly sites. If we were to summarize, LiveJasmin would be our most highly recommended webcam site. They have the hottest models, HD in every chat room, and fair prices that will keep you coming back for more.
Founded before the rush, CamContacts.com is a site that has been in business for more than a decade. More than that, they were around in the last century. When a live webcam chat site survives this long in the fast paced virtual world, especially if you consider the immense and serious competing sites like MyFreeCams, Streamate and LiveJasmin, then it is clear that they are doing something right. But, can they keep doing it or are they holding on to a reputation that they earned but now struggle to maintain.
By the end of this review I hope that you will have a realistic expectation for this particular streaming webcam feed and can make an informed decision thereon.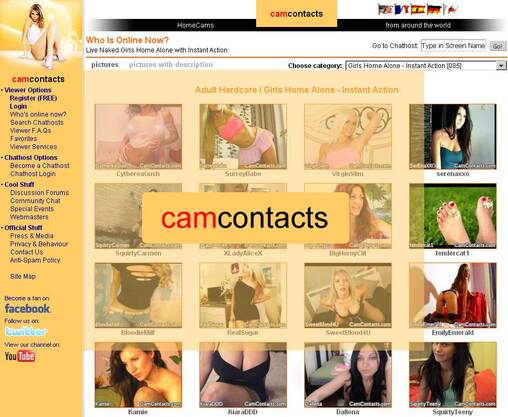 CamContacts.com Gallery Page
CamContacts Places User Experience and Understanding Above Everything Else
The site loads with a slightly different look than most. While the majority of free adult webcams sites like Chaturbate.com and BongaCams.com, start with the action immediately, the homepage of CamContacts.com offers direct links to the live webcam chat sessions in progress. CamContacts is different; it loads with a static homepage offering links to various pages within the site, and answering basic questions which are rarely being asked these days. We went the extra mile and added in the short answer to each question:
What is Cam Contacts (It's a live webcam video chat site)
How Do I Join Cam Contacts (Just click any of the join links, and have a credit card ready for age verification purposes)
Online Models (This will send you to a gallery of the live chat models currently online)
Do I need a Cam? (No, if you only want to watch; Yes, if you would like to be watched as well)
Who Are They? (They are people from around the world who registered as CamContacts chat hosts and are doing this to earn money)
In essence this is a small pre-membership FAQ that allows users the chance to learn a little about the site itself and not just start chatting in live webcam chat shows without understanding the lay of the land, so to speak. This is an interesting approach, and works well to build a certain level of mystery around the site; intrigue.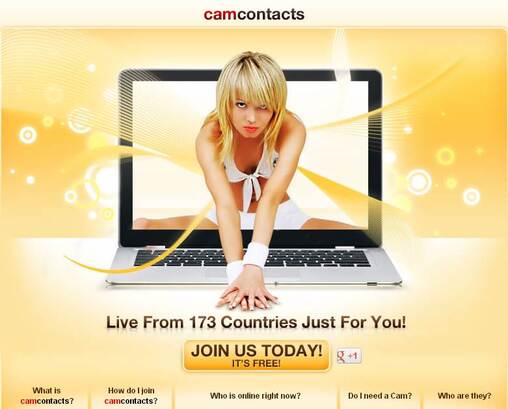 Cam Contacts Home Page
The site is available in it's international forms for non-English speakers, and you can switch to the language of your choice in the top right corner of any screen:
French
Spanish
German
Japanese (Inactive)

Grand Webcam Room Variety and Awesome Advanced Search
With over 130,000 registered streaming webcam feed hosts linked to the site, and over 10,000 active hosts in the past month, it is within reason that the boasted 1000 live cams is an accurate figure. That being said, it is a high number with low hundreds live at any one time is more in line with the free adult webcams average. With so many live webcam chat streams available, the ability to filter the results on user preference level is invaluable.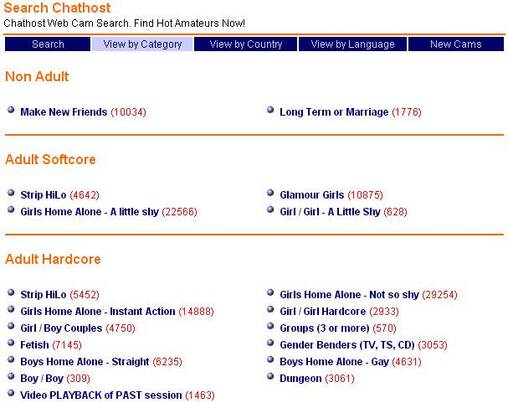 Elaborate Categories
On CamContacts, the live adult webcams filter is once again, something a little different. The search filter is split into a series of tabulated menus.
Search – this is a series of drop down menus in a form template that allow you to define the search results based around personal preference. (see below)
View by Category – Categories sort the available webcams into the different show types that the model performs in. This is sorted into a basic Non-Adult and Adult live webcam chat. Further split by the likes of; Orientation, gender of the model and the gender of other performers within the same show. At this point it's worth mentioning that out of the 130,000 chat rooms, over 120,000 are adult webcam models. (see above)
View by Country – There are 173 countries that offer a free streaming webcam feed.
View by Language – Live Webcam chat comes in 21 different languages, this filter is perfect for helping people find the streaming webcam feed that match their own language.
New Models – a list of the newest models to have joined the free adult webcams world.
One should note that when using the advanced search, it's very important to fill in the "Last Online from" field, because, as mentioned before, out of the 130,000 registered cam models, only 10,000 have been online in the past month.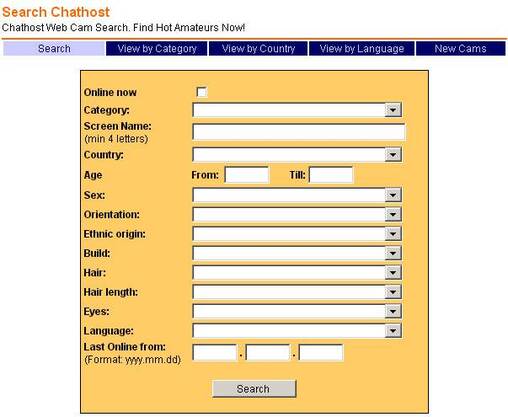 Advanced Search Feature
Registration is Safe, Easy and Free
It should be said at this point that in order to engage in any free adult webcams shows, be it free chat or anything more, you need to be a registered member of the site. This is not something many cam sites adhere to, but it does certainly help weed out the free only trolls. A credit card must be given at registration, but it does not mean that funds will be deducted without approval from the member themselves.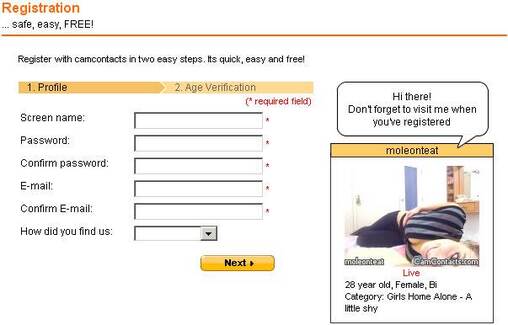 Signup Part 1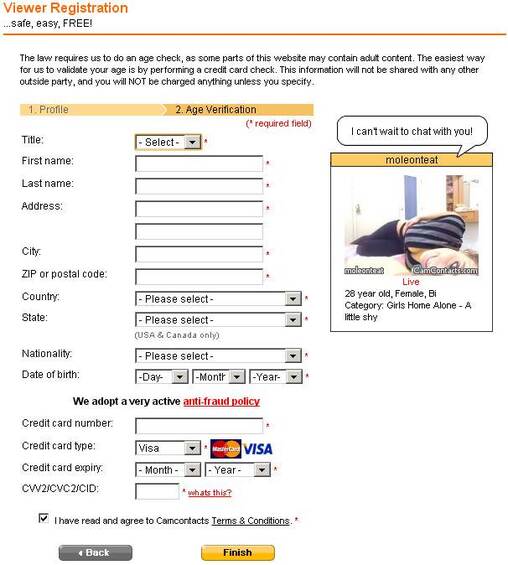 Signup Part 2
Billing for Live Webcam Chat is Straightforward
To get the true live adult webcams experience, a private show really is in order. To do this, you need to accept the pay per minute price of the chat host of your choice before entering the private cam room. Your card is billed continuously as long as you're in the video chat room, and added to this is $0.50 credit card charging fee. Note that for long sessions, you might be billed several times for smaller amounts, for example, if you were billed for a $75 worth of show, it will be split to $50.50 and $25.50. Payment is possible using the standard credit cards:
There are no recurring fees with the site, which means that only the amount transferred into an account is the amount actually used. This certainly offers a level of comfort knowing that should a member forget about his live webcam account, there won't be any surprises, and his bank balance will not suffer as a consequence.
What Action Do These Live Amateur Cams Have in Store for Me?
The site offers not just the standard types of chat – free and private, but rather a number of themed or persuasion orientated live webcam chat experiences.
From Shy to Home Alone with Glamor Models thrown into the mix also, there is a wonderful range of live streaming webcam feed options to keep people entertained. The site offers a great breakdown of the show types and what viewers can expect to see in them. Of course within each theme there is a free chat, private chat and cam2cam option. The latter two of course require a payment to be made.
Charged on a per minute basis, these can run anywhere from around $0.65 a minute to over $5. Prices are set by the models, and it must be noted that cost does not denote anything with regards show quality. Another great thing about CamContacts is that there is no extra fee charged for making use of their Cam2Cam links during private shows. While validated membership is required for video chat, free users can enjoy a text chat with the model, but truth be told this is not much, and does not keep many people's attention for long.
Biographies or Profiles, as the cam sites call them, are visible and offer a small glance at the adult webcam model.
The model's schedule
Physical features
Age
Gender
Turn ons
Turn offs
Show expectations
Extra services offered
Photos of the models can also be viewed in small thumbnail size shots, yet while some of the webcam model photos are free, many require a free membership to be created.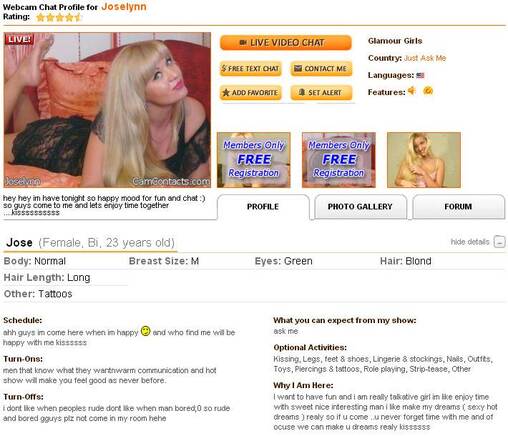 A Model's Profile Page
A Detailed Customer Service Channel Helps Keep the Adult Webcams Site Professional
Customer service is taken seriously at CamContacts.com. This is something that is a recurring theme throughout the live webcam chat world. An extensive FAQ section is accompanied by a contact us option that offers numerous methods of contact.
Email
Phone
Fax
Postal (Snail Mail)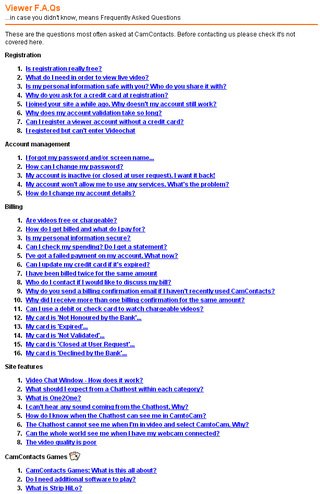 FAQ Page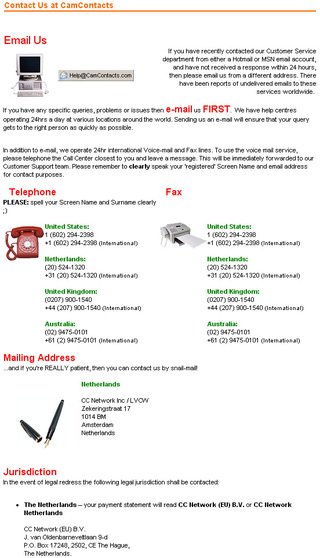 Customer Service Page
Benefits and Drawbacks of CamContacts.com
Benefits
Low prices for video chat
Many cam models from around the world, and a lot of them online
Advanced categorization
A veteran adult webcam site
Extensive and attentive FAQ & support section
Drawbacks
No free video chat
Credit card required for free membership
Relatively few HD webcams
The Bottom Line
In summary CamContacts is a quality site. It survived this long for a reason and that reason is an all-around high quality of service and a continued level of professionalism and excellence. The world of live webcam chat is a crowded one, and it takes something special to stand out from the crowd, something great to rise to the top and something exceptional to stay there for more than a decade.
Back to the full list of Best Webcam Sites
---